iOS 9 Beta 3 Tidbits: 4x4 Folders on iPad, Screenshot and Selfie Folders, News App, and More
Apple today released the third beta of iOS 9, which has turned out to be the biggest update to the operating system so far. It adds a revamped Music app with access to Apple Music, the News app that was first unveiled at WWDC, a new two-factor authentication system, and several other smaller tweaks, along with the traditional performance improvements and bug fixes.
With today's changes, the beta is feeling faster, more polished, and more full featured. For beta testers and those eager to know what's coming in the OS ahead of its official release, we've rounded up a complete list of all of the new changes introduced in iOS 9 beta 3 below.
News app - Today's beta is the first iOS 9 beta to include Apple's new News app, first announced at WWDC. The news app offers up a curated list of news stories based on each user's preferences and interests. The News app displays specific channels and topics and also supports the addition of RSS feeds from Safari. The News app appears to be available only to U.S. users for the time being.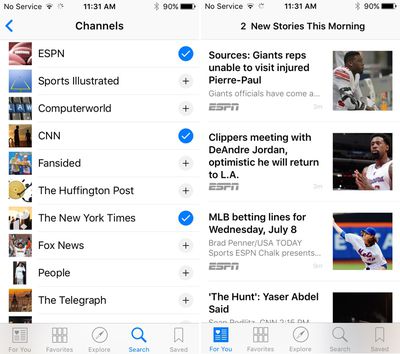 Two-Factor Authentication - iOS 9 and OS X 10.11 El Capitan include an entirely revamped two-factor authentication system that Apple says is more streamlined.
App folders on iPad - App folders on the iPad now display apps in a 4x4 arrangement instead of a 3x3 arrangement, allowing users to see more apps in a folder at a glance.


Photo app folders - There are new folders for selfies and screenshots in the Photos app. The "Selfies" folder aggregates all photos captured with the front-facing camera, while the "Screenshots" folder houses all screenshots captured by holding down the power button and home button.


Music app - The Music app in iOS 9 has been updated, giving beta testers access to Apple Music, Beats 1 radio, and Apple Music Connect.


Music settings - There's a new option in the Settings app under "Music" to stream music at the highest quality while using a cellular connection.


Search improvements - When swiping downwards to bring up search, Siri App Suggestions are now displayed.


Camera - As mentioned in the release notes, in iOS 9 beta 3 the volume buttons cannot be used to snap a picture. Given that it's mentioned in the release notes under the "Known Issues" section, it's likely that the feature's removal is a bug that will be fixed in a future beta.
Restrictions - In General --> Settings --> Restrictions there's a new logo for Siri & Dictation. There's also a new setting to toggle on/off access to the News app, and the option to turn off Apple Music Connect is gone. People had been using this option to replace Connect with a Playlists tab, but doing so is no longer possible.
Battery Settings - The Battery section of the Settings app has an icon without rounded edges, which may be a mistake. In the app usage portion of the Battery section, there's a new clock icon to represent the list of apps that use the most battery instead of a hamburger icon.


Additional feature updates in iOS 9 beta 3 will be added here as they are discovered. Apple should continue to release regular updates to iOS 9 at two to three week intervals throughout the beta testing period to bring minor performance boosts and changes ahead of the operating system's official launch. iOS 9 is expected to be released to the public in the fall, but a public beta test will come first and is expected in the near future.