Apple Releases iOS 9.3.2 With Support for Simultaneous Night Shift/Low Power Mode Usage
Apple today released iOS 9.3.2 to the public, marking the second update to iOS 9 since iOS 9.3 launched in March of 2016. In testing since April 6, Apple seeded a total of four iOS 9.3.2 betas to developers and public beta testers prior to releasing the update to the public.
Today's iOS 9.3.2 release is available as an over-the-air update for all iOS 9 users and it can also be downloaded through iTunes.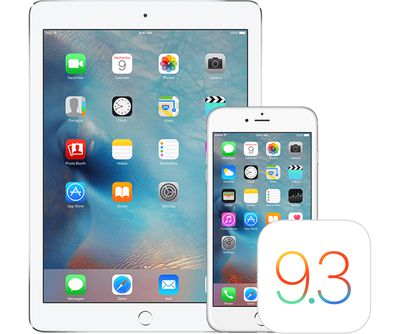 iOS 9.3.2, as a minor 9.x.x update, focuses mainly on under-the-hood performance improvements and bug fixes rather than outward-facing changes. One of the biggest bug fixes resolves an ongoing issue that caused Bluetooth accessories to experience audio quality issues when paired with an iPhone SE.
- Fixes an issue where some Bluetooth accessories could experience audio quality issues when paired to the iPhone SE
- Fixes an issue where looking up dictionary definitions could fail
- Addresses an issue that prevented typing email addresses when using the Japanese Kana keyboard in Mail and Messages
- Fixes an issue for VoiceOver users using the Alex voice, where the device switches to a different voice to announce punctuation or spaces
- Fixes an issue that prevented MDM servers from installing Custom B2B apps
In addition to the bug fixes listed above, the update also introduces support for using Night Shift and Low Power Mode simultaneously. During the first few iOS 9.3 betas, the two features were able to be turned on simultaneously, but later betas removed that functionality. With iOS 9.3.2, devices capable of using Night Shift can turn it on with Low Power Mode enabled.
iOS 9.3.2 is the eighth update to the iOS 9 operating system, following iOS 9.0.1, iOS 9.0.2, iOS 9.1, iOS 9.2, iOS 9.2.1, iOS 9.3, and iOS 9.3.1.