Apple Releases iOS 9.3.4 With Important Security Fix [Update: Jailbreak Patched]
Apple today released an iOS 9.3.4 update for the iOS 9 operating system, just over two weeks after releasing iOS 9.3.3 and less than two months before we expect to see the public release of iOS 10, currently in beta testing.
iOS 9.3.4 is available immediately via an over-the-air download on all devices running iOS 9.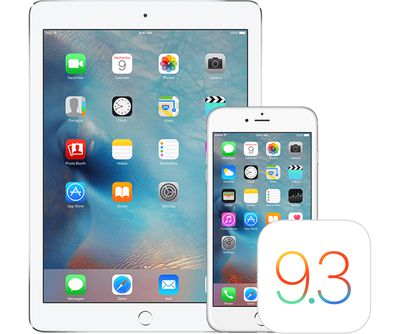 According to Apple's release notes, iOS 9.3.4 provides "an important security update" and is recommended for all iOS 9 users.
iOS 9.3.4 is likely to be the last update to iOS 9, with iOS 10 coming in September alongside new iOS devices.
iOS 10 brings a slew of new features, including a revamped Lock screen experience, an overhauled Messages app with new functionality and its own App Store, a new Photos app with object and facial recognition, a redesigned Music app, a centralized HomeKit app, and a Siri SDK for developers.
Update: iOS 9.3.4 fixes the Pangu iOS 9.3.3 jailbreak exploit. In a support document covering the security fix included in the update, Apple credits Team Pangu with discovering a vulnerability related to a memory corruption issue.