Apple Releases iOS 9.3.3 With Bug Fixes and Performance Improvements
Apple today released iOS 9.3.3 to the public, marking the third minor update to iOS 9 since iOS 9.3 launched in March of 2016. In testing since May 23, there were five betas of iOS 9.3.3 released to developers and public beta testers ahead of the public release of the software.
Today's iOS 9.3.3 release is available as an over-the-air update for all iOS 9 users and it can also be downloaded through iTunes.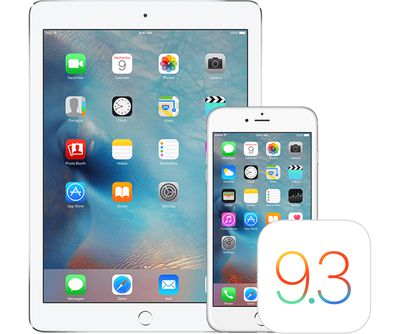 As a small 9.x.x update, iOS 9.3.3 focuses mainly on under-the-hood performance improvements and bug fixes rather than outward-facing changes.
iOS 9.3.2 is the ninth update to the iOS 9 operating system, following iOS 9.0.1, iOS 9.0.2, iOS 9.1, iOS 9.2, iOS 9.2.1, iOS 9.3, iOS 9.3.1, and iOS 9.3.2. iOS 9 will be followed by iOS 10, which has already been provided to developers.
iOS 10 brings a host of new features, including a revamped Lock screen experience, an overhauled Messages app with new functionality and its own App Store, a new Photos app with object and facial recognition, a redesigned Music app, a centralized HomeKit app, and a Siri SDK for developers.