A Real-World Look at Proactive Suggestions on iOS 9
Apple aims to take on Google Now with the addition of several new intuitive features on iOS 9 for iPhone and iPad, including Proactive Suggestions, which provides contextually-aware recommendations for music, email, reminders, calendar events and more based on apps that you frequently open and the time of the day.
With iOS 9 currently available in beta, ahead of a public release in September, several readers have shared their real-world experiences with Proactive Suggestions within the MacRumors discussion forums, providing a closer look at the new-and-improved assistant that will be available to all users next month.

Music and Maps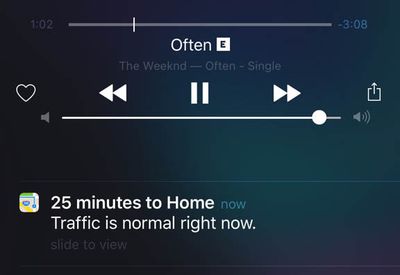 When you connect your iPhone to your car via Bluetooth, iOS 9 can automatically make suggestions for you based on your common tasks while driving. For example, if you often listen to music while driving, it is likely that playback controls or a suggested playlist will be displayed on the Lock screen.
Meanwhile, if you are a daily commuter focused on getting from point A to point B in the fastest manner possible, iOS 9 can also learn to display real-time traffic updates and an approximate time it will take to reach your destination through Apple Maps notifications on the Lock screen.
MacRumors forum member penajmz:
"This is when I get in my car now every day. It's really nice and it started happening after the last beta. I get traffic and music app because I usually play music as soon as the Bluetooth connects."
Netflix


MacRumors forum member VSMacOne:
"About a week and a half ago I switched from listening to Podcasts to watching Netflix during my morning run on the elliptical and this morning when I cut on my iPad I saw the Netflix icon in the lower left corner and then again in the multitask view in the same place where Handoff shows up but with the message Good Morning! This is really awesome."
Games


MacRumors forum member XTheLancerX:
"I always wake up and check Clash of Clans in the morning. iOS 9 has noticed."
iOS 9 can remember which games you play the most and when, such as Clash of Clans every morning, place the app in your multitasking view, provide Lock screen notifications and more so that you can easily pick up where you left off.


In another real-world scenario, iOS 9 recognizes that MacRumors forum member Shirasaki often plays a Japanese game called ラブライブ! after plugging in EarPods into the headphone jack, so it automatically suggests the app and places it in the multitasking view on iPhone.
Siri on iOS 9 will also feature quick connections for finding contacts, deeper search within apps, nearby places, news and other suggestions as a more intelligent assistant on iPhone and iPad. Siri can also be searched for a wider range of topics, understands what you are saying more accurately and delivers search results faster.