Benchmarks Show iPhone Performance Difference When iOS 9's Low Power Mode is Activated
With iOS 9, Apple introduced a Low Power mode, designed to extend battery life when an iPhone's power is running low. According to the feature's description, Low Power mode works by reducing an iPhone's performance and cutting down on background activity.
Geekbench 3 has just been updated to work with iOS 9, letting us get a more detailed look at how Low Power mode works and how much it throttles an iPhone's CPU performance when activated.
Without Low Power mode activated, an iPhone 6 Plus scored 1606 on the single-core processor test and 2891 on the multi-core processor test. When Low Power mode was turned on, the same iPhone 6 Plus scored 1019 on the single-core test and 1751 on the multi-core test, suggesting there's a significant performance reduction when Low Power mode is enabled to save as much battery as possible.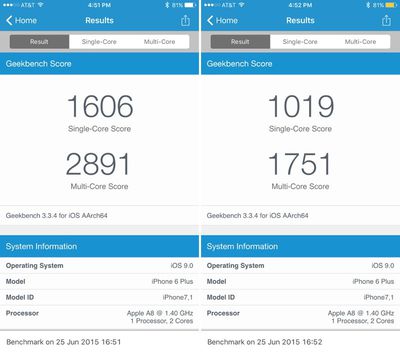 Results were similar on an iPhone 5s, with performance reduced by about 40 percent. We saw single/multi-core scores of 1386/2511 without Low Power mode and scores of 816/1405 with Low Power mode turned on.
Low Power mode activates when an iPhone is at 10 or 20 percent battery level, providing a popup that lets users toggle it on quickly. It can also be turned on via the new Battery section of the Settings app. When it's turned on, in addition to lowering CPU speeds, Low Power mode also disables Mail Fetch, Background App Refresh, motion effects, and animated wallpapers.
Indicated by a yellow battery icon, by limiting performance and disabling battery draining features, Low Power mode can extend an iPhone's battery life by up to three hours. Other performance improvements in iOS 9 extend the iPhone's battery by an hour even when Low Power mode is not enabled.
iOS 9 is currently available to developers and will be released to the general public in the fall.
(Thanks, Brandon!)