All of the iOS 16.4 Beta Features
Apple is testing iOS 16.4 and iPadOS 16.4, two upcoming updates that will be released for the iPhone and the iPad this spring. There are a long list of changes in the iOS 16.4 update, ranging from new emojis to the promised iOS Safari Push Notifications feature.
This guide aggregates all of the features that are in the iOS 16.4 beta, with many of them also available in iPadOS 16.4 and macOS Ventura 13.3.
New Emoji Characters
iOS 16.4 and its sister updates include new Unicode 15 emoji characters that were first approved in September 2022. The new emoji options include shaking head, pink heart, blue heart, gray heart, donkey, moose, black bird, goose, wing, jellyfish, hyacinth, pea pod, ginger, fan, comb, flute, maracas, and a number of left and right facing hand options.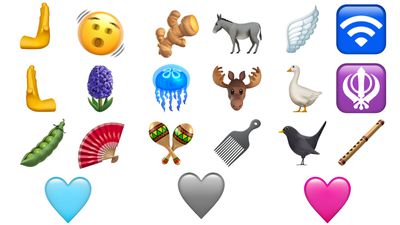 Safari Web Push Notifications on iPhone and iPad
Websites that are added to the Home Screen on an ‌iPhone‌ or ‌iPad‌ as a web app can send Web Push notifications in iOS 16.4/iPadOS 16.4, just like on the Mac.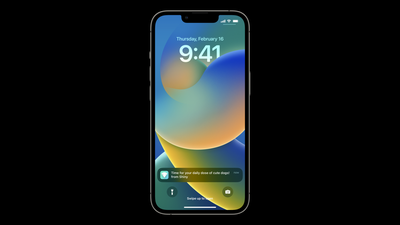 This is a feature that Apple first announced at WWDC with the introduction of iOS 16, and it is now ready to start rolling out. Web apps added to a user's home screen can request permission to receive push notifications through a "subscribe" button or another similar direct interaction.
As on the Mac, the ‌iPhone‌ or ‌iPad‌ will prompt the user to give the web app permission to send notifications, and the notifications can be managed on a per web app basis in the Notifications section of the Settings app. Notifications from web apps work exactly like notifications from other apps, showing up on the Lock Screen, in Notification Center, and on a paired Apple Watch.
Note that to receive push notifications for a website, you will need to add it to the ‌Home Screen‌. Web developers also must implement support for this feature, so it may not be working on iOS 16.4 and iPadOS 16.4 right away.
Focus Support for Web Push Notifications
Notifications for ‌Home Screen‌ web apps can be incorporated into Focus, so they can be rolled into Daily Summaries and there are options for configuring where and how to receive the web notifications.
Users who add the same web app to their ‌Home Screen‌ on more than one ‌iPhone‌ or ‌iPad‌ will see Focus mode automatically apply to all of them.
Badges for Home Screen Web Apps
Web apps added to the ‌Home Screen‌ can display badges to make users aware of alerts and notifications, similar to badges for regular apps. Badges are shown after a user gives permission to allow notifications, with web apps displaying the current badge count.
Add to Home Screen for Third-Party Browsers
Third-party browsers like Chrome can now let users add websites and web apps to the ‌Home Screen‌ from the Share menu.
Beta Opt-In Changes
With the iOS 16.4 and iPadOS 16.4 betas, those who are enrolled in Apple's developer program are able to turn on developer betas directly from the Software Update section in the Settings app.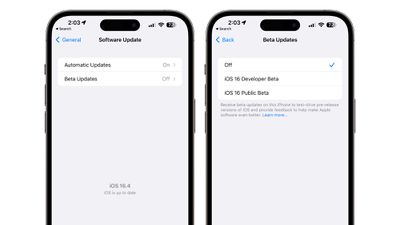 This will eliminate the need to install a profile from the Developer Center in order to get developer betas, simplifying the beta downloading process. There is also an option for public beta testers as well who want to install updates with less hassle.
The change will, however, prevent non-developers from being able to install the developer beta as each installation will need to be linked to an Apple ID associated with a developer profile. Developers and public beta testers will be able to use a different Apple ID than their main ‌Apple ID‌, if an account is separate.
Note that this will put an end to the public sharing of developer beta profiles as installing a developer beta will require each person to be signed into an ‌Apple ID‌ linked to a developer account.
Apple Books Page Turning Animation
With the launch of iOS 16, Apple tweaked Apple Books to eliminate the traditional page turning animation that had been used since the early days of the app, a move that upset some Apple Books users.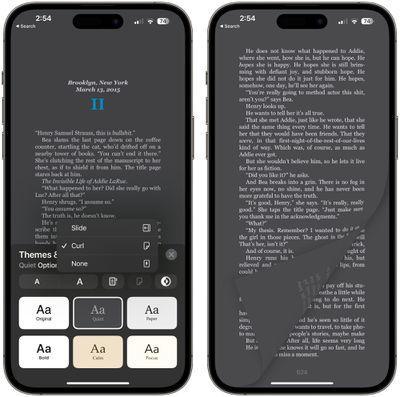 The second iOS 16.4 beta reintroduces the page turning animation as an option, which is a welcome change for the Apple Books readers who missed it. In the Themes and Settings section of the Books app, there are now three options for page turning: Curl, Slide, and None.
Slide is the ‌iOS 16‌ default, Curl is the old iOS 15 and earlier animation, and None is an even simpler animation that just shifts from page to page with little fanfare. These features are also available in iPadOS 16.4 for those who read on the ‌iPad‌.
HomeKit Architecture Upgrade
iOS 16.4, iPadOS 16.4, and macOS Ventura 13.3 reintroduce the HomeKit architecture update that was pulled from iOS 16.2 due to a wide range of HomeKit bugs that it added.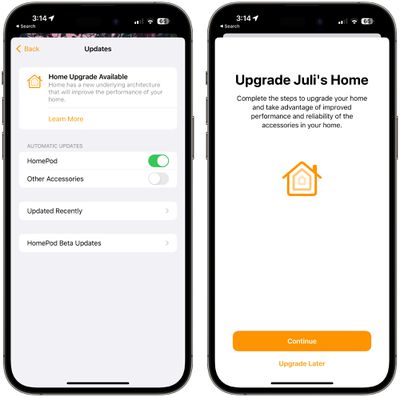 In the Software Update section of the Home app, ‌iPhone‌ and ‌iPad‌ users who have not yet upgraded to the new architecture are seeing a "Home Upgrade Available" option after updating to iOS 16.4.
The new ‌HomeKit‌ architecture is meant to improve the reliability and efficiency of communication between smart home accessories and Apple devices.
The initial launch caused some ‌‌HomeKit‌‌ devices to go missing from ‌‌HomeKit‌‌ setups or to be stuck with a "configuring/updating" status. It also resulted in invitations to share the Home with others failing, and it broke ‌‌HomeKit‌‌ Secure Video recording for some.
Podcasts
Apple made several updates to the Podcasts app. Channels access is available in the Library section, and Up Next now lets you resume episodes, start saved episodes, and remove episodes you want to skip.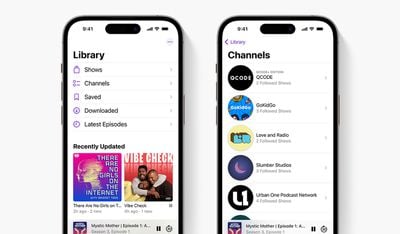 For CarPlay, there's now an option to pick up where you left off on a podcast with Up Next, or find new podcast options in Browse.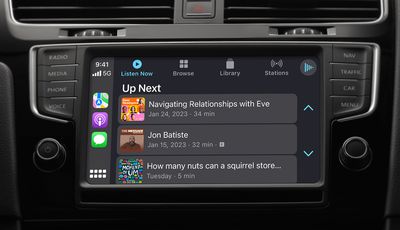 Apple Music App Profile
There's now a prominent button for accessing your profile in the Apple Music app, which makes it easier to get to profile settings.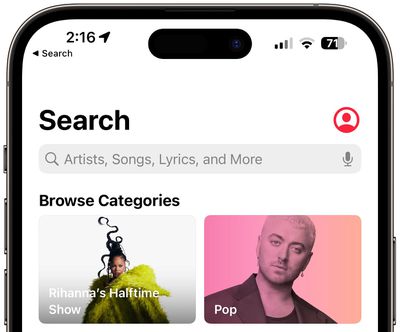 AppleCare Coverage Overview
In the Settings app, there's now an updated "Coverage" interface that shows you the warranty information of your ‌iPhone‌ and connected devices like Apple Watches and AirPods.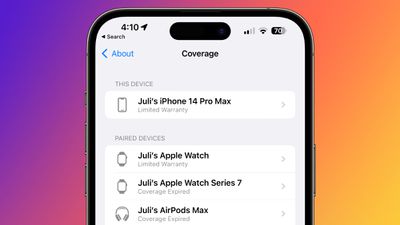 All of the listed products have a small icon next to them, with the icons added in the second beta.
Shortcuts
There are options in Shortcuts for creating workflows that lock a device's screen and control the always-on display, plus there is an option to automatically enable or disable Stage Manager on the ‌iPad‌. Apple has also added an option to have Siri announce Notifications as an action that can be incorporated into a Shortcut.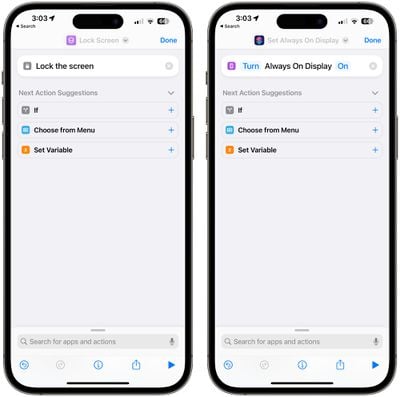 Content Previews for Mastodon in Messages
When you send a link to a Mastodon post to someone in the Messages app, it now displays a preview of the content that was shared rather than simply a link with an image.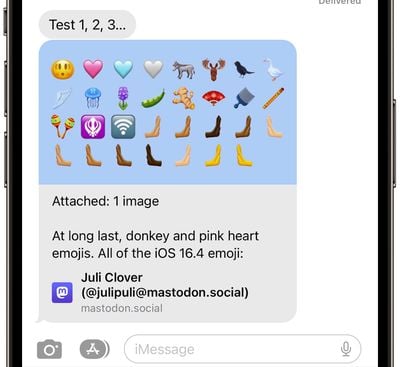 5G for Turkey
5G support has been enabled in Turkey with iOS 16.4.
Tips User Guides
The Tips app now displays user guides for the ‌iPhone‌ and other devices that you might use with an ‌iPhone‌, including Apple Watch, AirPods, and HomePod. In previous versions of iOS, the Tips app only offered up the ‌iPhone‌ User Guide.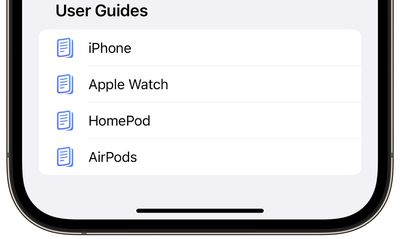 Focus Mode
There's an always-on display filter that can be enabled for a Focus mode.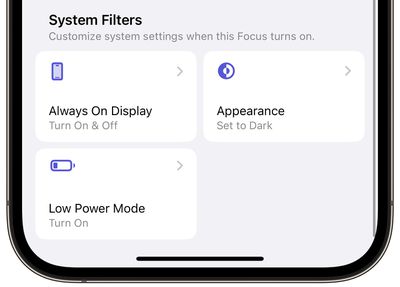 5G Standalone Support for T-Mobile
5G iPhone owners who use T-Mobile can turn on a new 5G option that allows them to connect to the carrier's 5G Standalone network.
As 9to5Mac points out, the 5G Standalone network from T-Mobile launched last November and is expected to allow for connection speeds up to 3Gb/s on Samsung smartphones. T-Mobile could soon expand the faster connectivity option to other devices like the ‌iPhone‌.
More Granular Timing on Satellite Availability for Emergency SOS
For the Emergency SOS via Satellite feature, Apple will now inform users of when the next satellite will be passing by in more detail. Apple used to provide an "Available Soon" and Available in X amount of time options for the feature, but now will give specific hour and minute timelines.

Next Satellite Available in [x]Hour(s) and [x]Minute(s)
Next Satellite Available in [x]Hour(s)
Next Satellite Available in [x]Minute(s)
Next Satellite Available in Less Than 1 Minute
Apple Card High-Yield Savings Account
The iOS 16.4 update lays the groundwork for the high-yield savings account for Apple Card owners, which Apple announced back in October. Code in iOS 16.4 has references to routing and account numbers, current balance, interest earned, data management, funds available for withdrawal, and more.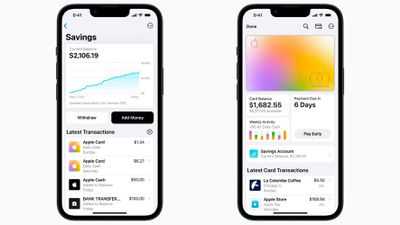 Apple will encourage customers to sign up for a savings account by providing a message that says "Transfer your Apple Cash balance to your savings account and start earning interest today" and "You can transfer up to [amount] from Apple Cash to your savings account in a single transaction and start earning interest today.
As with the ‌Apple Card‌, the high-yield savings account will be offered through Goldman Sachs. ‌Apple Card‌ owners will be able to opt-in to having their Daily Cash deposited automatically so that it can earn interest. The savings account could be introduced alongside iOS 16.4, but it is not yet available in the Wallet app.
Always On Display Settings
Apple made some minor tweaks to the Always On Display section in the Settings app on iPhone 14 Pro models. The toggle to turn off Always On Display is now listed under the toggles for showing wallpaper and notifications, rather than above.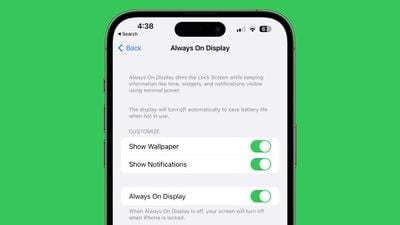 Voice Isolation for Cellular Calls
When you make a cellular call, you can now turn on Voice Isolation to cut down on background noise. Voice Isolation was previously available for FaceTime and other VoIP services, and it makes a big difference in call quality.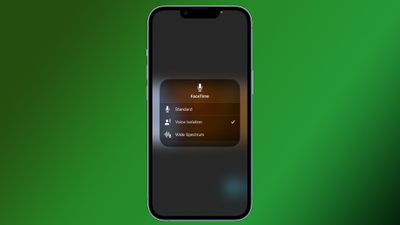 It can isolate your voice to ensure that the person on the other end of the call can hear you even in a noisy environment.
To turn on Voice Isolation, start a call and then swipe down from the Control Center. Tap on the Mic Mode option and then choose Voice Isolation.
Duplicate Image Removal for iCloud Shared Photo Library
The option to remove duplicate photos that Apple introduced in iOS 16 has been expanded to the iCloud Shared Photo Library in iOS 16.4. If you have an ‌iCloud‌ Shared Photo Library and there are duplicate photos uploaded by multiple people, you can to to the Utilities album and choose the "Duplicates" option to merge them.
VoiceOver
Those who use VoiceOver can now activate it for the maps function in the Weather app.
Accessibility Settings for Flashing Lights
For those who are affected by strobe effects or flashing lights, there is an accessibility setting that can dim video when those effects are detected.
New AirPods Coming?
There are signs of unreleased AirPods in the iOS 16.4 code, including a mention of AirPods with a model number of A3048 and an AirPods Case with a model number of A2968. That does not correspond to any known version of the AirPods, but there have not been rumors of a refresh.
It's possible Apple is planning a small update to coincide with the transition to USB-C planned for the 2023 ‌iPhone‌ refresh.
Crash Detection Optimizations
Apple has added additional Crash Detection optimizations for the ‌iPhone 14‌ and 14 Pro to prevent the devices from accidentally triggering Crash Detection in a situation where an accident has not occurred.
Bug Fixes
There are a few notable bug fixes in iOS 16.4.

Addresses an issue where Ask to Buy requests from children could fail to appear on the parent's device.
Fixes a bug where Matter-compatible thermostats could become unresponsive when paired to Apple Home.
Launch Date
iOS 16.4, iPadOS 16.4, and macOS Ventura 13.3 will be released in the spring, according to Apple. Spring begins on March 20 and lasts through June 20.