Apple in October 2020 unveiled the iPhone 12, 12 mini, 12 Pro, and 12 Pro Max, the first iPhones to support 5G connectivity, and then followed them up with the iPhone 13 and iPhone 14 models. All of Apple's ‌iPhone‌ 12, ‌iPhone 13‌, and ‌iPhone 14‌ models support 5G networks, and the 5G modems in the United States work with both mmWave and Sub-6GHz 5G, which are the two types of 5G.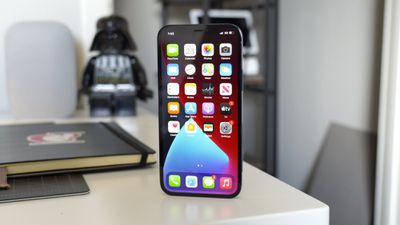 5G Explained
5G is fifth-generation cellular wireless and the successor to 4G. When most people talk about 5G connectivity, they're talking about mmWave, or millimeter wave spectrum.
Millimeter wave technology offers a lot of open bandwidth for blazing fast data transfer speeds, but it is highly sensitive to interference from buildings, trees, and other obstacles, which has prevented it from being taken advantage of by cellular companies who have previously focused on low-band and mid-band spectrums for cellular networks.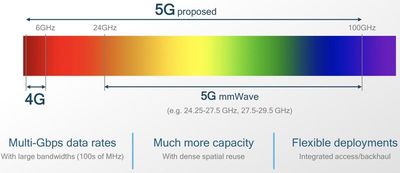 Accessing mmWave spectrum has only become possible over the course of the last few years due to technological advancements like Massive MIMO, adaptable beamforming, and miniaturization of complex antenna processing functions.
Not all 5G networks use mmWave technology in all areas because it's best suited to denser urban locations. In rural and suburban areas, 5G technology will be on mid-bands and low-bands, called sub-6GHz 5G. It's still faster than 4G, but not as fast as mmWave.
There are some areas with mmWave technology where data transfer speeds are lightning quick, coupled with other areas that are closer to 4G LTE speeds. Over time, low-band and mid-band 5G speeds should also get much quicker, but know most talk of 5G still focuses on the faster and more limited mmWave spectrum.
For more on the differences between mmWave 5G and Sub-6GHz 5G, make sure to check out our dedicated guide on the subject.
Types of 5G Networks
mmWave 5G networks are the fastest 5G networks, but mmWave is short range and can be obscured by buildings, trees, and other obstacles, so its use is limited to major cities and urban areas along with venues like concerts, airports, and other places where a lot of people congregate.


Sub-6GHz 5G is much more widespread and available in urban, suburban, and rural areas across the United States and other countries. For the most part, when you use a 5G network, you'll be using Sub-6GHz 5G. It's generally faster than LTE is getting speed improvements as the technology evolves, but it's not the super fast 5G you might be expecting.
The 5G iPhones support both mmWave and Sub-6GHz networks in the United States, but mmWave connectivity is not available in other countries. iPhones purchased outside of the United States do not have the mmWave antenna on the side and are not able to connect to mmWave networks. Apple made this decision because most countries do not have mmWave 5G networks available.
Qualcomm's X55 Modem
The ‌iPhone‌ 12 models use Qualcomm's X55 modem, the ‌iPhone 13‌ models have a Qualcomm X60 modem, and the ‌iPhone 14‌ models use the Qualcomm X65 modem, but Apple created custom antennas and radio components to enhance connectivity, and through software optimization, Apple says apps will be able to benefit from 5G without using additional power or impacting battery life.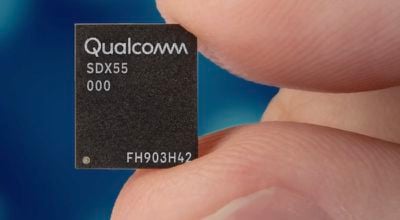 5G Benefits
5G connectivity allows for faster download and upload speeds, which speeds up everything from loading websites to downloading TV shows and movies.
It also increases bandwidth for streaming services so you can watch in a higher resolution, and it brings improved FaceTime call quality. Over 5G or WiFi, ‌FaceTime‌ calls work in 1080p.
In areas where LTE speeds are slow because of the sheer number of people, 5G frees up bandwidth and reduces congestion for faster usage speeds.
5G Bands
iPhones in the United States support up to 20 5G bands.
Sub-6GHz: 5G NR (Bands n1, n2, n3, n5, n7, n8, n12, n20, n25, n28, n38, n40, n41, n66, n71, n77, n78, n79)
mmWave: 5G NR mmWave (Bands n260, n261)
LTE Bands
Along with 5G, the ‌iPhone‌ 12 models also support Gigabit LTE, so you can still connect to LTE networks when 5G networks aren't available. The following bands are supported:
FDD-LTE (Bands 1, 2, 3, 4, 5, 7, 8, 12, 13, 14, 17, 18, 19, 20, 25, 26, 28, 29, 30, 32, 66, 71)
TD-LTE (Bands 34, 38, 39, 40, 41, 42, 46, 48)
Data Saver Mode
Data Saver Mode is a feature that swaps the ‌iPhone‌'s connection over to LTE when 5G speeds aren't needed in order to preserve battery life.
As an example, when the ‌iPhone‌ is updating in the background, it uses LTE because super fast speeds aren't necessary, but in instances where speed does matter, such as downloading a show, the ‌iPhone‌ 12 models will swap over to 5G. There is also a setting to use 5G whenever it's available rather than using the automatic Data Saver Mode.
Carriers with 5G Networks
All four of the major carriers in the United States - Verizon, AT&T, T-Mobile, and Sprint - are working on 5G technology, and 5G networks have already started rolling out. Other carriers around the world are also developing 5G networks. All of the U.S. carriers are promising maximum connectivity speeds 10 to 20 times faster than LTE.
Verizon - Verizon has launched its 5G LTE network in areas in Atlanta, Boise, Chicago, Denver, Dallas, Detroit, Indianapolis, Minneapolis, New York, Omaha, Panama City, Phoenix, Providence, St. Paul, and Washington, DC., with plans to expand to additional cities in the future. Verizon is focusing heavily on mmWave spectrum, but has also rolled out a sub-6GHz network across the United States, and it has purchased mid-band spectrum.
AT&T - AT&T is confusingly labeling its 5G networks in multiple ways, calling its upgraded 4G LTE "5GE" and its mmWave coverage "5G+." 5G+ is AT&T's real, actual 5G mmWave network, and it is available in select areas in cities that include Los Angeles, Orlando, Atlanta, Raleigh, Indianapolis, Austin, and more. AT&T has also purchased mid-band spectrum to enhance its 5G networks.
T-Mobile - T-Mobile (which is also now Sprint) is taking a practical approach to 5G and is focusing on the 600MHz spectrum first, because that's what most customers will connect to. As mentioned up above, this spectrum is faster than LTE but slower than mmWave, and provides better coverage.
Apple's Future 5G Plans
Apple is working on creating its own modem chips that are designed in-house, much like the Apple silicon and A-series chips, which will allow the company to reduce its reliance on modem chip vendors.
Apple analyst Ming-Chi Kuo recently said that Apple could transition to its own 5G modems as early as 2024. Once Apple comes out with its own modem designs, it will no longer need Qualcomm. 2024 is the "earliest" date, however, so the timeline could change.
Guide Feedback
Have questions about the 5G ‌iPhone‌ or want to offer feedback on this guide? Send us an email here.