iOS 16.4 Lays Groundwork for Apple Cash High-Yield Savings Account
Apple is preparing to release a new high-yield savings account option for Apple Card users, based on code that was found in the iOS 16.4 beta. The update lays the groundwork for the feature, which was announced in October.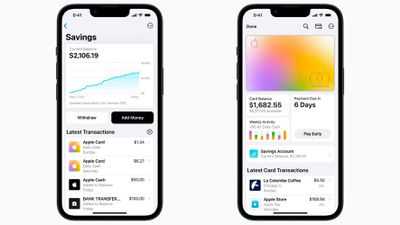 Since Apple announced plans for a high-yield savings account for the ‌Apple Card‌, it has not made any additional information available, including details on a launch. iOS 16.4 lays the groundwork for the feature, so it could be available alongside the iOS 16.4 release.
Code in iOS 16.4 has references to routing and account numbers, current balance, interest earned, data management, funds available for withdrawal, and more.
Apple will encourage customers to sign up for a savings account by providing a message that says "Transfer your Apple Cash balance to your savings account and start earning interest today" and "You can transfer up to [amount] from Apple Cash to your savings account in a single transaction and start earning interest today.
As with the ‌Apple Card‌, the high-yield savings account will be offered through Goldman Sachs. ‌Apple Card‌ owners will be able to opt-in to having their Daily Cash deposited automatically so that it can earn interest.
Apple has not yet provided the APR for the savings account that will be made available to ‌Apple Card‌ owners, and there is no mention in the code. There are also no signs of the savings account in the Wallet app as of yet.
The savings account and Daily Cash will be able to be managed through the Wallet app alongside the ‌Apple Card‌.