iOS 16.4 Beta Re-Adds HomeKit Architecture Upgrade
The iOS 16.4 beta that Apple provided to developers today appears to reintroduce the HomeKit architecture update that was pulled from iOS 16.2 due to a wide range of ‌HomeKit‌ bugs that it added.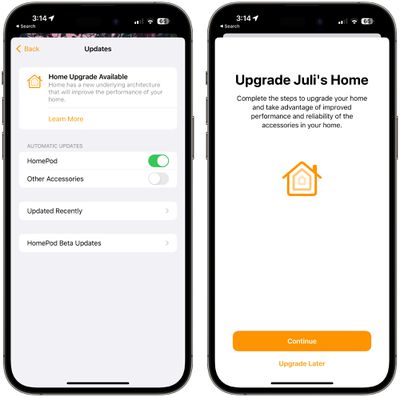 In the Software Update section of the Home app, iPhone and iPad users who have not yet upgraded to the new architecture are seeing a "Home Upgrade Available" option after updating to iOS 16.4.
There were signs that the ‌HomeKit‌ architecture would be reintroduced in iOS 16.4 as early as January, as Apple has been working on it behind the scenes for some time now. Apple has prepared an updated version of the update, presumably with fewer bugs that will impact ‌HomeKit‌ users.
The new ‌HomeKit‌ architecture is meant to improve the reliability and efficiency of communication between smart home accessories and Apple devices, and it is something that Apple has been developing since iOS 16 was announced at WWDC in June 2022.
The initial launch caused some ‌‌HomeKit‌‌ devices to go missing from ‌‌HomeKit‌‌ setups or to be stuck with a "configuring/updating" status. It also resulted in invitations to share the Home with others failing, and it broke ‌‌HomeKit‌‌ Secure Video recording for some.