iOS 16.4 Will Let You Specify an Apple ID to Use for Beta Access
With the iOS 16.4 and iPadOS 16.4 updates, Apple is changing the way that developer and public beta opt-ins work. Going forward, an Apple ID associated with a developer or public beta account is required, and with today's iOS 16.4 beta, you can use two different Apple IDs for access.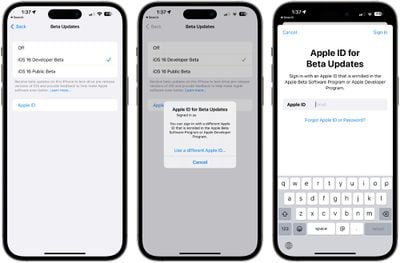 The prior betas made it clear that users would be required to sign in to a developer account or opt in to the public beta to access a developer beta or a public beta, respectively, but there was no option for individuals who have separate Apple IDs for their personal use and for their beta use. iOS 16.4 beta 3 adds an ‌Apple ID‌ field that can be tapped to sign in to a separate ‌Apple ID‌ to account for this situation.
You can sign in with a different Apple ID that is enrolled in the Apple Beta Software Program or Apple Developer Program.
When you tap on the ‌Apple ID‌ button under Settings > General > Software Update, Apple allows you to enter a separate ‌Apple ID‌ for downloading the beta. That function lets you download betas as normal through a developer or public beta ‌Apple ID‌, while using a standard ‌Apple ID‌ for all other iPhone functions.
This change to how beta updates are downloaded will primarily impact people who use Developer Center profiles to install betas that they would not normally have access to. There will be no mechanism for installing a beta from a profile going forward, and each person running the developer beta will need to have access to a developer account.
The public beta is available to anyone who chooses to sign up, but public betas trail developer betas, so non-developers who want developer beta access currently use developer profiles that are available to anyone with the link.
This crackdown on beta access will impact betas after iOS 16.4, and it will mainly be noticeable during the iOS 17 beta testing period that is set to happen later this year.
While the change does prevent non-developers from installing betas through a developer profile, it also simplifies the beta update process. Users can choose to enable the developer or public beta they have access to directly from an ‌iPhone‌ or iPad without having to go through extra steps to install a profile.