Apple Didn't Release Any New Macs This Quarter for First Time Since 2000
The fourth quarter of 2022 this week becomes the first with no new Mac models in 22 years as previously anticipated devices like the next-generation MacBook Pro and Mac Pro models have apparently been pushed out to 2023.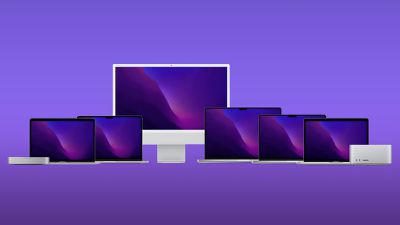 Historically, Apple released at least one new Mac model every year in the fourth quarter that runs between October and December, starting in 2001 with the launch of the iBook G3. This means that there has been a new Mac toward the end of the year for the entire lifespan of product lines including the iPod, iPhone, iPad, and Apple Watch. The last Mac that Apple released is the M2 MacBook Air, which launched on July 15. Depending on how long Apple waits to launch its next Mac, the time following the launch of the ‌MacBook Air‌ could be among the longest periods with no new Mac models at all.
While it was widely rumored that new 14- and 16-inch MacBook Pro models would emerge before the end of the year, a time frame seemingly supported by some mass production forecasts, as 2022 draws to a close, it is now almost certain that these devices have been substantially delayed. The MacBook Pro delay first became apparent when Korean blogger "yeux1122" cited a supply chain source saying that the updated 14-inch and 16-inch MacBook Pro models will not launch until around March next year. The picture became clearer when Bloomberg's Mark Gurman said in October that the next wave of Mac releases will now take place in the first quarter of 2023, including updated versions of the MacBook Pro, Mac mini, and ‌Mac Pro‌.
Overall, this constitutes a delay of up to six months over what was originally expected for the next-generation MacBook Pro models. Gurman expects the next MacBook Pros to have few other upgrades beyond the ‌M2‌ Pro and ‌M2‌ Max chips, but high-bandwidth memory and ports with newer specifications seem plausible.
The ‌Mac Pro‌ is another device that was once strongly believed to launch before the end of the year, not least because this would have aligned to Apple's wish to transition the entire Mac lineup to Apple silicon within two years. At its "Peek Performance" event earlier this year, Apple even directly teased the launch of the Apple silicon Mac Pro, saying "that's for another day." While Apple reportedly had an M1-variant of the Mac Pro ready to launch earlier in 2022, the company appears to be waiting for an even bigger performance and efficiency jump next year.
Multiple reports from Gurman about the Apple silicon ‌Mac Pro‌'s chip options and specifications provide a fairly straightforward picture of what to expect from the new flagship Mac, but little is currently known about the device's design, ports, performance, and potential for modularity and customization. Most recently, Gurman said that Apple had likely scrapped plans for an "‌M2‌ Extreme" chip, but ‌M2‌ Ultra configurations of the new ‌Mac Pro‌ still seem to be on track for launch in 2023.