What Next for the MacBook Pro's Ports?
With Apple bringing the MagSafe charging port, HDMI port, and SDXC card slot to its latest high-end MacBook Pro models, speculation about future port additions for the next iteration of the MacBook Pro has already begun.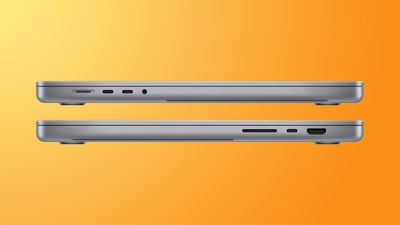 Not all users were happy about the specifications of the new MacBook Pro's ports, highlighting two main areas for Apple to build on the success of its new machines in the future.
The new MacBook Pro's HDMI port is a 2.0 specification port, and it seems likely that Apple will upgrade this to a more modern HDMI 2.1 port in the future. HDMI 2.1 has been available since 2017, featuring support for higher resolution displays with higher refresh rates, Dynamic HDR, Display Stream Compression, Auto Low Latency Mode, and a range of other improvements for professional users. The main difference with HDMI 2.1 is support for 4K displays with refresh rates up to 120Hz. HDMI 2.0 on the MacBook Pro only supports refresh rates up to 60Hz.
The Apple TV 4K that was released earlier this year already has an HDMI 2.1 port, so it seems to be just a matter of time before the MacBook Pro gets the latest HDMI specification.
The MacBook Pro also currently has an UHS-II speed class SDXC card slot. UHS-II supports bus speeds of up to 312 MB/s, but there is a faster UHS-III speed class that enables speeds up to 624 MB/s. UHS-III, like HDMI 2.1, was introduced in 2017, and would be a logical upgrade for the SDXC slot.
Given the reaction to the specifications of the HDMI and SDXC card slot on the latest MacBook Pros and that newer, more versatile options have been available for some time, it seems likely that the next-generation MacBook Pro models could make improvements in these areas. Other than ports with upgraded specifications, Apple's future MacBook Pro models could offer a number of features and improvements, such as Face ID, the M2 Pro and ‌M2‌ Max chip, OLED displays, and 5G connectivity.