Elon Musk Pledges to Build iPhone Rival If Apple Ousts Twitter
Elon Musk has pledged to offer an "alternative phone" if Apple and Google remove Twitter from their app stores, adding to long-standing rumors about an iPhone rival from Tesla.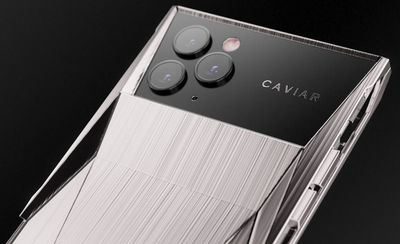 Modified ‌iPhone‌ 11 Pro in the style of the Tesla Cybertruck, by Caviar.
Musk's remark came after being asked about the potential scenario of Twitter being removed from app stores, which could conceivably happen if the social media network fails to sufficiently moderate content posted on its platform. Twitter has undergone considerable changes since Musk
acquired the company
in October,
losing hundreds of employees
and offering
verification via a paid subscription
. The questions around the future of Twitter's moderation emerged since Musk has repeatedly expressed his desire to promote free speech, reinstate suspended accounts, and make the platform more open.
I certainly hope it does not come to that, but, yes, if there is no other choice, I will make an alternative phone — Elon Musk (@elonmusk) November 25, 2022
While Musk affirmed that he hopes no such clash with Apple and Google will occur, he recently signaled displeasure with Apple's App Store fees and, in light of his plans to significantly expand the Twitter Blue subscription service, further conflict in the future seem likely. Musk's other companies, such as Tesla, have a strained relationship with Apple, and are reluctant to integrate features like Apple Music or CarPlay. There were even rumors that Musk demanded to become Apple CEO in talks over Apple potentially acquiring Tesla.
Musk is behind influential companies such as PayPal, SpaceX, Starlink, Tesla, Neuralink, The Boring Company, and, now, Twitter, so the prospect of him initiating a project to offer a new consumer smartphone to rival the ‌iPhone‌ seems plausible, especially if his companies' relationships with Apple worsen in the future. Tesla making a phone has long been an unsubstantiated rumor on account of its experience with hardware and software, but it may now be more likely given Musk's growing propensity to publicly disagree with Apple.