Apple Watch 'Pro' Casing Details Hint at Completely New Design
An increasing number of details about Apple's all-new Apple Watch design have emerged in recent months, providing a tentative picture of what to expect from the new look.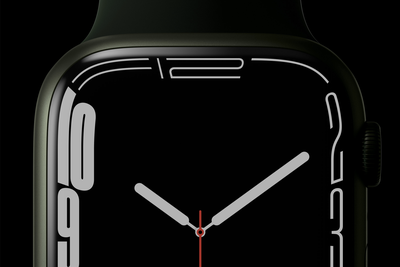 According to Bloomberg's Mark Gurman, the upcoming high-end variant of the Apple Watch Series 8 will feature the device's first redesign in years and a new titanium casing, but will not feature the long-rumored squared-off look. Gurman said that this year's high-end Apple Watch model will be "a good bit bigger" than the current Apple Watch models owing to a five to seven percent larger display, so much so that "it might only appeal to a subset of customers."
The high-end Apple Watch will reportedly feature the first new design since the launch of the Apple Watch Series 4 in 2018. It will apparently not be circular, and contrary to reports of a squared-off design, "it also won't have those rumored flat sides." Instead, Gurman described the new design as being "an evolution of the current rectangular shape." The design may mean that existing 45mm Apple Watch bands are not fully compatible with the new casing.
He added that it will have a casing made of "a more durable formulation of titanium to make it extra rugged" and said that "the upcoming Apple Watch release is shaping up to be one of the company's more exciting product launches this year."
Earlier this year, the leaker known as "ShrimpApplePro," who correctly said that the Apple Watch Series 7 would feature a rounded design like the Apple Watch Series 6, claimed that Apple was working on a "flat front glass display" for an Apple Watch Series 8 model. It seemed plausible that this information could relate to the rumored new design for the high-end model, but it has since been confirmed by Mac Otakara that the flat display belongs to the 47mm Apple Watch "Pro."
The other Apple Watch Series 8 models, expected to come in the same 41mm and 44mm sizes as the Series 7, are not expected to feature a redesign when they launch later this year. Gurman recently reported that Apple is planning to host an event on Wednesday, September 7 to unveil new iPhone and Apple Watch models, a date later confirmed by Apple for an event with the tagline "Far out."
Beyond a redesign, the high-end Apple Watch is expected to feature the "S8" chip, a body temperature sensor for enhanced sleep tracking and fertility planning, a Low Power Mode to prolong battery life, and a larger battery to enable longer workout times.