Snowboarder Trapped in Deep Crevasse Turns to iPhone to Save His Life
The iPhone's Emergency SOS feature has saved a British snowboarder's life after he fell into a crevasse at 10,000 feet in the Swiss Alps, Australia's 7 News reports.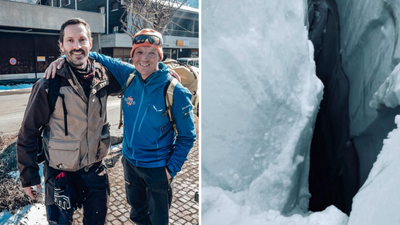 41-year-old personal trainer Tim Blakely was snowboarding alone at 10,000 feet in the Alps before falling over 13 feet into a hidden crevasse. Blakely landed on a fragile snow bridge that prevented him falling any further, but he believes he would have been totally stranded if not for his ‌iPhone‌'s Emergency SOS feature.
To activate the feature, Blakely pressed his ‌iPhone‌'s power button five times, triggering an emergency process that contacted the emergency services, transmitted his exact location, and messaged his emergency contacts. The feature was particularly useful since it did not rely on touching the screen, which was being dripped on by the melting snow and ice in the crevasse. Swiss rescue services were then able to come to Blakely's aid.

In a post on Instagram, Blakely thanked Apple and explained how the experience meant that his "appreciation for life changed dramatically." He went on to warn that even though he is a seasoned snowboarder with 17 years of experience, he was unprepared for the situation in the crevasse, urging other snowboarders to exercise caution in unfamiliar environments.
Emergency SOS has been an important ‌iPhone‌ feature since its introduction with iOS 11, and it has since expanded to the Apple Watch. The life-saving potential of various Apple devices, including the ‌iPhone‌, Apple Watch, and AirPods, have often been flagged in recent years, even being at the center of Apple's own marketing campaigns.