Apple Watch Saves Woman's Life With Feature She'd Never Heard Of
An Apple Watch has been credited with saving a woman's life after it contacted emergency services when she fell, leading to a lung cancer diagnosis, ABC Action News reports.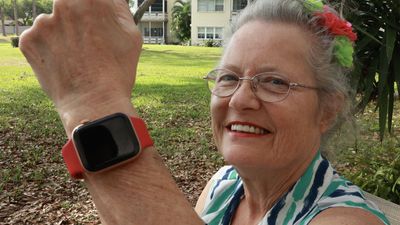 71-year-old grandmother Raylene Hackenwerth, from Saint Petersburg, Florida, fell in early March, triggering her Apple Watch's Fall Detection feature. The Apple Watch's Fall Detection feature can tell when a wearer has had a sudden fall using its gyroscope and accelerometer. The device then taps its wearer on the wrist, sounds an alarm, and displays an alert. If no response is received, the Apple Watch calls emergency services and highlights the location and nature of the incident.
The Apple Watch also notified Hackenwerth's son, who had bought her the Apple Watch as a Christmas gift to track workouts. Paramedics responded to the distress call, traveling to the precise geolocation that the Apple Watch had sent. Hackenwerth was found injured and almost unconscious, and was rushed to the hospital where doctors discovered a mass in her lungs that was cancerous.
"If it hadn't been for the falling and the Apple Watch calling them, I wouldn't even know this was there and maybe by the time it had got found in the future, it would be too late," Hackenwerth said.
She is now waiting to undergo treatment and said she and her son are both grateful for Apple Watch's Fall Detection feature, which they were previously unaware of. "I couldn't be happier that that is what we decided to give her for Christmas this year. It never occurred to me that it would save her life," Hackenwerth's son said.
The Apple Watch is often lauded for its life-saving capabilities, with the device's lifestyle, health, and fitness monitoring features frequently being at the forefront of Apple's marketing campaigns. Fall Detection is enabled by default for users who are over the age of 65, but younger Apple Watch Series 4 users must enable it manually. Apple has iterated on Fall Detection with software updates since its debut with the Apple Watch Series 4, along with the device's suite of other safety and health features.