Automated Apple Watch Feature Saves Unconscious Man's Life
The Apple Watch has yet again been credited with saving a man's life, after the device automatically called 911 when he fell off an electric bike, Fox 11 reports.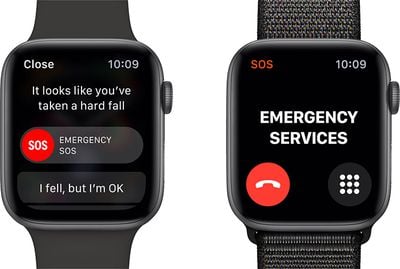 The Apple Watch's Fall Detection feature.
On January 22, Hermosa Beach Police Department officers in California responded to an incident after an Apple Watch initiated an emergency 911 call and advised that the "owner of this watch has taken a hard fall." When officers arrived at the location, they found the unconscious man lying beside his electric bicycle in the roadway.
The Apple Watch's Fall Detection feature can tell when a wearer has had a sudden fall using its gyroscope and accelerometer. The device then taps its wearer on the wrist, sounds an alarm, and displays an alert. If no response is received, the Apple Watch calls the emergency services and highlights the location and nature of the incident.
The Apple Watch owner was found bleeding from his head and officers were able to provide limited medical care on the scene, before being transported to a local hospital for additional medical treatment. He was ultimately released several days later, crediting his Apple Watch with saving his life.
The Apple Watch is often lauded for its life-saving capabilities, with the device's lifestyle, health, and fitness monitoring features frequently being at the forefront of Apple's marketing campaigns. Fall Detection is enabled by default for users who are over the age of 65, but younger Apple Watch Series 4 users must enable it manually. Apple has iterated on Fall Detection with software updates since its debut with the Apple Watch Series 4, along with the device's suite of other safety and health features.