Android Users Largely Excluded From AirTag Unwanted Tracking Improvements
Apple's recently announced unwanted tracking improvements for AirTags, which seek to cut down on individuals being unknowingly tracked with the device by another person, may not be a significant help to Android users.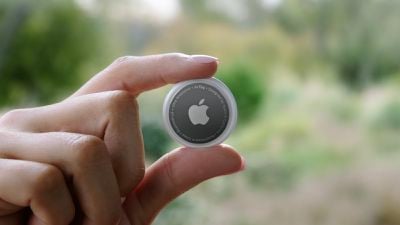 Unwanted tracking "has long been a societal problem," according to Apple, which is why ‌AirTags‌ were initially built with privacy in mind with the "first-ever proactive system" designed to provide unwanted tracking alerts. Unwanted AirTag tracking has not gone under Apple's radar, and the company said that it has been working with law enforcement in situations where ‌‌AirTags‌‌ are used for malicious purposes.
With the latest privacy improvements to mitigate unwanted tracking, ‌AirTags‌ that have been separated from their owner will display an alert on a nearby iPhone, iPad, or iPod touch, in addition to playing a sound. Apple says that this feature will help if the AirTag sound is hard to hear or if the speaker has been tampered with, like modified "Silent AirTags." Apple is also going to update its alert system to notify users earlier when an unknown AirTag or Find My network accessory is found traveling with them.
‌iPhone‌ 11, ‌iPhone‌ 12, and iPhone 13 users who receive an unwanted tracking alert will be able to locate an unknown AirTag with precision, similar to the Precision Finding feature that is already available to AirTag owners. The feature will show an unknown AirTag's distance and direction when it is in range, making it easier to locate.
There is no specific timeframe for when these new features will be released, but Apple has them in the works for release later this year. The updates are designed for Apple product users, and the company had no new or equivalent announcements for Android users.
Nevertheless, Android users may tangentially be helped by other improvements center on the AirTag itself, such as making the speaker louder. Apple hopes to discourage unwanted tracking with ‌AirTags‌ with new privacy warnings that will show up during AirTag setup that will make it clear that the AirTag is linked to an Apple ID, that using it to track people is a crime, and that law enforcement can request identifying information about the owner of the AirTag.
Since ‌AirTags‌ were released last April, there have been a growing number of news stories about the ‌AirTags‌ being used for stalking people or stealing items like cars through the tracking features. Apple has been criticized for a safety system that does not go far enough in protecting users, especially those who do not have Apple devices. Apple has in response already made several changes to the way that ‌AirTags‌ operate and released an app for Android users that scans for nearby ‌AirTags‌, and the changes coming later this year may further deter the use of ‌AirTags‌ for unwanted tracking.

While Apple's Tracker Detect app for Android provides a way to check if an AirTag is nearby, users of the rival platform remain at a significant disadvantage in terms of unwanted tracking. Apple says that it is listening to user feedback and innovating to make continued improvements to prevent unwanted tracking, so there could be additional changes happening in the future, including for Android users.