Apple's AirTag Item Trackers Increasingly Linked to Criminal Activity
Apple's AirTag item trackers are increasingly being used to support criminal activity, according to recent reports from around the world.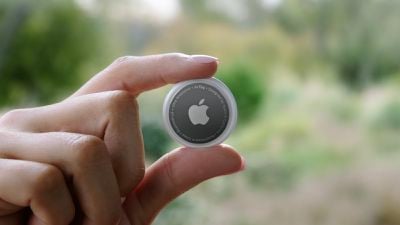 AirTags, which use Apple's Find My Network, can leverage nearby devices to transmit their location, providing bad actors with a new means of finding individuals and high-value cars. The relatively low price of ‌AirTags‌, costing as little as $25 each when bought in packs of four, as well as the ubiquity of Apple devices, also makes them an attractive prospect for criminals.
In early December, Canadian police released a report suggesting ‌that ‌AirTags‌‌ are being used in an increasing number of car thefts in Canada and shared two public information videos related to the problem. Since then, other high-value car thefts using ‌AirTags‌ have been reported in the United States, and stories about victims discovering ‌AirTags‌ on their vehicle have become commonplace on social media. Local police departments have even linked ‌AirTags‌ to multiple alleged stalking cases.
While the method of stealing a cars with the help of an AirTag is largely conventional, the purpose of the AirTag in the crime is to track a high-end car back to a victim's residence where it can be stolen from the driveway. Thieves typically survey busy public car parks for high-value vehicles and hide an AirTag somewhere on the vehicle, such as under the tow hitch, drain cap, or fuel cap. Then, once the victim has driven the car home, thieves can track down the vehicle and attempt to steal it at an opportune time such as overnight.
To prevent these situations, Apple has introduced anti-tracking features that alert users if an unknown AirTag is nearby. These alerts used to be limited to iPhone users, but alongside iOS 15.2, Apple released a "Tracker Detect" app for Android users that lets them scan for nearby ‌AirTags‌. Thieves have no way to disable Apple's anti-tracking features that alert users when an unfamiliar nearby AirTag is tracking their location, but not all victims receive or act on the notification, or have the Tracker Detect app installed if they have an Android device.

Both Android and ‌iPhone‌ users can locate nearby ‌AirTags‌, and can play a sound to locate them. ‌AirTags‌ also automatically begin to emit a sound after they have been separated from their owner. Tracker Detect and the ‌Find My‌ app both offer instructions on how to disable a rogue AirTag to prevent it from being used for tracking purposes, which is done simply by removing the battery.
Police departments expect to see ‌AirTags‌ used on a wider scale in vehicle thefts in the future. Car owners have been encouraged to park in a locked garage if possible and inspect their vehicle regularly for trackers, especially if they receive an unknown AirTag notification.