'MacBook Air' Name Could Be Scrapped Next Year
Apple could scrap the "MacBook Air" moniker for its lightweight, entry-level Mac laptop next year, a recent rumor has suggested.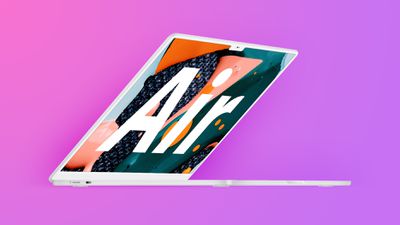 Apple is widely expected to be planning the launch of a new MacBook Air, featuring a slimmer, non-tapered design, the "M2" chip, a mini-LED display, a notch and white bezels, MagSafe charging, a 1080p webcam, and a range of color options, for release next year.
While multiple reports indicate that this new machine will be the successor to 2020's ‌MacBook Air‌ with an M1 chip, a recent rumor from the leaker known as "Dylandkt" has said that this new model may not be branded as a "‌MacBook Air‌." Instead, it would simply be a "MacBook."
A current naming candidate within Apple for this laptop is MacBook. — Dylan (@dylandkt) October 21, 2021
This would not be the first time Apple has offered a "MacBook." The company sold a MacBook from 2006 to 2012, and again from 2015 to 2019. The last MacBook offered the same low-powered, tapered, USB-C-centric, and fanless design of the subsequent ‌MacBook Air‌, so they were clearly positioned as very similar devices.
As a machine that is expected to get a major overhaul, it seems plausible that Apple could take the opportunity to simplify the Mac lineup's naming and bring it in line with the iPhone, where there is the "iPhone 13" and "‌iPhone 13‌ Pro," for example. Indeed, going forward, the iMac is expected to offer only "‌iMac‌" and "iMac Pro" variants, so it would make sense for Apple's family of laptops to simply be the "MacBook" and "MacBook Pro."
Whether Apple would continue to keep the current ‌MacBook Air‌ with the ‌M1‌ chip in the lineup as a low-cost offering, in addition to the new "MacBook," is currently unknown. For more about the 2022 "MacBook" or ‌MacBook Air‌, see our detailed guide that outlines everything rumors say we can expect.