iOS 11 Streamlines Creation of Custom Apple Watch Faces With New Share Sheet Option in Photos
Apple has made it easier than ever for users to create custom watch faces on their Apple Watch in iOS 11, thanks to a new share sheet option within Photos on iPhone.
On the current operating systems for iPhone and Apple Watch, users can choose a "Photo" watch face to add to their Apple Watch, but the only way to change the picture is to customize the face on the Apple Watch and swipe left and right through photos in a synced album. "Photo Album" is also available, which automatically shuffles up which picture will appear on Apple Watch -- again, within a selected album -- each time the wrist is raised.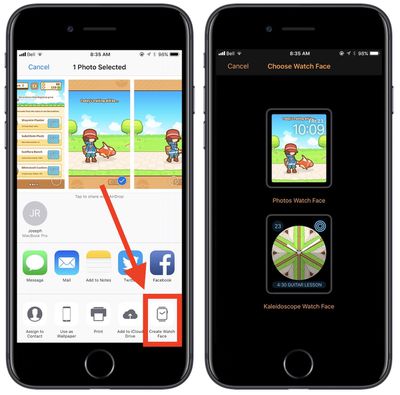 Now, Apple has added in a simple new share sheet to Photos on iOS 11, as spotted by French site Watch Generation [Google Translate]. After a photo is selected the sheet gives the option to "Create Watch Face," then users have to choose which face they prefer: a typical photo face where the image is presented as normal, or they can turn the image into one of Apple Watch's new kaleidoscope faces.
For the Photos face, users can now also select 10 custom images directly within the Watch app to add into the photo rotation of the watch face. This should make creating a custom Photos watch face much easier than the current method in iOS 10, where users either have to choose from one of the pre-set albums in iOS, or go into the Photos app to build a custom one with the images they want to see on their Apple Watch face.


For the kaleidoscope watch face, Apple appears to have multiple pre-set images to choose from that result in the distorted images seen at WWDC this week, including a flower and a few of the colorful exploding sand imagery already available as iOS wallpaper options. When users add in a custom image, it'll appear at the end of this list. There are also custom styles of kaleidoscope to choose from, including one that distorts images with triangular geometry ("Facet") and one with softer circles ("Radial").
Check out previous MacRumors coverage from WWDC week for more iOS 11 tidbits, including easier Wi-Fi password sharing, new AirPods controls, Control Center customization, QR code support in Camera, and more. There's also our hands-on video with the new iOS that walks through a few of the biggest additions to the iPhone software, which will launch for everyone sometime this fall.