iOS 11 Makes it Easy to Share Your Wi-Fi Password With Nearby Friends
With the developer beta of iOS 11 out in the wild, new features of the operating system have been coming to light throughout the week, including an unobtrusive volume indicator and new AirPods controls. In iOS 11, users will also be able to easily join a Wi-Fi network thanks to a new password sharing process between trusted devices, which should reduce the hassle of joining new networks.
The feature allows one iOS device with knowledge of a Wi-Fi network's password to grant access to a separate iOS device that still needs the password in question. 9to5Mac detailed an example where an iPad was already on a Wi-Fi network, while an iPhone still required the Wi-Fi password to connect.
All devices must be running iOS 11, and it appears that macOS High Sierra will support the feature as well.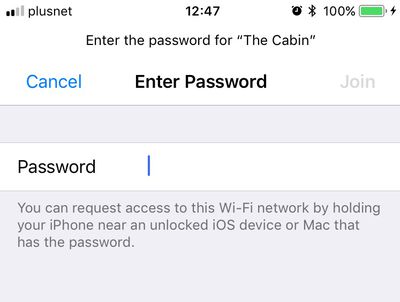 Images via 9to5Mac
After navigating to Settings > Wi-Fi and choosing the right network, the iPhone user is greeted with the traditional password screen (seen above), but on iOS 11 when the iPhone is brought near the iPad, a card on the iPad notifies its user that the iPhone wants to join the network (seen below).
The iPad user can then tap and send their password to the iPhone, which recognizes the password, fills out the information, and connect to the Wi-Fi. As Apple notes, the iOS device or Mac with knowledge of the network's password must be unlocked for the transfer process to work.


There are plenty more iOS 11 tidbits to discover in the wake of the official unveiling this week at WWDC, so be sure to check out the MacRumors iOS 11 roundup to find out everything we know about the newest version of iOS.