iOS 11 Lets AirPods Users Change Tracks With a Double Tap
Owners of AirPods will soon be able to skip forwards and backwards between tracks with a simple double tap of either earpiece, thanks to an additional setting Apple is providing in iOS 11.
Currently, AirPods users can only change tracks from the buds by invoking Siri with a double tap and vocally commanding the virtual assistant to do so, an action some people find cumbersome or simply embarrassing to have to perform in public.
Unfortunately the only available alternative to iOS 10 users is to take out their iPhone and perform the track change manually by tapping the lock screen.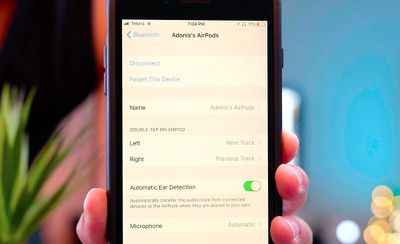 However, as demonstrated by YouTuber Appsolutely Tech, in iOS 11 it's possible to customize the Bluetooth settings on the AirPods so that a double tap on one earpiece skips to the next track, with the same action on the other earpiece returning to the previous track.
The Next/Previous track options join the existing settings found on the iOS Bluetooth 'info' screen that let users double tap to activate Siri, play/pause the track, or turn off the AirPods.
(Thanks, Jonathan!)