iOS 11 Preview: Control Center Gets Customizable With 3D Touch
Apple on Monday introduced iOS 11, the next major version of its mobile operating system for iPhone, iPad, and iPod touch. The software update, available this fall, includes a completely redesigned Control Center that fits on one page and is much more customizable thanks to 3D Touch.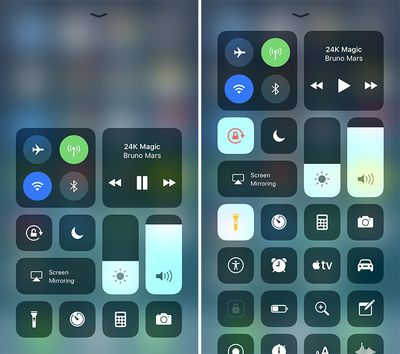 Control Center's default appearance (left) and with additional controls (right)
When you deep press on the Music pane, for example, a larger pane with volume, playback, and other controls pops open. Likewise, when you deep press on the pane with Airplane Mode, Wi-Fi, Bluetooth, and Cellular Data toggles, a larger pane pops open with AirDrop and Personal Hotspot toggles.

More granular controls appear by deep pressing with 3D Touch
On iOS 11, users can add and organize additional controls and toggles to appear in Control Center through the Settings app. However, the following controls are default and cannot be hidden: the system toggles pane, music, orientation lock, brightness, volume, Do Not Disturb, and AirPlay Mirroring.

In Settings, users can add and organize additional controls to appear in Control Center
The following controls can be added and organized in Settings:
• Accessibility Shortcuts
• Alarm
• Apple TV Remote
• Calculator
• Camera
• Do Not Disturb While Driving
• Flashlight
• Guided Access
• Home
• Low Power Mode
• Magnifier
• Notes
• Screen Recording
• Stopwatch
• Text Size
• Timer
• Voice Memos
• Wallet
Control Center still lacks a truly customizable drag-and-drop layout, but the return to a single-page design and some customizability are welcomed improvements. The ability to add additional controls such as Low Power Mode and Accessibility Shortcuts will also be appreciated by many users.


The first iOS 11 beta was released to registered Apple developers on Monday. A public beta will be available in late June through the Apple Beta Software Program. The software update should be officially released in September.