Apple Music's Original TV Plans Now Include Potential Shows and Videos From J.J. Abrams and R. Kelly
Jimmy Iovine, one of the heads of Apple Music, has given multiple interviews and visions for the future of Apple's streaming music service over the past few months, mainly detailing how Apple Music will morph into "an entire pop cultural experience" with the advent of original video content. In an interview with Bloomberg posted online today, Iovine continued that pitch by stating, "I'm trying to help Apple Music be an overall movement in popular culture," detailing plans that include original shows and videos with partners like director J.J. Abrams and rapper R. Kelly.
The expansion of Apple Music beyond streaming new songs and music videos by artists began slowly for Apple, with the company releasing a tour documentary in partnership with Taylor Swift in 2015, as well as a 23-minute short film with Drake in 2016. Those modest beginnings have helped Apple learn what works and what doesn't, with Iovine stating, "We're gonna grow slowly no matter what, I don't know how to do it fast."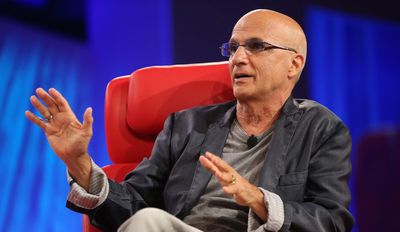 Iovine further mentioned that Apple's vast resources provide the Apple Music team with enough room for betting on risky projects, so the service can "make one show, three shows" to see what viewers favor.

"A music service needs to be more than a bunch of songs and a few playlists," says Iovine, 64. "I'm trying to help Apple Music be an overall movement in popular culture, everything from unsigned bands to video. We have a lot of plans."

Apple Music's foray into video programming could be a temporary dalliance, but if Iovine succeeds, the world's wealthiest company could increase its investment, routinely competing for top projects. "We have the freedom, because it's Apple, to make one show, three shows, see what works, see what doesn't work until it feels good," Iovine says.
Those slow-to-build plans apparently include a largely redesigned, "new edition" of the Apple Music app coming to iOS 11 this fall that will "better showcase video." Because of this update, Iovine said that Apple won't make the same mistakes that rival Spotify has made in producing original video content, but subsequently not promoting it enough to get people to watch. "We're going to market it like it's a TV show," Iovine mentioned. "You're going to know this is out."
Currently, those shows include Carpool Karaoke: The Series and Planet of the Apps, although the former show was recently delayed indefinitely and the latter has only a vague spring launch date. In the immediate future, Iovine said that Apple Music's video ambitions are still very music-related, including Dr. Dre's Vital Signs, and Iovine even wants to produce a sequel to R. Kelly's rap opera Trapped in the Closet.

"For a music streaming service," Iovine says, "we're building a very decent slate."
According to Carpool Karaoke producer Ben Winston, who helped sign the agreement to partner with Apple along with star James Corden, the mere fact that Apple is involved with producing these new shows is all it takes to get people excited to work with them. "If I call LeBron James and I name five networks or cable channels or even different online platforms, I'm not convinced he agrees to sit in a car," Winston says. "If you say you're doing a new show for Apple, people get excited."
But the company's plans are far bigger than just original content that has a music slant, with Iovine having met with well-known Hollywood creatives to discuss "possible ideas," including director J.J. Abrams and producer Brian Grazer, although talks with Grazer regarding Imagine Entertainment are said to have "fizzled out" for unknown reasons. Of course, any specific details regarding what a J.J. Abrams-produced series on Apple Music might be were not given.
Previous reports of Apple's dealings in Hollywood have been largely critical of the Cupertino company's inability to forge ahead with a consistent, unified vision in the original content space. For Iovine, the almost-two-year-old service still has a ways to go. "Apple Music is nowhere near complete in my head," he said. Achieving his vision for the future of Apple Music has gotten Iovine in hot water with some of his colleagues, as well.

Some ideas get Iovine into trouble. He's taken meetings with artists and made arrangements to release music without telling anyone in advance, frustrating colleagues. He's persuaded artists to release music exclusively with Apple, frustrating record labels. But no one doubts his knack for bringing people together.
Everyone from Apple CEO Tim Cook to Apple Music executive Bozoma Saint John have reinforced Apple's future with original content coming to its music streaming service. Earlier this year during an earnings call, Cook said that Apple is starting off slow -- echoing Iovine's comment -- and has a "toe in the water" testing original content, while Saint John said of Apple Music as a whole: "We're developing something very special and we just want people to pay attention."