Apple Considered Buying Ron Howard's Imagine Entertainment, but Talks 'Fizzled Out' [Updated]
Another rumor of Apple's interest in acquiring a company involved in film and television has come to light today, with Financial Times reporting that the Cupertino company was in talks to acquire production company Imagine Entertainment, co-founded by Ron Howard and Brian Grazer. The deal is said to have gotten "serious enough" to include Apple CEO Tim Cook and senior vice president Eddy Cue, but discussions ultimately "fizzled out" for unknown reasons.
Those knowledgable about the deal said that possibilities ranged from a "first look" distribution strategy granted to Apple for movies and television shows released by Imagine all the way to an investment or even an outright purchase by Apple. Imagine is a company behind a number of well-known films, including all three entries in The Da Vinci Code series, Apollo 13, and the upcoming adaptation of The Dark Tower. Some of its production in the TV space includes shows like Empire, 24, and Parenthood.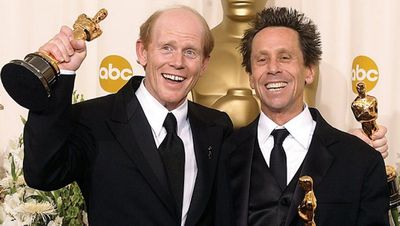 Ron Howard and Brian Grazer of Imagine Entertainment
According to
Financial Times
, Apple's current approach to original video content "has many in Hollywood scratching their heads."
This approach has many in Hollywood scratching their heads. Apple's rounds of meetings with various entertainment industry players suggest it has not yet decided what its strategy should be.

The iPhone maker has been stalking Hollywood for more than a year, talking to leading industry players while it tries to formulate a cogent video strategy. It has considered a range of acquisitions and targets including, most recently, Imagine Entertainment, the Hollywood production company owned by Ron Howard and Brian Grazer, according to several people briefed on the discussions.
Imagine is said to have recently faced the end of a long-term production and distribution deal with Universal Pictures, which is when Apple is believed to have considered entering into a first look deal with the company. The new Imagine rumor marks another bump in the road for Apple's trip around Hollywood, following reports that the company considered buying Time Warner last year. Later in the year, people familiar with Apple's acquisition strategy said it was "not interested" in acquiring Time Warner at the time.
Today's news follows a Bloomberg report from yesterday that underscored Apple's "arrogance" in mergers and acquisitions, where it's reported to use shrewd business tactics and non-traditional strategies in its attempts to acquire new companies. These tactics work mostly for Apple's smaller acquisitions, according to some analysts, but impede its success at acquiring larger companies, although it is unclear how seriously Apple has pursued any such large targets.
Update 12:50 PM: Imagine co-chairman Michael Rosenberg tells Variety, "The story is not accurate and Imagine has no further comment."