T-Mobile Unveils Doubled Data Plans, Free Video Streaming at Un-Carrier X Event
T-Mobile CEO John Legere today hosted an Un-Carrier X event, where he announced T-Mobile's latest offering, free video streaming. Going forward, T-Mobile customers who watch streaming video will not have the video data count towards their monthly data usage.
That means services like Netflix and Hulu will no longer eat up data, making T-Mobile's data plans go further. T-Mobile's lowest-priced plan costs $50 per month and includes just 2GB of data, but T-Mobile is now the only company that excludes video streaming data from data usage. T-Mobile also allows for free streaming music, a perk introduced at an earlier event.
With the new Binge-On free video streaming service, there are 24 current partners, and the program is open to any video streaming product that wants to participate. Binge-On uses a proprietary data compression algorithm to stream 480p "DVD quality" video that uses a smaller amount of data to a T-Mobile device. For those who don't want to use the compression service, it can be toggled off. Binge-On is available to customers with a 3GB plan or higher.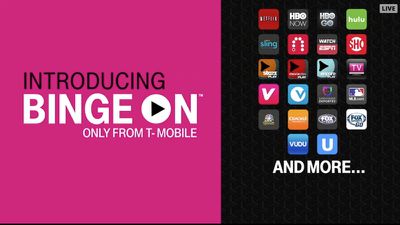 Binge-On partners at launch include Netflix, HBO Now, HBO Go, Hulu, WatchESPN, Showtime, Starz Play, Encore Play, Vevo, MLB.tv, NBC Sports, Movieplex Play, Vessel, Sling TV, Sling Box, T-Mobile TV, Go90, DirecTV, Univision Sports, Crackle, FOX Sports, FOX Sports Go, Vudu, and Ustream.
T-Mobile has also doubled the amount of data available to its Simple Choice customers. Rather than offering data in 1GB, 3GB, and 5GB increments, T-Mobile is now offering 2GB, 6GB, 10GB, and unlimited plans.
Customer plans are being doubled at no cost and a new Family Match promotion doubles the amount of data available to each family member. A family of four can now get 6GB of data each for a total of $120 per month using Family Match. Family Match includes a free fourth line for all customers as part of a limited time promotion.
Over the course of the last two years, T-Mobile has aimed to disrupt traditional mobile service with its 10 "Un-carrier" initiatives. The company began with uncoupling device costs from service costs in 2013, and then went on to offer several additional incentives to encourage customers to switch to the carrier, including paying early termination fees, offering a JUMP! upgrade plan, unlimited texting and 2G data in 100 countries, free streaming music from Spotify, Rdio, iTunes Radio, and Pandora, one week free trials to test the T-Mobile service, Wi-Fi calling, data rollovers, and low-cost plans for businesses.