T-Mobile Launches 'Wi-Fi Unleashed' Campaign, Pledges Support for Wi-Fi Calling on All New Smartphones
T-Mobile today hosted its 7th Un-carrier event where it announced plans for a "Wi-Fi Unleashed" campaign. According to the company, all smartphones going forward will be able to take advantage of the network's Wi-Fi calling and texting, including Apple's iPhone 6 and iPhone 6 Plus.
Wi-Fi calling and texting allow users to send and receive calls/texts over a Wi-Fi network, which is useful in areas where there are poor cellular connections. Apple announced Wi-Fi calling support for the iPhone 6 and the iPhone 6 Plus yesterday.
T-Mobile plans to offer Wi-Fi calling and texting at no additional cost. The company has also deployed a new product for customers who have bad cellular reception in their homes. The T-Mobile Personal CellSpot is a Wi-Fi router that can be used as a primary router or alongside an existing router, prioritizing voice calls and offering HD audio quality for calls. It has 802.11ac support, USB 3.0 ports, and covers up to 3,000 square feet.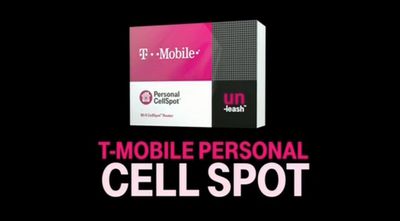 T-Mobile plans to begin selling the Personal CellSpot on September 17. It is available to be leased for free with a $25 refundable deposit, but customers can also purchase it outright for $99. T-Mobile will also be allowing one time upgrades for customers to get a Wi-Fi enabled phone, even those who are not signed up for the JUMP program.
Along with support for Wi-Fi calling and the introduction of the CellSpot, T-Mobile announced that it's entered into a partnership with in-flight wireless provider Gogo, allowing T-Mobile customers to send and receive texts and picture messages on their phones on any flight that includes Gogo wireless service. Gogo in-flight wireless for T-Mobile customers is also free, and will begin on September 17 for compatible devices.
On stage, Legere announced that T-Mobile had 2.75 million gross adds in August of 2014, and 1 million postpaid adds, which represents its biggest postpaid net add in the history of the company. Legere also noted that T-Mobile is gaining subscribers from other carriers at a rapid pace thanks to its Un-carrier initiatives.
T-Mobile's Un-carrier initiatives are an effort to disrupt traditional mobile service. The company began with uncoupling device costs from service costs in 2013, and then went on to offer several additional incentives to encourage customers to switch to the carrier, including paying early termination fees, offering a JUMP! upgrade plan, unlimited texting and 2G data in 100 countries, free streaming music from Spotify, Rdio, iTunes Radio, and Pandora, and one week free trials to test the T-Mobile service.