T-Mobile Debuts New Business Plan, Other Perks at Un-Carrier 9 Event
At an event in New York City this morning, T-Mobile unveiled its ninth Un-carrier initiative, which is aimed at business owners. T-Mobile CEO John Legere took the stage to unveil a simple new plan for businesses small and large, which is priced up to 40 percent lower than similar business plans from AT&T and Verizon.
T-Mobile's new business plan is priced at $16 per line for businesses that use under 20 lines, and at over 20 lines, the price drops to $15 per line. 10 lines (the minimum allowed), for example, costs $160, while 100 lines costs $1,500. At 1000 lines, the price drops even further, to $10 per line.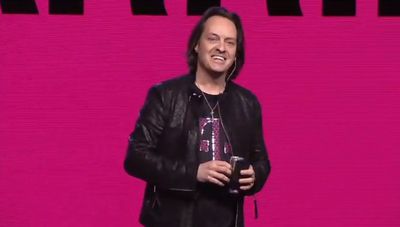 Each line comes with 1GB of data, and T-Mobile is giving businesses multiple options for purchasing additional data. Data can be purchased per line or pooled and distributed between many employees. Pooled data costs $4.75 per GB at a 100GB minimum and drops to $4.25GB at 1TB, but there are also options to purchase unlimited data for $30/line or 2GB of data for $10/line.


T-Mobile is also partnering with GoDaddy to give business customers a free domain and a free mobile site. This deal is available for any business customer with at least one line that has additional data. Through a second partnership with Microsoft, T-Mobile is offering customers a free custom email.
Customers who have a T-Mobile business line through work will be able to get discounted service for their families as well, using T-Mobile's new Business Family Discounts plan. With a standard cell phone family plan, the first line is the most expensive and the second line is less expensive. At T-Mobile, this works out to $50 for the first line and $30 for the second line. With Business Family Discounts, the person's work line counts as the first line, dropping the price of the first family line. According to John Legere, this can save families of two up to $438 per year, and it's available to all T-Mobile customers beginning today.
On the consumer end, T-Mobile's announced "Carrier Freedom," which is an expansion of the company's pledge to pay early termination fees. T-Mobile's early termination payments now cover device payments and leases, letting customers on plans like AT&T Next switch to T-Mobile. The company will pay up to $650 per phone to customers who switch carriers.
T-Mobile's final "One More Thing" announcement was the "Un-Contract," which ensures that customer's rates may go down, but they won't go up. All of the company's promotional plans are now permanent, and no unlimited data plan will change for two years.


Over the course of the last two years, T-Mobile has aimed to disrupt traditional mobile service with its "Un-carrier" initiatives. The company began with uncoupling device costs from service costs in 2013, and then went on to offer several additional incentives to encourage customers to switch to the carrier, including paying early termination fees, offering a JUMP! upgrade plan, unlimited texting and 2G data in 100 countries, free streaming music from Spotify, Rdio, iTunes Radio, and Pandora, one week free trials to test the T-Mobile service, Wi-Fi calling, and data rollovers.