T-Mobile Announces 'Test Drive', A One Week Network Trial With a Free iPhone 5s
At its Un-Carrier 5.0 event in Seattle, T-Mobile announced a new program called Test Drive, which allows prospective customers to try out its network for 7 days with a free iPhone 5s.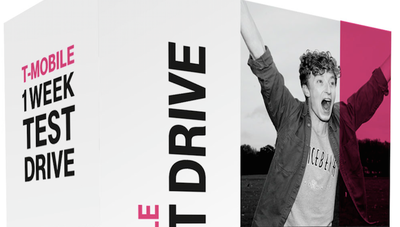 Starting this Monday, June 23, people can sign up for T-Mobile Test Drive at www.t-mobile.com/testdrive. A few days later, they'll receive an iPhone 5s fully loaded and ready to go, and they can put T-Mobile's data-strong network to the test for seven full days on the "most forward-thinking" smartphone. After the test drive, just drop it off at any T-Mobile store. That's it. Absolutely no money down. No obligation. No strings attached.
The carrier said that Apple is providing "tens of thousands" of iPhones for Test Drive, and expects more than a million users to use the program within the first year. In 1984, Apple itself used a similar test drive program to get people to try out the original Mac.
T-Mobile CEO John Legere said the goal of the program is to change the perception some people have of the carrier's network, according to Re/code. The carrier has been rapidly enhancing its network in recent years, adding LTE and expecting to reach 250 million customers with that LTE network by the end of the year. Additionally, T-Mobile has 16 markets with "Wideband LTE", which lessens potential network congestion and increases speeds, and plans on introducing Voice-Over-LTE.
The carrier also announced that current T-Mobile customers will be able to stream music from Spotify, Rdio, iTunes Radio and Pandora for free. T-Mobile negotiated deals with those streaming companies so that data from those apps don't count against a customer's data plan, according to Engadget. The company plans to add other services, like Google Play Music and Beats Music, if enough customers request them.
Additionally, T-Mobile announced UnRadio, which allows customers on a Simple Choice plan to gain access to Rhapsody's entire music library for free with unlimited skips and no ads. UnRadio also doesn't count against a customer's data plan. Customers not on the Simple Choice plan will have to pay $4 a month for the service.
Those who want to sign up for Test Drive must do so at T-Mobile's website for the program. Once a user signs up, T-Mobile will place a $699.99 (plus taxes) hold on a user's credit or debit card. If the phone isn't returned at the end of the 7 day trial, T-Mobile will charge the hold amount. Additionally, if the phone has water damage, a damaged display or screen or has Find My iPhone activated, T-Mobile will charge the user with a $100 "damage fee". If the phone is returned with no damage at the end of the 7 days, the hold is lifted.