T-Mobile's 'Un-Carrier 4.0' Initiative Offers Up to $350 Per Line to Switch Carriers
T-Mobile today announced its Un-Carrier 4.0 initiative, which will see the company offering to pay up to $350 in early termination fees for individuals and families (up to five lines) who switch from AT&T, Sprint, or Verizon to T-Mobile. Coupled with phone trade-ins, customers can receive up to $650 per line to change carriers.
"We're giving families a 'Get Out of Jail Free Card,' said John Legere, president and chief executive officer of T-Mobile. "Carriers have counted on staggered contract end dates and hefty early termination fees to keep people bound to them forever. But now families can switch to T-Mobile without paying a single red cent to leave them behind."
Beginning tomorrow, customers who hand in eligible AT&T, Verizon, or Sprint devices at a participating T-Mobile location will receive an instant credit of up to $300 based on the value of the phone.
After purchasing a new device from T-Mobile, customers can send the final bill (with early termination fees) from their previous carriers to T-Mobile and the company will send an additional payment of up to $350 per line to pay those fees (actual fee paid is based on the early termination cost) in the form of a prepaid MasterCard.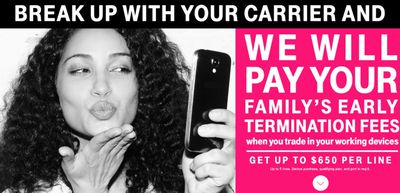 Trading in an old phone, purchasing a new T-Mobile phone, porting a phone number, and signing up for a new T-Mobile plan are all required to quality for T-Mobile's new program.
Earlier this month, AT&T also announced plans to offer up to $450 in credits for customers switching from T-Mobile to AT&T. The company pays up to $250 for the trade-in of a current smartphone, plus an additional $200 for transferring wireless service.
T-Mobile counts this as its fourth initiative to disrupt traditional mobile service. The first came in March when the company unveiled its "Un-Carrier" plans that uncoupled device costs from service costs, while the second and third initiatives included the company's Jump upgrade plan and its unlimited texting and 2G data in 100 countries.
T-Mobile and competitor AT&T have been participating ongoing feud in 2013, which began after T-Mobile CEO John Legere called the AT&T network "crap." Most recently, AT&T threw John Legere out of a party hosted by the company at CES 2014.