Apple Watch Featured in Hong Kong Fashion Magazine 'East Touch'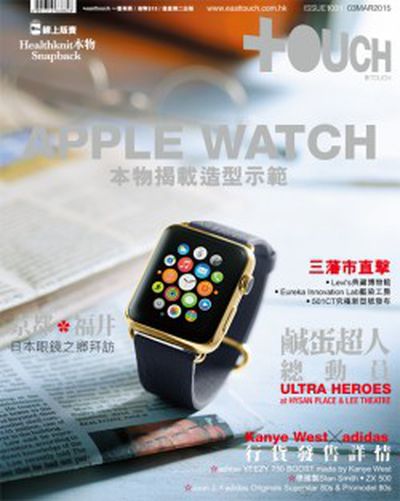 Apple Watch continues to make its international debut in magazines worldwide with a new cover appearance and multi-page spread in Hong Kong street fashion and lifestyle magazine East Touch this month. The latest March issue of the Chinese-language magazine features the Apple Watch and Apple Watch Sport being worn by several models in various lifestyle shots.
In the past few months, the Apple Watch has made magazine debuts in a range of other publications such as on the cover of Self magazine, Vogue in the United States, Paris, and China, and London-based fashion magazine Style, as part of a marketing campaign leading up to the wrist-worn device's launch in April.
To further market the Apple Watch in the fashion industry, Apple is planning to open dedicated pop-up shops at Selfridges in London, Galeries Lafayette in Paris and other high-end department stores across Europe. The stores will provide customers with a personalized shopping experience, potentially including One to One service for visitors to learn more about all of the different editions, sizes and bands available.


Apple is expected to provide more details about the Apple Watch at its highly-anticipated "Spring Forward" media event on March 9th at the Yerba Buena Center for the Arts in San Francisco. We will be providing live coverage of the event, which should provide more specific pricing and release date information about Apple's first wearable device.