Apple Watch Display Rumored to Be Going Up in High-End Parisian Department Store
Apple may be building a stand for the Apple Watch at Galeries Lafayette, a high-end department store located on Boulevard Haussmann in Paris, according to a few news outlets based in France. Mac4Ever [Google Translate] reports that the stand would reside on the first floor of the department store, with possible expansion to other stores along the Avenue des Champs-Élysées.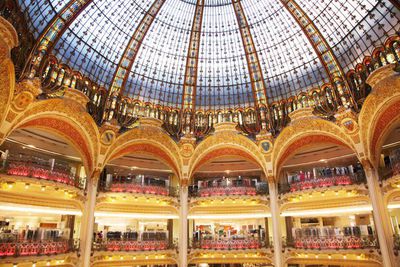 Image of the Galeries Lafayette via Mac4Ever
Mac4Ever
claims the current construction on the stand, which began at the beginning of February, is hidden as workers finish it up ahead of the Apple Watch
launch in April
. They also report that Angela Ahrendts, Apple's new retail chief, oversaw the setting up of the display and general organizational duties concerning the project.
The fashion-focused FashionMag.com [Google Translate] added more details onto the rumor, and a slightly clearer picture of the ongoing construction of the possible Apple-leased space. The site reports that the project has taken the place of a small food court and a few lesser-known jewelry shops, and spans four balconies within the Galeries Lafayette. From what they could tell, it's located near the stores of Celine Saint Laurent and Miu Miu.

Image of white tarps covering rumored Apple Watch stand via FashionMag.com
As the Apple Watch nears its launch date, news and rumors on Apple's first wearable device have picked up steam. Most recently it was announced to be
featured
on the March cover of Self magazine on the wrist of model and Victoria's Secret Angel Candice Swanepoel.
Apple has also reportedly placed between 5 and 6 million orders for the initial run of the Watch, with the most expensive gold Apple Watch Edition expected to dominate the revenue of the wearable, despite having the least amount of orders placed compared to the lower tiers of the Watch.