Apple Expands Apple Watch Marketing Efforts With New Multi-Page Spread in Vogue Magazine
Apple appears to be gearing up for a big marketing push for the Apple Watch ahead of its April launch, featuring the device on several magazine covers. The Apple Watch made its U.S. magazine cover debut earlier this month in the March issue of Self, and it's also being featured in a multi-page spread in the March issue of Vogue.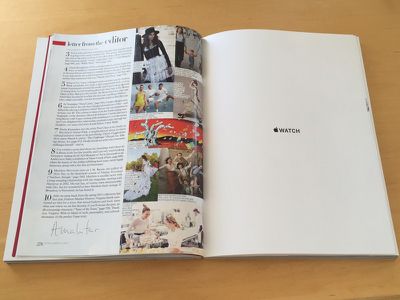 The Apple Watch is shown on multiple pages of the magazine, depicting different watch casings and band designs in clean ads that feature nothing but the Apple Watch itself. The images are actual size, giving readers an idea of how big the watch is in real life.


There's a heavy focus on Apple Watch bands, several of which are depicted in close up images that show off details on their construction. The Milanese Loop is featured on one page, while the navy-colored Leather Loop is shown on another page. The Apple Watch sport with a green band is also shown, as is the fitness interface for one of the Apple Watch's built-in fitness apps. Yet another page features the rose gold Apple Watch Edition with a Rose Gray Modern Buckle band.


It's likely that several other publications beyond Self and Vogue will be featuring the Apple Watch in the coming weeks as the device's April launch date approaches. Apple has targeted fashion and fitness markets thus far, and is expected to market the Apple Watch to a wide range of potential customers.


Up until this month, Apple's Apple Watch marketing has been somewhat reserved, limited to an appearance at Parisian fashion boutique Colette in September and the Vogue China cover in October, but the company appears prepared to begin more serious marketing efforts.
As we reported last month, Apple asked some developers creating content for the Apple Watch to have their apps completed by mid-February, possibly to have apps ready to go for marketing purposes or an upcoming event. Apple also invited select developers to its Cupertino headquarters to put the finishing touches on Apple Watch apps and the company may be preparing to launch a series of Apple Watch popup stores in various locations around the world.