Apple Watch Makes U.S. Magazine Cover Debut In Latest Issue of 'Self'
Back in October, the Apple Watch made its magazine cover debut with Vogue China, on the wrist of Chinese model Liu Wen. Now, as Apple prepares to launch the Apple Watch in April, the device is seeing its U.S. magazine cover debut, featured in the March issue of Self magazine (via AppleInsider).
Model and Victoria's Secret Angel Candice Swanepoel will be wearing the Apple Watch Sport with a white fluoroelastomer band on the cover of the magazine. Self also has more in-depth coverage on the device, highlighting its accelerometer, heart rate sensor, GPS and WiFi (through the iPhone) in print and in photos.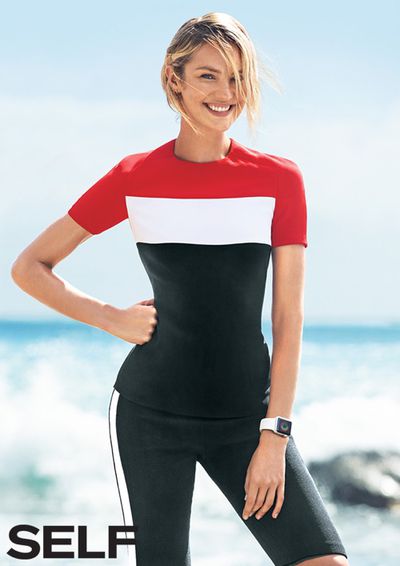 Aside from the I-want-to-be-Candice quality of our new March cover, notice anything else about the photo? The Apple Watch is getting a star moment, too, as Candice is the first woman to wear one on a magazine cover in the US. With the device starting at around $349 available next month, it's on our wishlist. (Even our editor-in-chief, Joyce Chang, can't wait to use her Apple Watch--check it out in our March Editor's Letter, available to download below.)
Up until now, Apple's Apple Watch marketing has been heavily focused on fashion, but with the piece in Self, the company appears to be targeting fitness enthusiasts who might purchase the Apple Watch for its health-related functions -- step tracking and heart rate monitoring.
It's likely that Self will be just one of many publications to feature the Apple Watch in the coming weeks as the device's launch approaches, and Apple is expected to market the Apple Watch to a wide range of potential customers. Apple's marketing efforts have been fairly reserved thus far, limited to an appearance at Parisian fashion boutique Colette in September, the Vogue China cover in October, and this month's Self issue, but there are hints that Apple is preparing for a major marketing push.
As we reported last month, Apple asked some developers creating content for the Apple Watch to have their apps completed by mid-February, possibly to have apps ready to go for marketing or event purposes. As of this week, Apple is also reportedly inviting select developers to its Cupertino headquarters to put the finishing touches on many Apple Watch apps.
According to Apple CEO Tim Cook, Apple is planning to begin Apple Watch sales in April, though a more specific date has not yet been shared.