iPad Air 2 Dummy Model Again Showcases Touch ID, Thin Profile Ahead of Expected October Unveiling
Well-known Vietnamese blog Tinhte.vn today published images that reportedly show the design of Apple's next generation iPad Air 2. The pictured device has the same general form factor as the existing iPad Air, but includes a thinner 7 mm profile that measures roughly the same as the iPhone 6 and 6 Plus and thinner than the current 7.5 mm iPad Air. In line with previous rumors, the iPad Air 2 model also includes a home button with a Touch ID fingerprint sensor.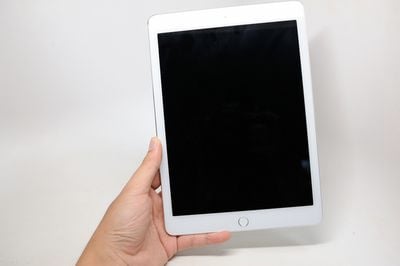 Claimed iPad Air 2 mockup from Tinhte.vn
While this latest report includes detailed photographs and a video, they only give us a hint at Apple's next-generation iPad as the device in the photos is described as a dummy model used by accessory manufacturers to test out and showcase their designs and not an actual iPad Air 2 unit leaked from a Foxconn assembly line. Similar to
previous leaks
, the iPad model has the same external design features seen in
earlier leaks
and in
MacRumors
' own dummy unit on hand since June.

Tinhte dummy unit (left) vs. MacRumors dummy unit (right)
Of perhaps most note, the
Tinhte.vn
and other dummy models include two distinctive small holes in the area of the rear camera -- one on the back and one of the side of the casing. The hole closest to the camera is undoubtedly for a microphone, while the other hole likely marks the presumed location of the mute/rotation switch, which is not depicted ini full on the models. Today's report and an
earlier one
have suggested this hole is for a microphone rather than simply marking the mute/rotation switch location, but we believe this interpretation is likely incorrect.
Apple is expected to unveil its iPad Air 2 and possibly a new Retina iPad mini at a press event to be held on
October 16
. The next-generation iPad Air is rumored to included a faster A8 processor, anti-reflective display, Touch ID, and
a gold color option
.