Apple Planning to Offer iPad Air 2 with Gold Option
Apple is planning to offer its new 9.7-inch iPad, which has thus far been known as the iPad Air 2 unofficially, in a gold color choice in addition to the already available silver and space gray variations, reports Bloomberg. The new option would bring the iPad up to color parity with its iPhone models, which have been offered in three colors since last year's iPhone 5s.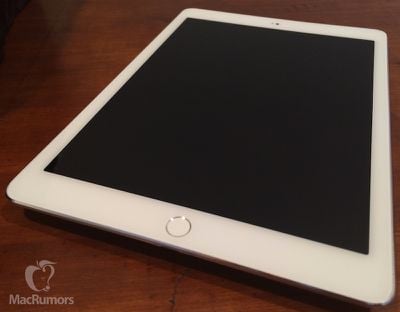 New versions of the company's 9.7-inch iPads, anticipated to be unveiled this month, will include gold as a choice of color for the rear metal cover, adding to the silver and gray available for the lighter iPad Air, the people said, asking not to be identified ahead of an announcement. That brings the color palette into line with the iPhone 5s, which come with silver or gold backs for models with a white faceplate, and space gray for those with a black front.
Bloomberg's sources indicate that the new color choice may be an attempt to boost iPad sales, which dropped slightly in the past year. CEO Tim Cook previously said the iPad sales dip was a "speed bump".
In early September, KGI Securities analyst Ming-Chi Kuo predicted that Apple would announce an iPad Air 2 with a gold option amongst other features like an anti-reflective display and the Touch ID Home button.