Apple to Unveil New iPads, Retina iMacs, and OS X Yosemite on October 16
Apple is planning to hold its next fall event on Thursday, October 16, where it is expected to introduce new iPads, reports Re/code. The company is also expected to introduce new Retina iMacs and release OS X Yosemite to the public.
According to Re/code, Apple's iPad event will be more low-key than its September iPhone event, and it will be held at the company's Town Hall Auditorium. The company's iPhone event, which saw the introduction of the iPhone 6, 6 Plus, Apple Watch, and Apple Pay, was held at the Flint Center, where the original Mac was unveiled 30 years ago.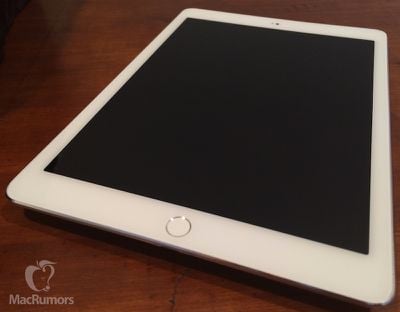 Physical mockup of the second-generation iPad Air
Apple has a few more new products to unveil before the year is out, and it plans to show them off in a couple weeks. Sources tell Code/red the company will hold its next special event on Thursday, Oct. 16 -- not the 21st. Headlining the gathering: The latest updates to its iPad line, along with those new iMacs that 9to5Mac told us about earlier this week. Also: OS X Yosemite.
Apple's next-generation iPad Air and iPad Retina mini are both expected to come with updated processors and support for Touch ID, the fingerprint first sensor introduced with the iPhone 5s. The iPad Air may also come in a gold color variation, and it may include a new anti-reflective laminated display.
The Retina iMac, which may come with a "5K" resolution of 5120 x 2880, may be available only in 27-inches and it may also feature AMD graphics. It is expected to use a Haswell processor, as next-generation Broadwell processors for the iMac won't be available until 2015.
As for OS X Yosemite, development on the software is nearing completion and a golden master candidate was seeded to developers earlier this week.