Alleged 'Perfect Replica' of iPad Air 2 Shows Touch ID, Recessed Volume Buttons, New Speaker Grille
While Apple is widely expected to expand use of its Touch ID fingerprint sensor to the iPad Air and iPad mini later this year, new photos of an alleged "perfect replica" of the second-generation iPad Air shared by Nowhereelse.fr [Google Translate] hint that there may be a few additional changes in store for the device.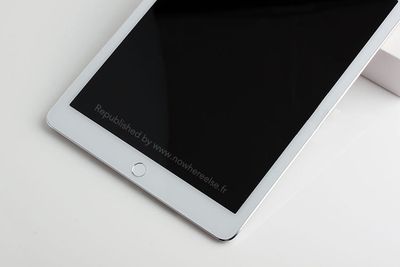 The replica, which is making the rounds in China and Japan, unsurprisingly depicts a Touch ID home button for the device, but also shows some tweaks to physical features around the edges of the device, including a new speaker grille with a single row of larger holes on each side of the Lightning port as opposed to the current double row of smaller holes on the iPad.


Another difference lies in the volume buttons which are shown slightly recessed into the edge of the case, compared to the current design that sees buttons protruding slightly from a flush holes machines in the device's shell. Nowhereelse.fr mentions that the mute switch is also missing, although there is a small hole where the feature is usually located. Unfinished protoype and mockup parts sometimes feature these pilot holes to guide machining of the final hole.


Updated iPads are expected to launch later this year, with October being Apple's usual timeframe for such launches over the past couple of years. The latter part of 2014 is expected to be a busy one for Apple, with rumors of launches for the iPhone 6, new iPads, the iWatch, and perhaps some Mac updates such as the company's rumored 12-inch Retina MacBook Air.