iPad Air and Retina iPad Mini to Get Touch ID This Year
Apple may be preparing to feature its Touch ID fingerprint sensor on updated models of the iPad Air and Retina iPad mini that will be released later this year, KGI Securities analyst Ming-Chi Kuo states in a new research note.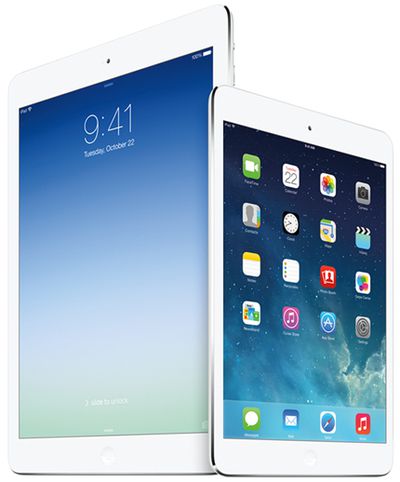 We think the upgraded iPad Air will be launched earlier in 2014 than the iPad Air was in 2013. The biggest changes will be A8 processor, Touch ID (fingerprint recognition), and main camera resolution of 8MP.

...We previously thought Apple would not release a new version of the iPad mini this year, but we now think Apple will launch an upgraded version with same form factor, A8 processor and Touch ID (fingerprint recognition) to boost shipments of iPad mini with Retina display.
Regarding the next-generation iPad Air, Kuo adds that the tablet will launch at an earlier point than the original iPad Air did in November of last year. Kuo also notes that Apple is likely to cut the price of the existing Retina iPad mini, and that the newer model will feature the same form factor with an upgraded processor and Touch ID fingerprint sensor.
The researcher also once again speaks on the possibility of the long-rumored 12.9-inch iPad, stating that Apple is actively working on the device and gearing it towards uses in entertainment and productivity. However, Kuo notes that the product is unlikely to come out in 2014, falling in line with what he stated in his previous reports from this past February and last October.