Samsung Expands Anti-Apple 'Wall Huggers' Advertisement to Airports
Back in early July, Samsung launched a new Galaxy S5 ad calling iPhone users "Wall Huggers" and mocking the iPhone for having a short battery life while touting the battery-saving capabilities of its own newest flagship phone.
Samsung has now expanded its "Wall Huggers" advertising campaign to select airports, according to CNET, displaying Galaxy S5 ads alongside power outlets.
In addition to highlighting the Galaxy S5's Ultra Power Saving Mode, the ads include the words "So you have the power to be anywhere but here," possibly poking fun at Apple's own recent line of app-focused advertising, which revolves around the tagline "You're more powerful than you think."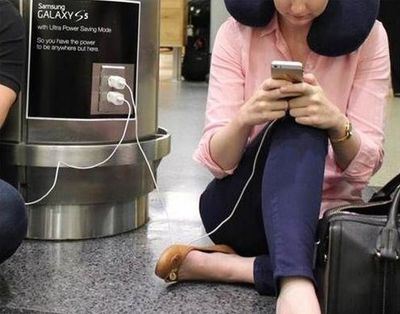 First introduced in February, Samsung's 5.1-inch Galaxy S5 includes a fingerprint sensor, a water resistant casing, and a heart rate sensor, along with one of its most highly touted features, the Ultra Power Saving Mode. This mode activates a black and white display with limited app access when the phone's battery is low, cutting off LTE and disabling WiFi/Bluetooth to provide up to an additional 24 hours of standby time with less than 10 percent of battery left.
While Apple does not have a similar power saving feature on the iPhone, it does provide users with quick access to settings like WiFi and Bluetooth, plus options to disable battery draining features like background app usage and location services. Apple's newest operating system, iOS 8, also includes battery saving functions like Battery Usage, which lets users keep an eye on apps that are draining too much power.
Many people are hoping Apple's upcoming iPhone 6 will introduce better battery life, but signs have pointed towards only modest battery gains thus far. Various rumors suggest the 4.7-inch iPhone 6 could get a battery between 1,800 and 2,100 mAh, a moderate improvement over 1,560 mAh battery in the iPhone 5s.
Samsung's Galaxy S5 ads can be found at the John F. Kennedy International Airport in New York, at the Newark Liberty International airport in New Jersey, and at the O'Hare and Midway airports in Chicago. The advertisements may also expand to other airports in the future.
Update: MacRumors reader Harrison Weinerman has sent in a much clearer image of Samsung's new outlet ad taken in Terminal C at the Newark airport in New Jersey on August 10.