Samsung Reveals Galaxy S5 With Home Button Fingerprint Sensor, Accompanying 'Gear Fit' Band
Samsung today revealed its next-generation Galaxy S5 flagship phone at its Unpacked 5 event at Mobile World Congress in Barcelona, Spain. As rumored, the 5.1-inch Galaxy S5 includes a fingerprint sensor built into the device's home button, mirroring Apple's own Touch ID introduced with the iPhone 5s.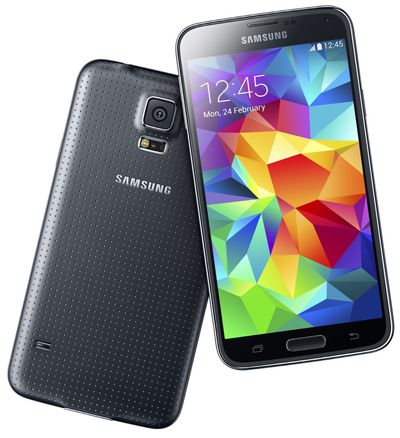 Unlike Touch ID, which utilizes a round home button that captures a motionless fingerprint, Samsung's sensor is activated using a swiping motion that scans the finger from base to tip as the phone utilizes a rectangular home button. SlashGear has a demonstration of the fingerprint scanner.
Samsung is working with PayPal on integrating it into mobile payments, too, so that you could effectively buy apps, products, and services and authorize the transaction with a fingertip rather than a password or PIN. We found the hit-rate for the scanner recognizing our fingers was relatively high, though you do have to line your fingertip up properly: the Galaxy S5 prefers a clean downward swipe, not a sideways movement such as if you're holding the phone one-handed and sweeping your thumb across the sensor.
Design-wise, the polycarbonate Samsung Galaxy S5 looks similar to previous models, though it has a unique soft-touch textured backing, a water resistant casing, and it comes in both blue and copper gold along with black and white.
The 5.1-inch Super AMOLED display features a resolution of 1920 x 1080 and the phone offers a 2.5GHz quad core processor with 2GB of memory. It runs Android KitKat 4.4.2 and includes an upgraded 16-megapixel camera with quick autofocus and real-time HDR. It has a 20 percent better battery life than the previous generation phone and includes a built-in power saving mode that will activate a black and white display with limited app access when the battery is low.
Taking a cue from Apple's reported interest in health-related applications, Samsung has included a heart rate sensor next to the camera's flash, able to measure heart rate with a finger on the sensor. The heart rate sensor accompanies the standard accelerometer, gyroscope, proximity sensor, compass and an IR-based gesture sensor.
Samsung's Galaxy S5 is also designed to work with a new fitness device, the Gear Fit, which accompanies Samsung's recently revealed Gear 2 and Gear 2 Neo smart watches. The Gear Fit is smaller than Samsung's other offerings and focuses on measuring heart rate and counting steps. It incorporates an AMOLED touchscreen panel and offers smartphone notifications and alerts, but it does not include a camera, a microphone, or a speaker.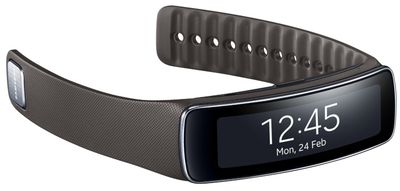 The Galaxy S5 and the Gear Fit will both be released in April, but Samsung has yet to announce pricing.