iPhone 6 Interest Remains Strong as Consumers Look to Larger Displays
Demand for the next generation iPhone remains strong in the months before its expected fall debut, claims a report from RBC Capital Markets analysts. According to a 4,000 person survey conducted by RBC, half of consumers who plan to upgrade their phone in the next three months intend to buy an iPhone and a quarter of those would be willing to pay $100 more for their iPhone to have a 5.5-inch screen over the other rumored size of 4.7 inches.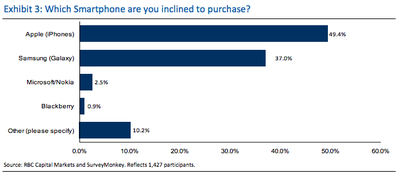 Customers know about and are interested in the next iPhone, with 74 percent of survey respondents stating they are aware of Apple's possible fall iPhone launch and fifty percent claiming they are interested in buying an iPhone for their next phone. Primarily, customers are looking for performance improvements and a large screen in their next iPhone handset.
While ~49% of smartphone purchasers are inclined to buy the next Apple product, we learned that the main driving factor for sales surround performance improvements (battery life 33%, processor 18%, camera 12%). In our view, these results are positive for AAPL, as we would not be surprised to see improvements to both battery life and processing speed with the iPhone 6. Finally, beyond performance improvements, we also learned that screen size could materially impact sales, as 23% of participants surveyed are inclined to purchase a larger screen iPhone.

These customers not only want a larger phone, they also are willing to pay for it, with more than one quarter of respondents willing to pay a $100 premium to buy a 5.5-inch iPhone for $299 instead of the current $199 for the 16GB iPhone 5s and presumably the 4.7-inch iPhone 6. This echoes an earlier report from Raymond James analyst Tavis McCourt, who also says consumers are showing an increasing willingness to pay a $100 price premium for a larger device.


Analysts expect the next iPhone to cause iPhone sales to surge as consumers upgrade to the large-screened handset. This demand could translate into a 15 to 20 percent jump in unit sales, year over year, claims RBC. Besides the iPhone 6, Apple also is expected to unveil the iWatch and refresh its iPad lineup later this year in what Eddy Cue says is "the best product pipeline that I've seen in my 25 years at Apple."