Report Claims 4.7-Inch iPhone 6 Will Feature 2,100 mAh Battery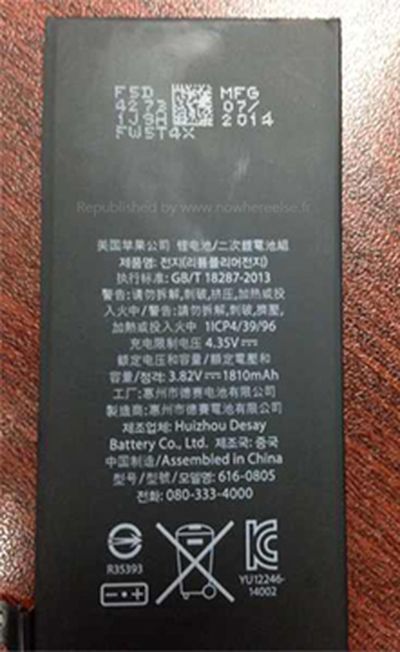 Last month, new photos of a purported battery for the 4.7-inch iPhone 6 revealed a 1,810 mAh capacity for the device, which is a modest improvement over the 1,560 mAh battery currently found in the iPhone 5s. Now, ESM-China electronics analyst Sung Chang Xu claims (Google Translate, via G for Games) that the final version of the 4.7-inch iPhone 6 will actually feature a 2,100 mAh battery.
Citing sources at supply chains across China, the analyst also adds that the previous images of the battery showed test units. A capacity of 2,100 mAh for the iPhone 6's battery would put it below competing phones such as the Samsung Galaxy S5 (2800 mAh) and the HTC One M8 (2600 mAh). However, Apple's traditionally tight hardware and software integration will likely contribute to a more robust overall battery life, as iOS 8 will most certainly be optimized for the iPhone 6.
Xu has previously reported on a number of other rumors pertaining to the iPhone 6, claiming that the device will feature temperature, pressure and humidity sensors in addition to electronic image stabilization. In February, Xu also claimed that the iWatch will use optical sensors to measure heart rate and oxygen levels.
Apple will unveil the iPhone 6 at an event on Tuesday, September 9, with a launch of the 4.7-inch version likely coming a week or so after the announcement. The event may also feature the introduction of the 5.5-inch iPhone 6, which is said to ship later this year or early next year due to production issues. Both iPhones are expected to feature a faster A8 processor, an improved camera, and a thinner chassis.