Here's All the Latest Apple Product Rumors for 2023
Apple plans to release a suite of new products in 2023, including updated MacBook Pros, a new Mac Pro, an updated full-sized HomePod, and new iPhone models in the fall, according to reliable Bloomberg journalist Mark Gurman and several reports and rumors.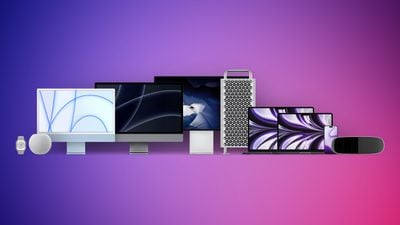 2023 is expected to be a busy year for Apple, with the main star of the year being the company's upcoming AR/VR headset. Apple has reportedly shifted many of its resources to work on the new product, leaving other products with a less-than-exciting year ahead. Here's what we expect to see for each product in Apple's lineup in 2023:

MacBook Pros: Updated 14-inch and 16-inch models with M2 Pro and M2 Max chips are expected to be announced in the first half of this year. No major design updates are expected, given the redesign announced in October 2021.
Mac Pro: All-new Mac Pro with an M2 Ultra chip is in the works, with no design changes compared to the current model from 2019. Unlike the current Intel-based version, the new Mac Pro will not feature user-upgradable RAM since it's tied directly into the M2 Ultra.
iMac Pro and iMac: A new high-end all-in-one Mac desktop has been "on and off" Apple's roadmap, according to Gurman. An iMac Pro is unlikely to arrive in 2023, but an updated 24-inch iMac with M3 could arrive later in the year.
MacBook Air: An update to the M2 MacBook Air, announced in June, remains unlikely this year. For 2023, however, Gurman says Apple is planning a larger 15-inch MacBook Air to join the Mac lineup. Gurman also notes a 12-inch MacBook is "no longer on Apple's near-term road map."
Mac mini: A new Mac mini with M2 Pro and M2 Max chip options is expected in 2023. Some rumors suggest it will feature the same design as the current model with M1 and replace the Intel-based Mac mini currently in the lineup.
iPad: The iPad mini, iPad Air, and entry-level iPad could get minor spec updates this year, but no major design or hardware changes are expected. The iPad Pro will not see any new updates in 2023, following the minor spec bump with M2 this past October. Entirely new 11-inch and 13-inch iPad Pros with OLED displays are expected in the first half of 2024.
Apple Watch: The Apple Watch Series 9 and the second-generation Apple Watch Ultra are expected in September, alongside the new iPhones. According to Gurman, the Apple Watch will not see any major hardware updates this year, with only minor performance upgrades.
AirPods: AirPods will not see any major updates this year. The second-generation AirPods Pro was announced in September, and no updates are expected for some time.
Apple TV and HomePod: A new Apple TV is not expected in 2023, but a new full-sized HomePod is. According to Gurman, the new HomePod will feature the same design as the previous full-sized model but with a cheaper price, a new processor, and a new touch control panel at the top.
AR/VR Headset: After years of rumors, 2023 is the year Apple is seemingly ready to announce its much-anticipated AR/VR headset. Expected to be called "Reality Pro," the upcoming headset is rumored to be announced this spring before WWDC in June. The headset will be a high-end and niche product, costing between $2,000 and $3,000.
iPhone: The iPhone 15 lineup, destined for September, will feature four models, including two standard and two high-end models. All models of the iPhone 15 lineup are expected to feature Dynamic Island and USB-C. The higher-end iPhone 15 models will feature a titanium frame and solid-state haptic touch volume buttons.