Apple Reportedly Planning No Major Updates for AirPods, Apple Watch, iPad, or Apple TV in 2023
Apple is planning no major updates for its iPad, AirPods, Apple TV, or Apple Watch product lines for 2023, Bloomberg's Mark Gurman said today in his latest Power On newsletter.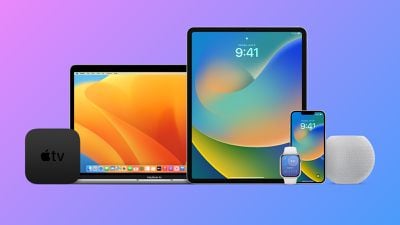 Apple is expected to announce its AR/VR headset this spring, and the imminent launch of the headset has seemingly taken the focus away from other products in Apple's portfolio. According to Gurman, no significant updates for the ‌iPad‌ are expected this year, with the closest major update taking place in the first half of 2024 with OLED 11-inch and 13-inch ‌iPad‌ Pros. Gurman says Apple may introduce minor spec bumps for the entry-level ‌iPad‌, iPad mini, and iPad Air.
For the AirPods lineup, Gurman says not to expect any updates "of note" this year, which could rule out the possibility of an updated version of the AirPods Max making a debut. Previous reports indicated Apple is not working on a second-generation version of the headphones, but has considered releasing new colors.
For the Apple Watch, Gurman says he does not expect major hardware changes this year, only some minor performance improvements to Apple Watch models. In September, Apple announced the all-new Apple Watch Ultra, so minor updates to that, as well as other models of the lineup, are to be expected. Gurman says Apple has no plans for a new ‌Apple TV‌ in 2023.