Apple Preparing to Announce Three New Apple Watch Models
Apple is about to unveil new three different Apple Watch models for the first time, according to a plethora of reports from the past year.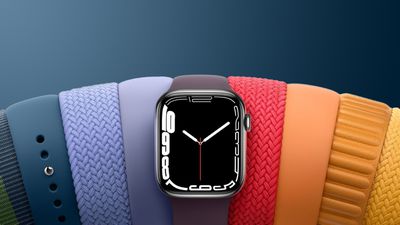 The Apple Watch Series 7 is almost a year old. While it shipped later than usual due to delays, its successor, the Apple Watch Series 8, is expected to be unveiled next month. The Apple Watch Series 8 is expected to be available in the same 41mm and 44mm casing sizes as the Series 7, continuing Apple's trend of offering two size options for the Apple Watch lineup.
This year, the company is expected to debut an even larger Apple Watch model that could replace the Apple Watch Edition. The device is expected to offer a five to seven percent larger display to show more on-screen fitness metrics. The device is expected to feature a new design with a ruggedized titanium alloy casing, potentially with a flat display, resulting in a very different overall look.
Due to its larger size, it may also contain a larger battery to enable longer workout times. The other two Apple Watch Series 8 models are not expected to get a larger battery, but they could offer a Low Power Mode to prolong battery life.
While the two standard Series 8 models will likely feature the same design as the Apple Watch Series 7, they are expected to offer an updated chip, software enhancements, and new health monitoring features thanks to a body temperature sensor.
In addition to the standard 41mm and 45mm Apple Watch Series 8 and the new high-end Apple Watch model, Apple is also expected to unveil a new Apple Watch SE. The ‌Apple Watch SE‌ debuted in 2020 as a low-cost option for customers. As it nears two years since launch, sources like Bloomberg's Mark Gurman and analyst Ming-Chi Kuo expect the the ‌Apple Watch SE‌ to be to be replaced by a second-generation model alongside the Apple Watch Series 8 next month.
Little is known about the new ‌Apple Watch SE‌, but Gurman says that it may feature the "S8" chip. The S8 chip will reportedly feature the same specifications as the S6 and S7 chips, which may explain why Apple could upgrade the ‌‌Apple Watch SE‌‌ to its latest processor. Indeed, since all of the chips that are newer than the ‌‌Apple Watch SE‌‌'s current processor are effectively the same, it will make no material difference whether it has the S6, S7, or S8 – all of which offer a moderate performance improvement over the S5.
Coming two years after the previous model, the new ‌Apple Watch SE‌ is likely to bring some other features and improvements, and will almost certainly support the latest version of watchOS for longer, so buyers looking for a lower-cost Apple Watch should wait until the new model arrives next month.
As such, with the entire Apple Watch lineup set to be overhauled in a matter of weeks, Apple Watch buyers should now wait for new models to arrive, regardless of which Apple Watch model they are looking at.