WWDC 2022 Apple Event Live Keynote Coverage: iOS 16, macOS 13, MacBook Air, and More
Apple's Worldwide Developers Conference (WWDC) starts today with the traditional keynote kicking things off at 10:00 a.m. Pacific Time.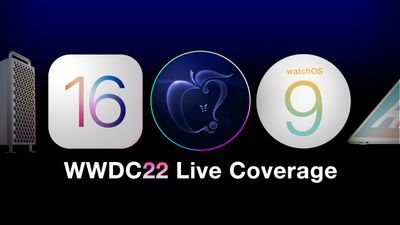 We're expecting to see a number of announcements, including iOS 16, macOS 13, watchOS 9, and tvOS 16, though it's unclear what else we'll be seeing at the event.
A redesigned MacBook Air tops the list of potential new hardware, but supply chain issues have raised uncertainty about whether it's ready to go. Apple's online store is currently down in advance of the keynote for the first time since 2017, potentially hinting that we may indeed see some new hardware today.
Apple is providing a live video stream on its website, on YouTube, and in the company's TV and Developer apps across its platforms. We will also be updating this article with live blog coverage and issuing Twitter updates through our @MacRumorsLive account as the keynote unfolds. Highlights from the event and separate news stories regarding today's announcements will go out through our @MacRumors account.
Sign up for our newsletter to keep up with Apple news and rumors.

Live blog transcript ahead...
9:06 am: We're under one hour to go!
9:07 am:
Developers assemble! It's going to be a great day! #WWDC22 pic.twitter.com/OZvER1gIiN

— Tim Cook (@tim_cook) June 6, 2022
9:07 am:
It's a beautiful day out and I'm spending it at the park. pic.twitter.com/ibP02SF6O8

— Harry McCracken 🇺🇦 (@harrymccracken) June 6, 2022
9:50 am: The stream of today's WWDC 2022 event is live on Apple.com.
9:57 am: The Apple Online Store is down ahead of the WWDC liveblog, suggesting the announcement of new hardware at the event. A new ‌MacBook Air‌ is rumored...
9:59 am: Tim Cook and Craig Federighi are on stage greeting developers ahead of the event. Apple is hosting developers and press at Apple Park to watch the pre-produced video live.
10:00 am:
It's Craig! Live and in the hair. #WWDC22 pic.twitter.com/LrOlNhrUAO

— Dan Moren (@dmoren) June 6, 2022
10:01 am: The stream is beginning!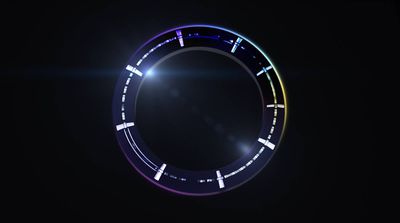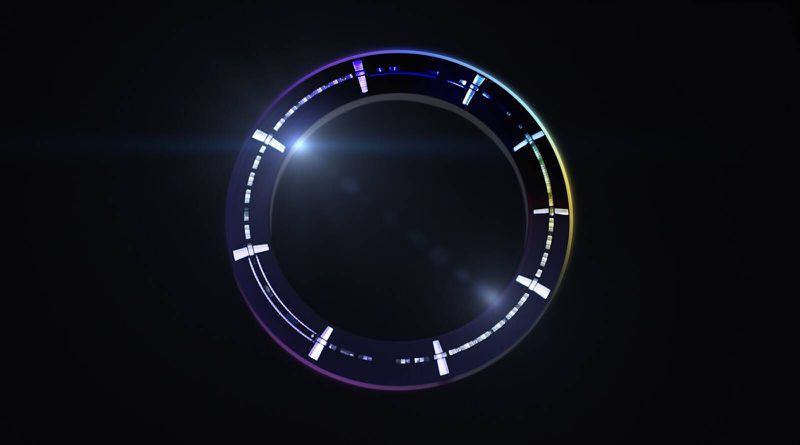 10:01 am: It's showing gorgeous night-time drone shots of ‌Apple Park‌, transitioning to daytime and ‌Tim Cook‌ walking out. "Good morning!"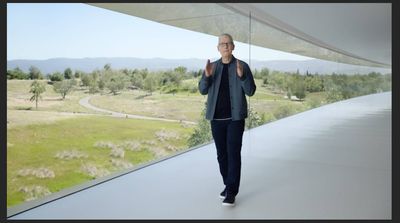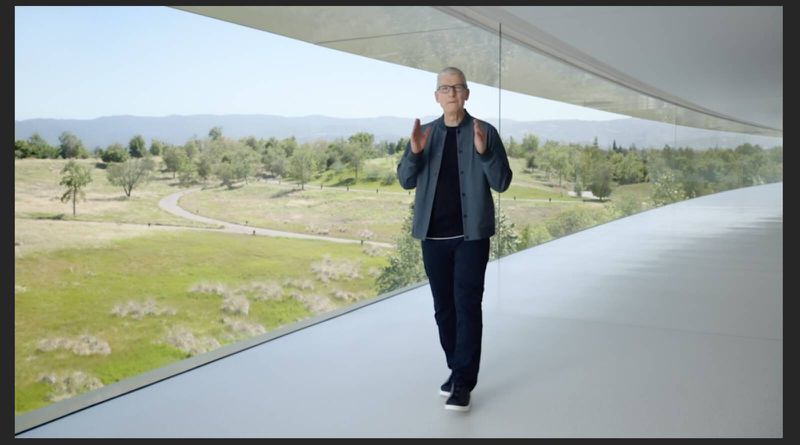 10:02 am: WWDC is designed to give this community what they need to do their very best work. We love to support our developers beyond WWDC with comprehensive world-class support and other initiatives.
10:02 am: Online Tech Talks introduced for live sessions and 1:1 office hours between developers and Apple engineers.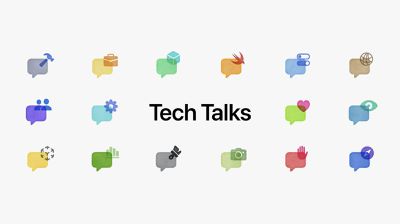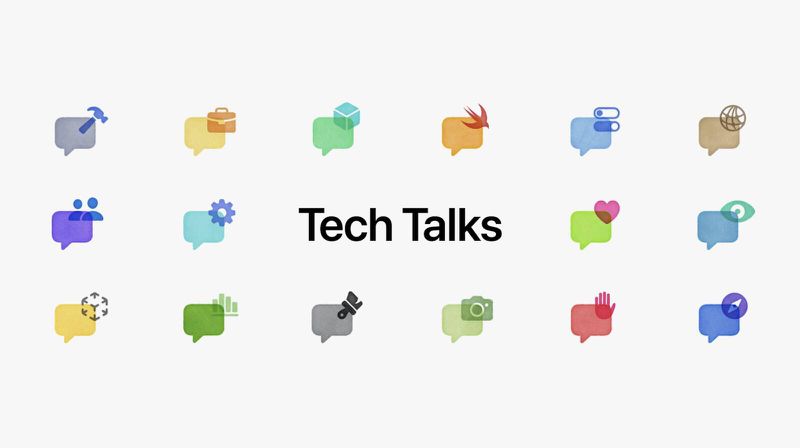 10:04 am: Tim is talking up developers and users. Now flipping it over to Craig.
10:05 am: Craig activates his watch and transports into the lab, James Bond style. This might be the most over the top transition Apple has ever done.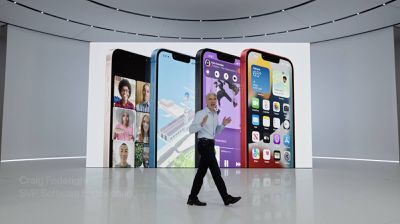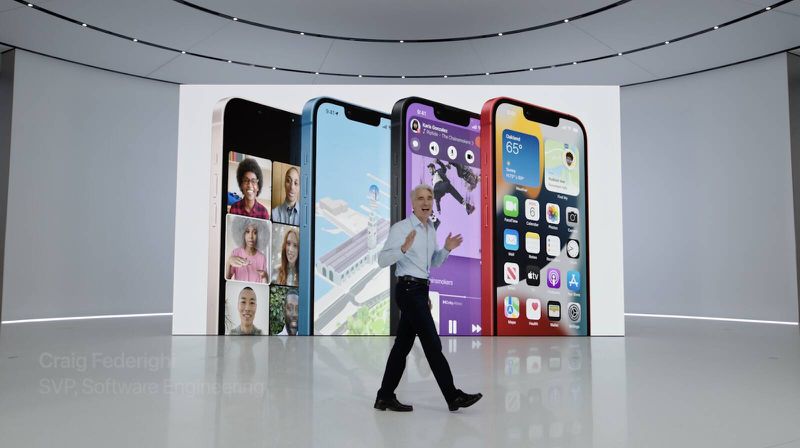 10:05 am: Starting with iOS 16 with a reworked Lock Screen.
10:06 am: In iOS 16, we're getting the biggest transformation ever for the Lock Screen.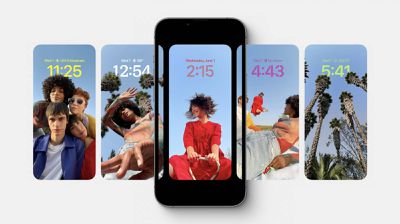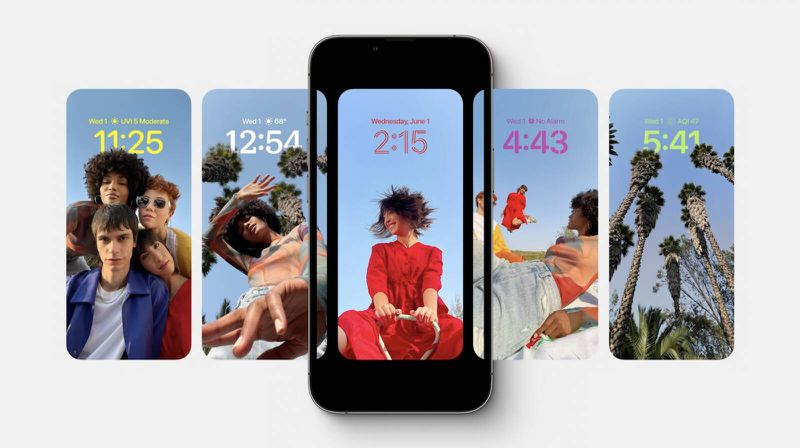 10:06 am: New fonts, backdrops, colors for the clock and date, widgets, direct control of certain apps.
10:07 am: The widgets look like Complications from the Apple Watch.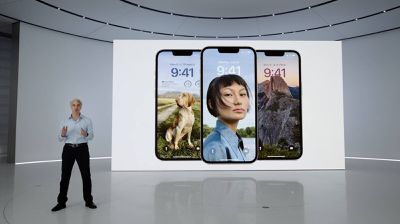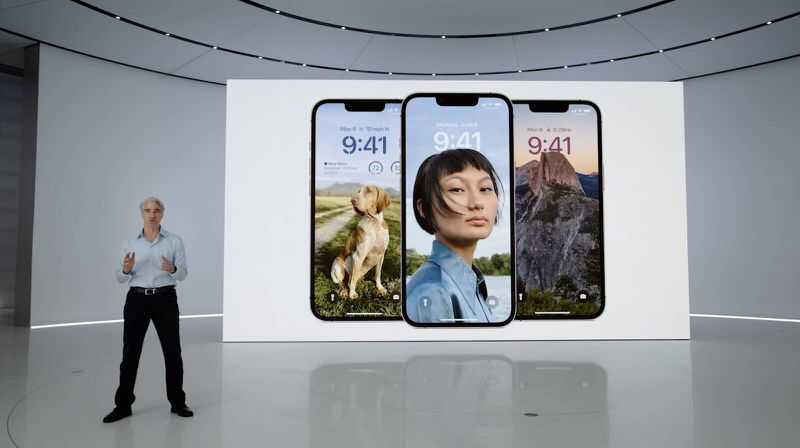 10:07 am: Subtle depth effect with certain parts of images sitting in front of the time. Change to different styles with color filters, backgrounds, and the font for the time.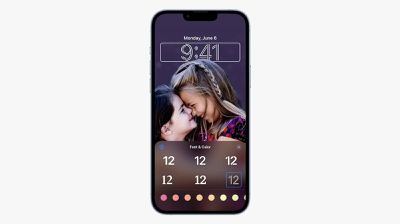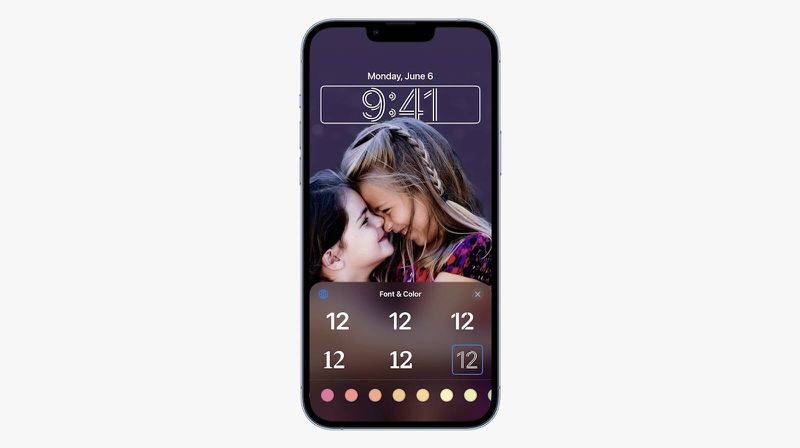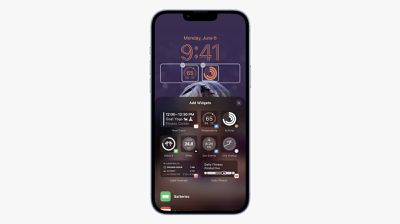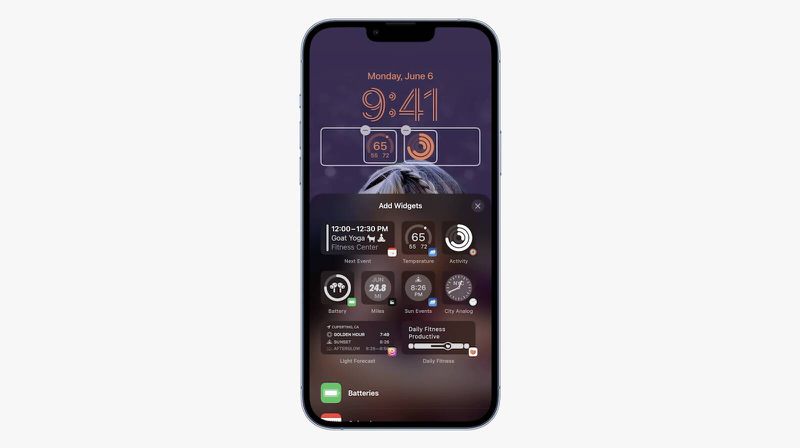 10:09 am: When editing, can tap on an element and change font and color. Widget gallery has a variety of complications. Can shuffle photos, and "Suggested Photos" includes curated photos from your own photo album. Can set up multiple lock screens.
10:09 am: A weather lock screen shows current weather. An astronomy one shows planet earth. Imagine Apple Watch faces put on the lock screen.
10:10 am: Notifications roll in from the bottom of the lockscreen as they're received.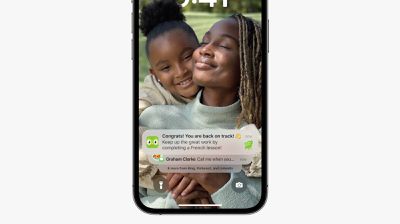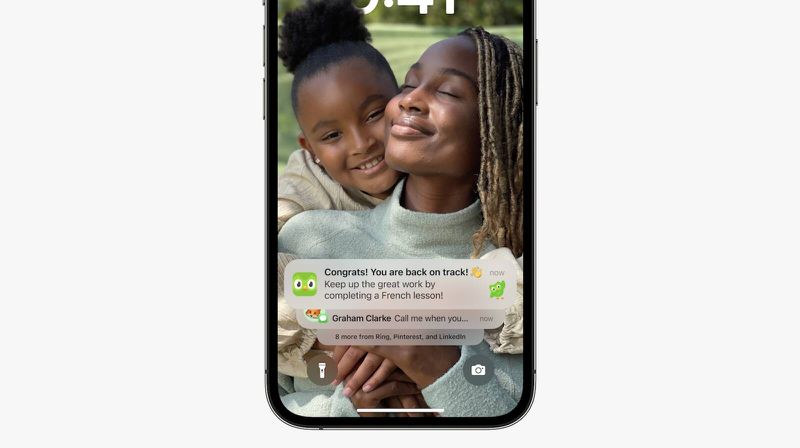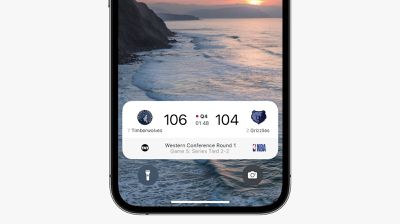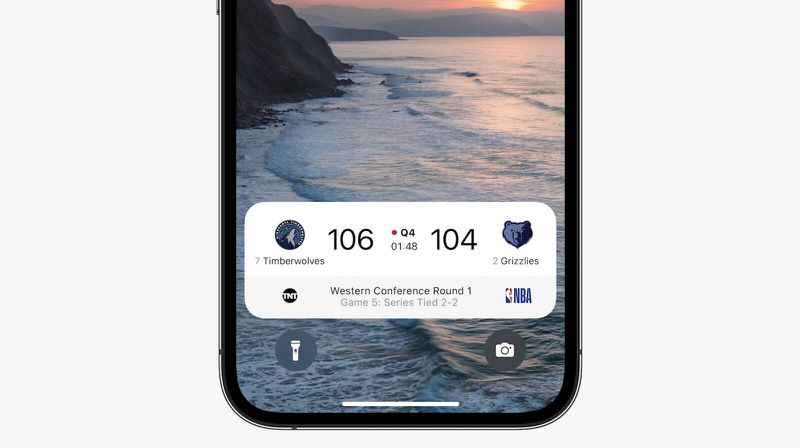 10:10 am: New notification called Live Activities. Basically allows for an auto-updating notification that sits on the home screen for live events like sports events or Uber rides.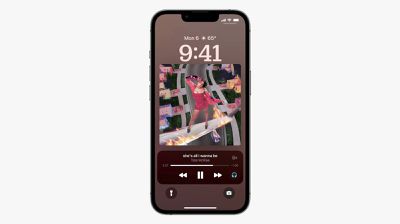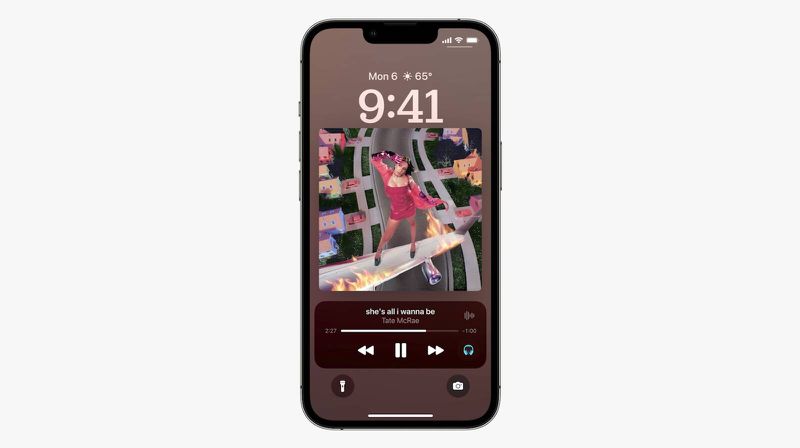 10:11 am: New updates to Focus. Extends to the Lock Screen, photos and widgets can be tied to a Focus. Match lock screens to your focus settings.
10:12 am: Focus can filter tab groups in Safari, conversations in Messages, and events in Calendar. New API for developers, too.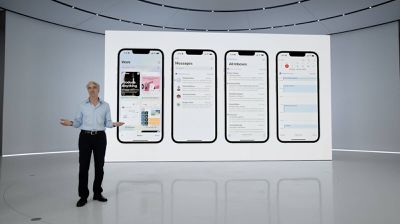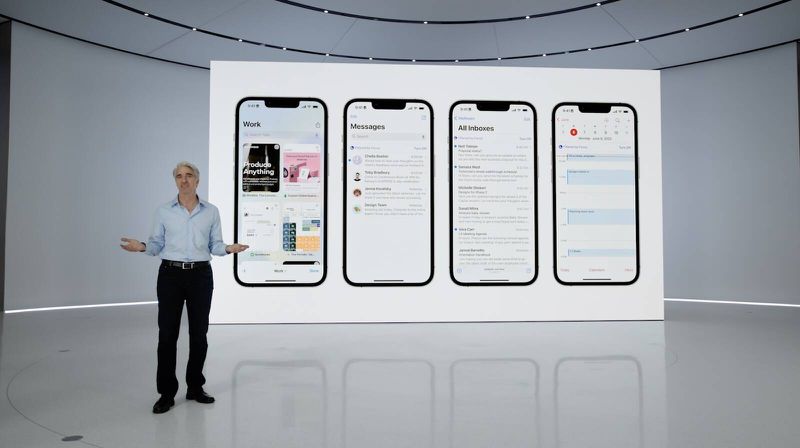 10:13 am: Updates to Messages. Editing messages that have been already sent, and undo send. Any thread can be marked as unread, too.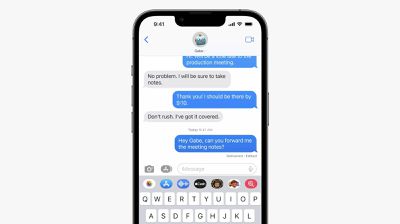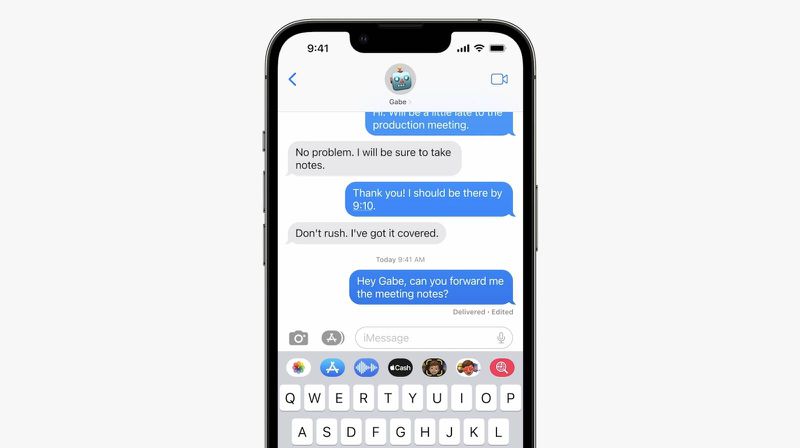 10:14 am: Shared With You being expanded. New Shared With You API for developers.
10:14 am: SharePlay for watching TV shows, listening to music, and using Fitness+ with friends remotely. Adding new way to add SharePlay experiences from an in-progress FaceTime call.
10:15 am: SharePlay is coming to Messages.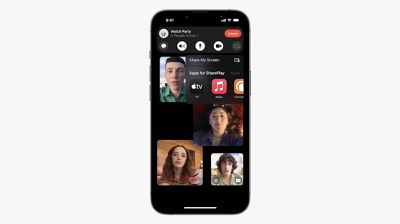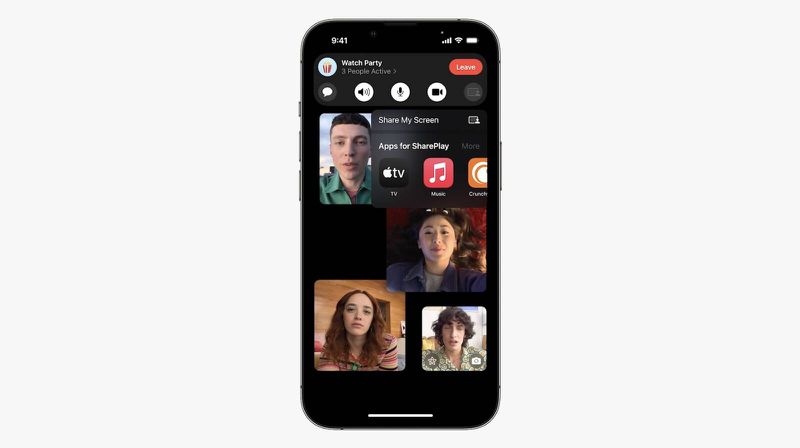 10:15 am: Has shared playback but using Messages to communicate with each other instead of live video.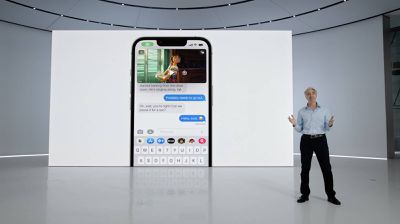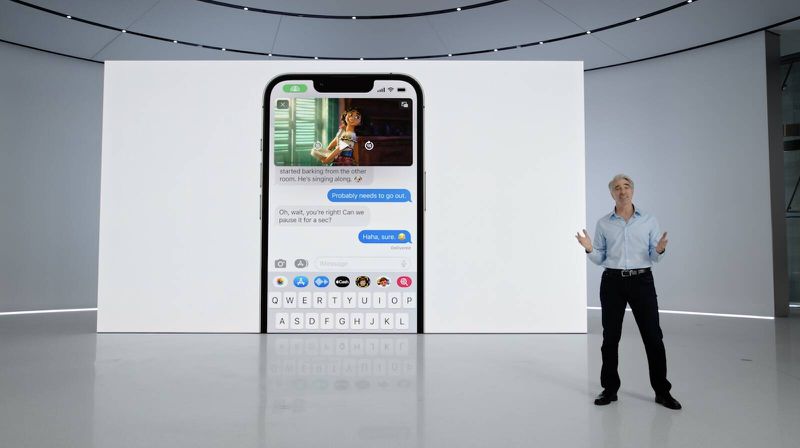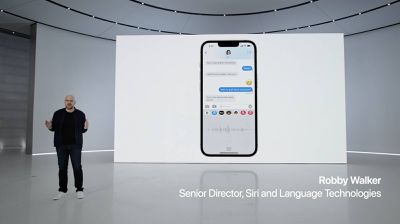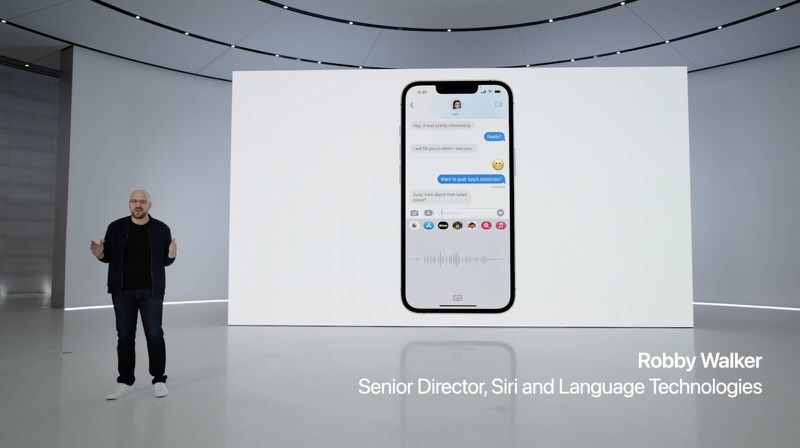 10:16 am: Updates to Dictation in Messages. Dictation only happens on-device thanks to Neural Engine. New on-device dictation experience lets you fluidly move between voice and touch.
10:16 am: When I start dictating, the keyboard stays open so I can switch between using voice and touch. I can even select text using Touch and replace it with my voice.
10:16 am: Dictation now automatically adds punctuation to text.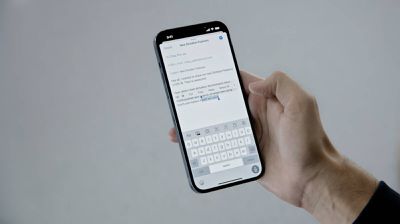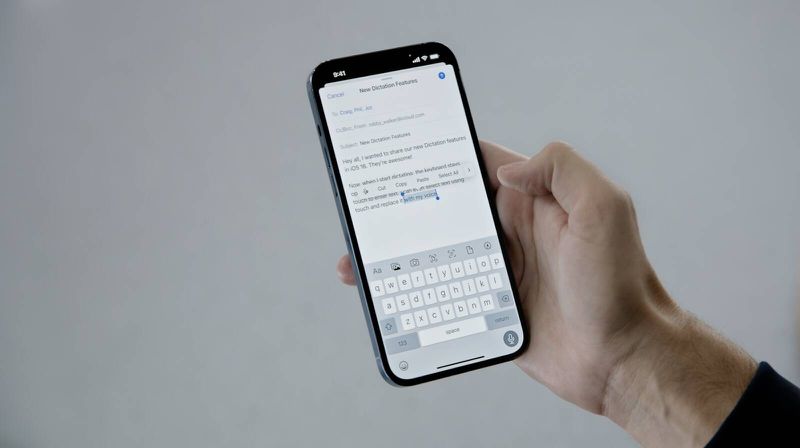 10:17 am: Creating new App Intents API, allowing shortcuts to work with zero setup.
10:18 am: Updates to Live Text. Now working in Video. Pause a video and copy text out of it. Also live translations in the translate app, Google Translate-style.
10:18 am: New Live Text API for developers.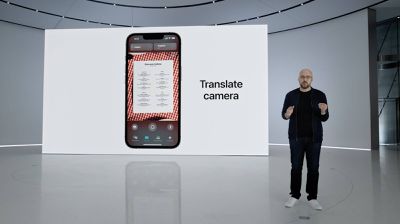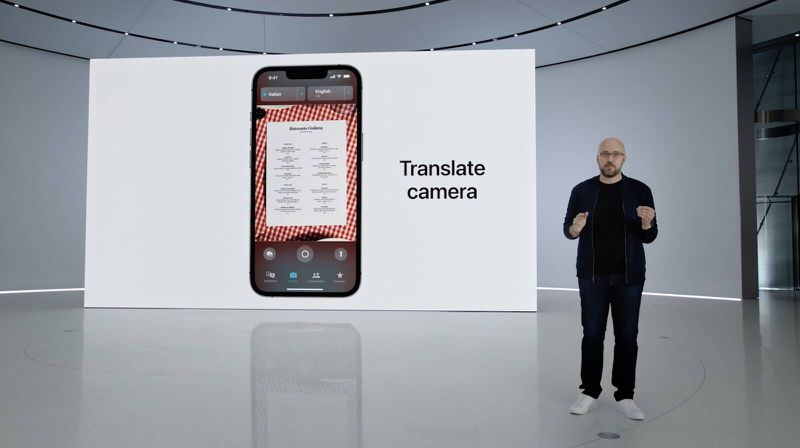 10:19 am: Can automatically lift items out of photos and drop them elsewhere, like a smart crop of a dog in a picture to copy and paste just the dog to a Message.
10:19 am: Updates coming to Wallet.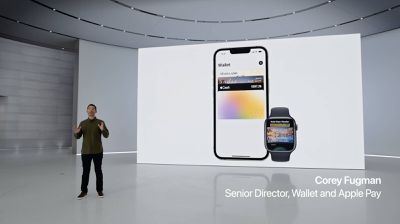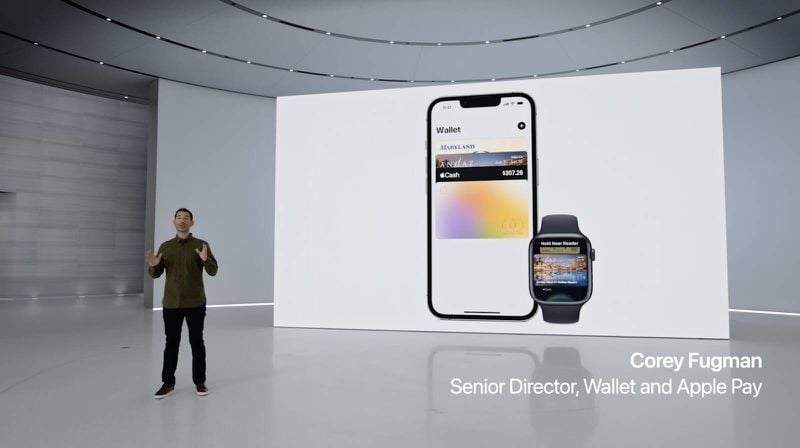 10:20 am: Maryland and Arizona coming with electronic driver licenses. 11 Other states coming.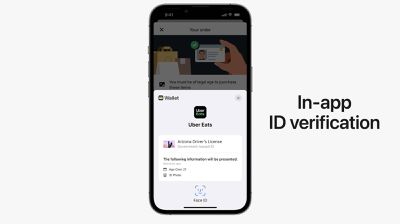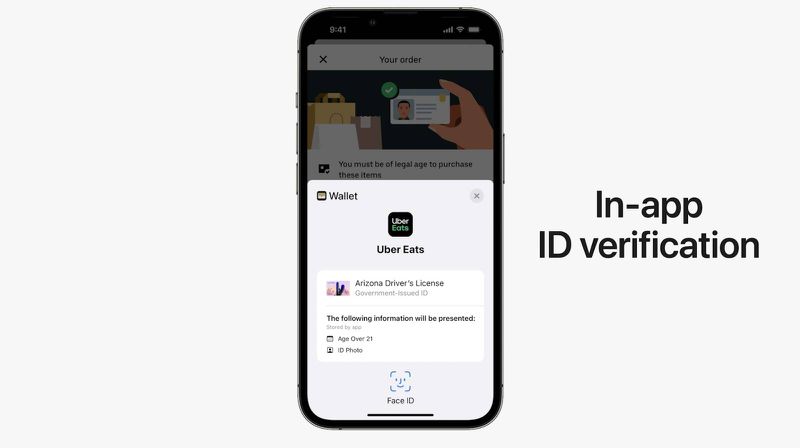 10:21 am: Can share digital hotel keys with others, including future sharing of keys via an industry standard for Android users.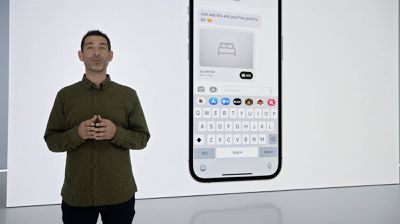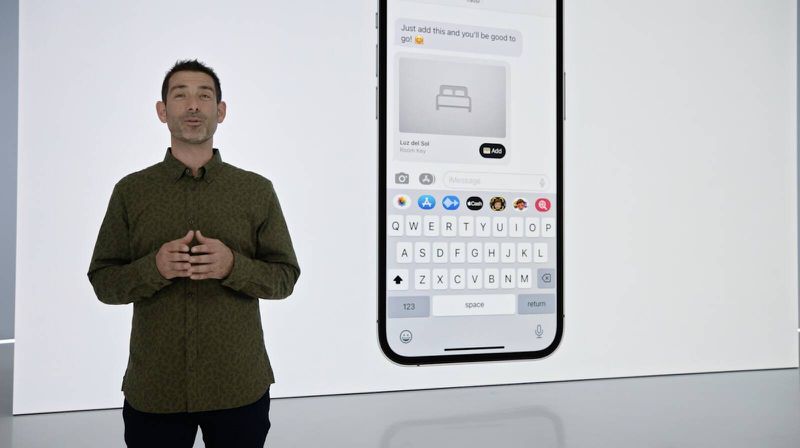 10:22 am: Contactless payments coming to allow merchants to accept payments on the iPhone itself. Apple Pay expanding to new types of payments, including ‌Apple Pay‌ Later. Split the cost of a purchase to four equal payments over 6 weeks with no interest or fees.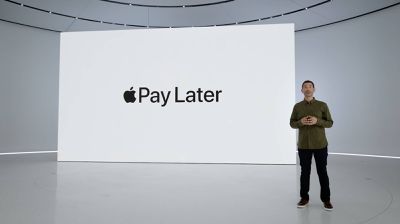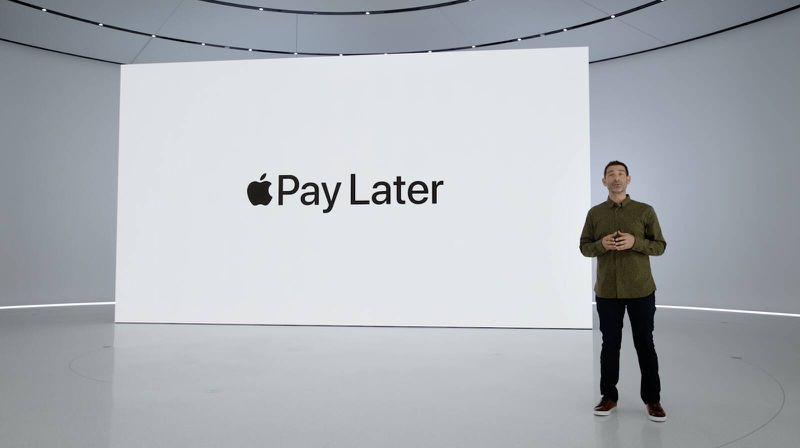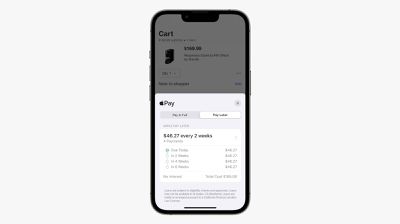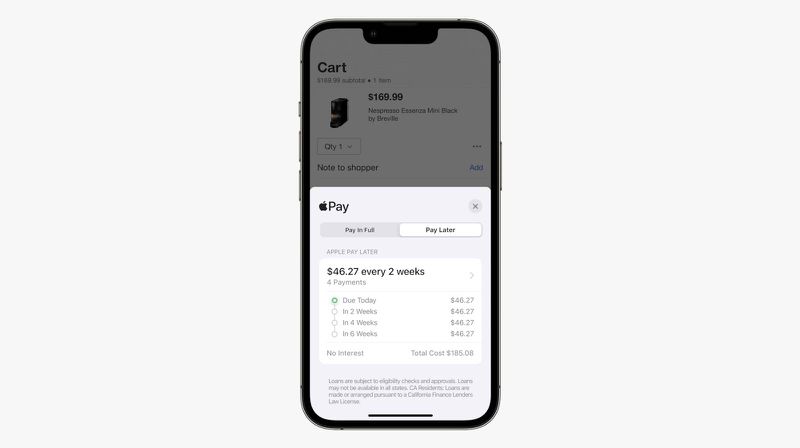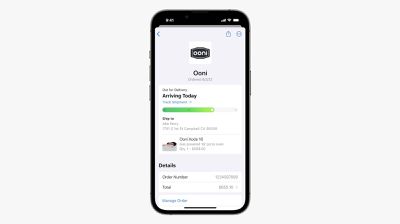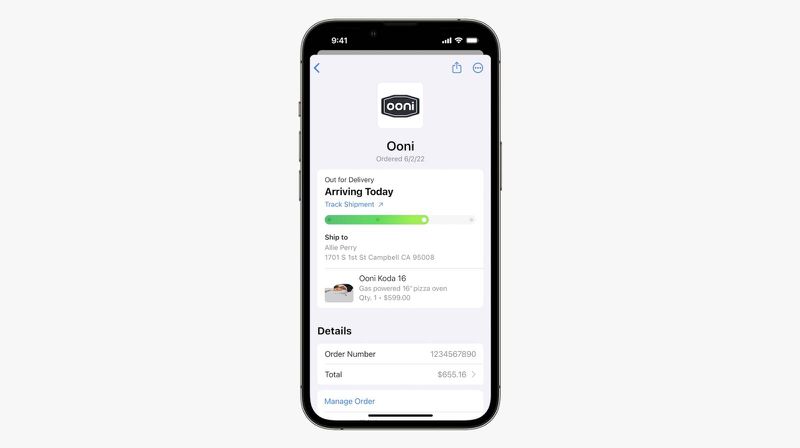 10:22 am: Apple's own Buy Now Pay Later service. New ‌Apple Pay‌ Order Tracking through Wallet.
10:23 am: Updates to Apple Maps
10:23 am: New redesigned ‌Apple Maps‌ are coming to 11 more countries, including France, Switzerland and New Zealand.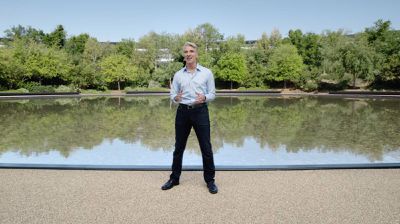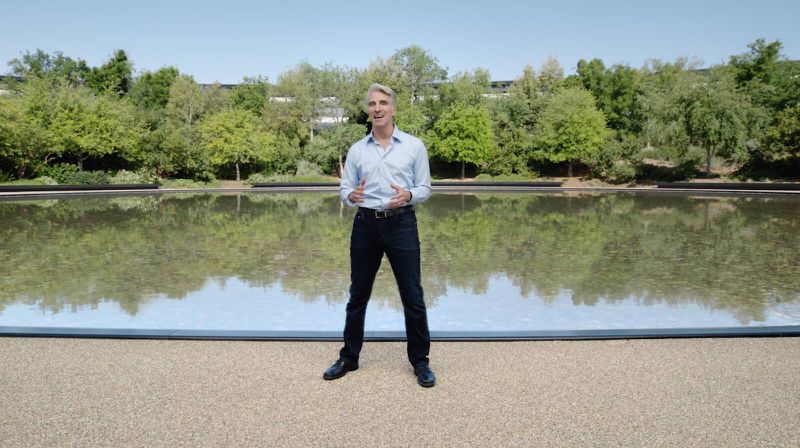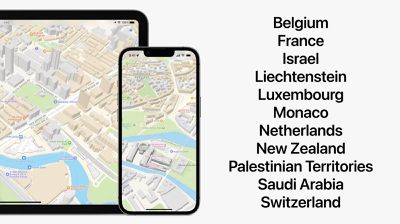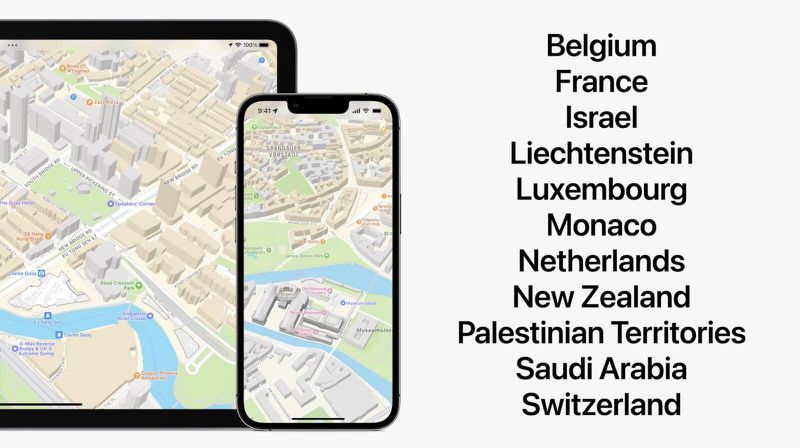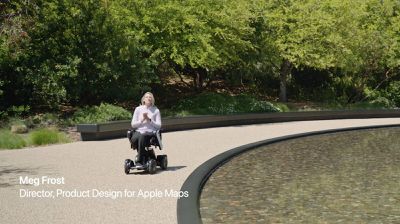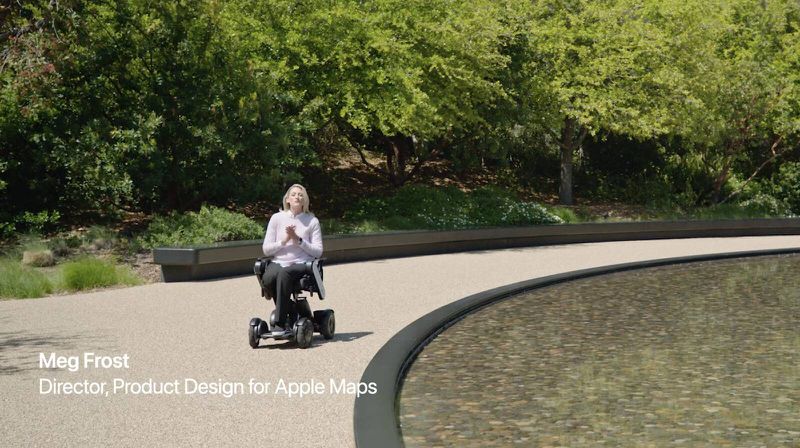 10:24 am: New Multistop routing. Up to 15 stops set in advance. Routes saved in recent. Plan multistop routes on Mac and send them to ‌iPhone‌. Use Siri to add new stops to the route from CarPlay.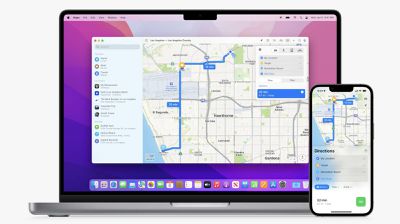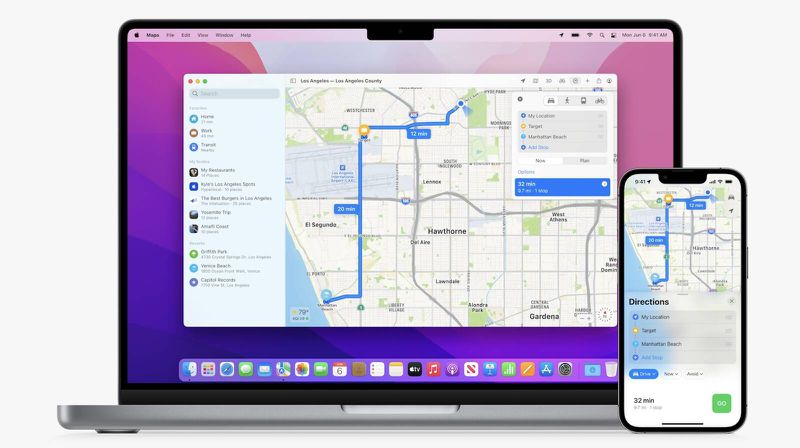 10:25 am: Updates to Transit, adding fares and the ability to use transit cards. Will alert for low balances and reload from within Maps.
10:25 am: Updates to MapKit for developers, allowing maps to be integrated.
10:25 am: Look Around is coming to MapKit, akin to Google Street View.
10:26 am: Developers will have faster and more flexible ways to access Maps, with serverside APIs coming later this year.
10:26 am: New updates coming for Sports fans.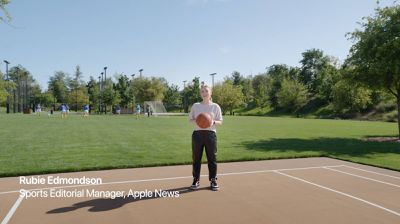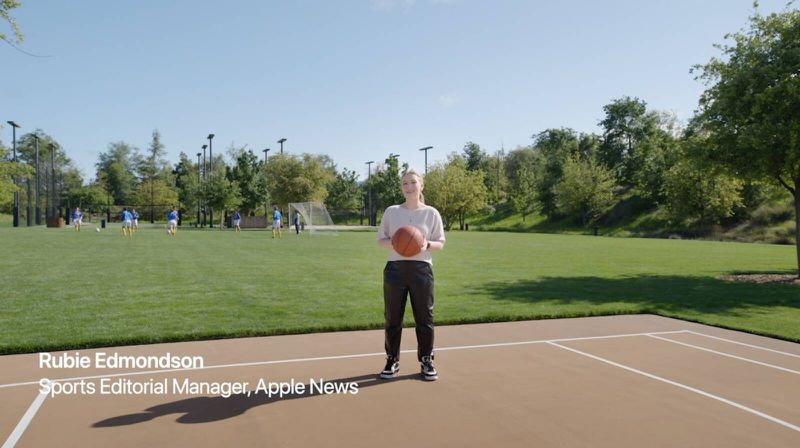 10:27 am: Scores and play-by-play on the lock screen. But now sports coming to Apple News.
10:27 am: New section called My Sports with scores, schedules and standings.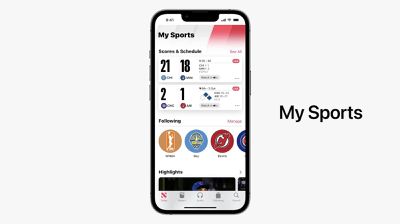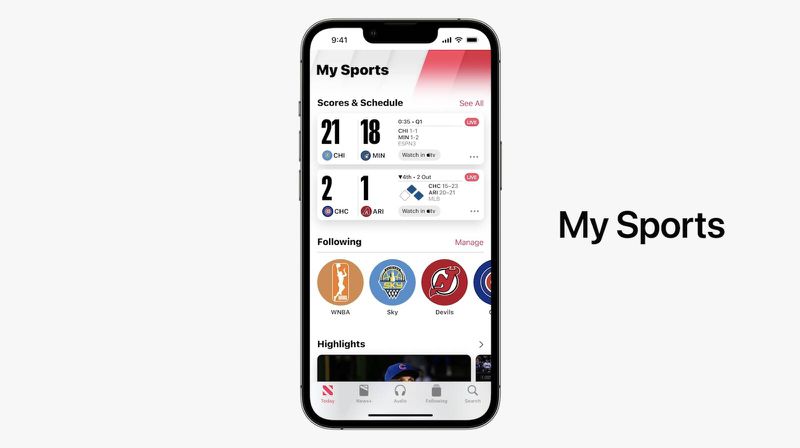 10:28 am: Highlights, news, and more. Favorites saved with Apple TV app and across all Apple device. Free in US, UK, Canada and Australia. Subscribe to ‌Apple News‌+ with premium sports coverage.
10:28 am: Updates to Family Sharing.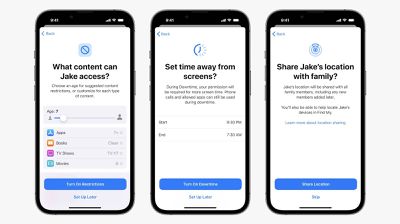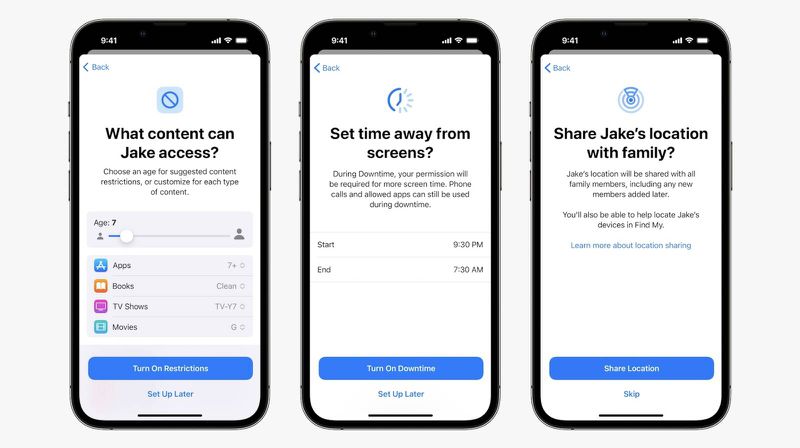 10:29 am: Making it easier to manage accounts for kids. Adjust age-appropriate restrictions and quick setup of other parental controls. Turn on new device, put ‌iPhone‌ nearby and use Quick Start to set up a new device for kids. Can approve requests for Screen Time changes in Message. Family Checklist for updating settings as kids get older, or turning on location sharing.
10:30 am: Updates to ‌Photos‌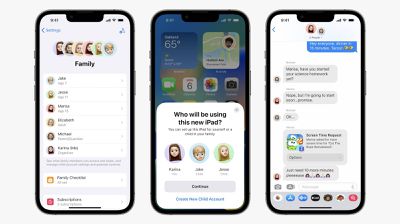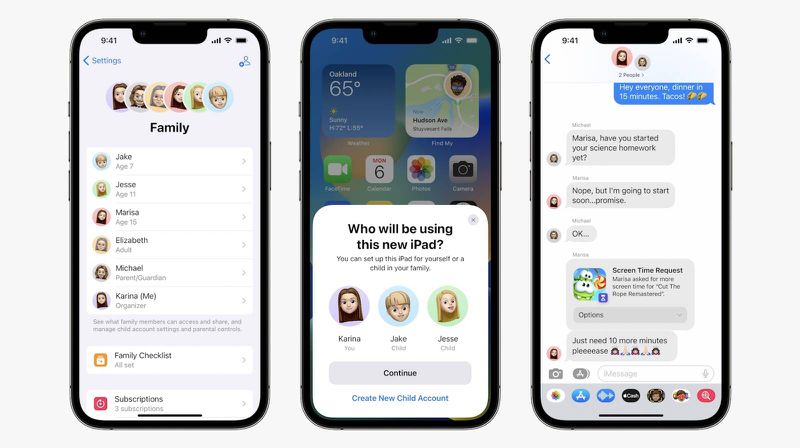 10:30 am: iCloud Shared Photo Library to allow sharing of photos to families. A separate iCloud Photo Library, allowing multiple family members to contribute and share photos.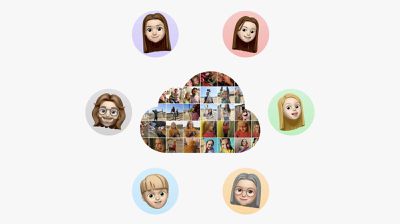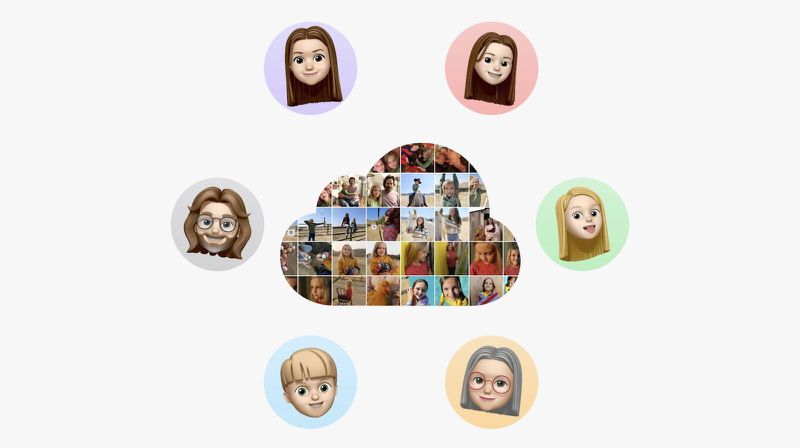 10:31 am: Can set photos to auto-share right from Camera.
10:31 am: Have sharing switch turned on automatically if you take photos with your family members.
10:32 am: Content from shared libraries will automatically appear in smart albums and various widgets just like your own photos.
10:32 am: Updates to Privacy
10:32 am: Protecting users Personal Safety, new tool called Safety Check.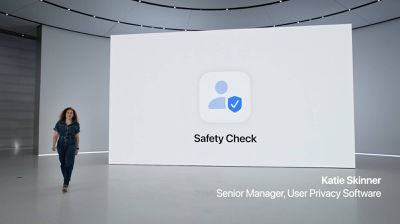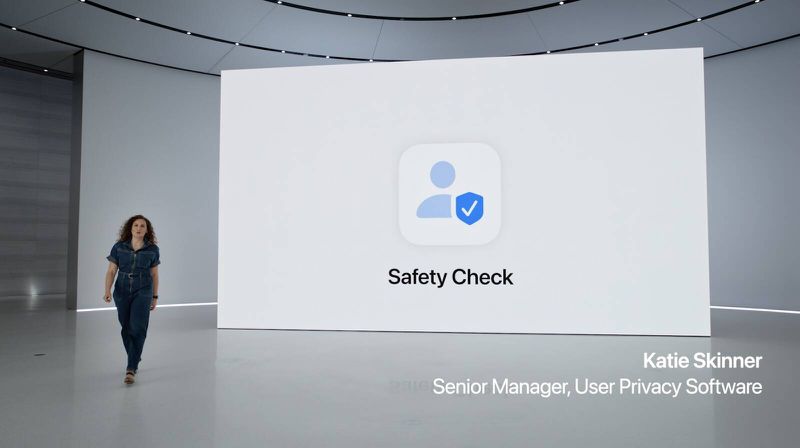 10:33 am: In abusive relationships, sharing passwords and locations can affect personal safety. Allows users to quickly review and reset access to systems with Emergency Reset button. Stops sharing your location and resets system privacy permissions for all apps. It also protects access to messages by signing out of ‌iCloud‌ on all other devices. Restricts Messages and ‌FaceTime‌ to the device in your hand. Reset sharing to certain apps and to certain people.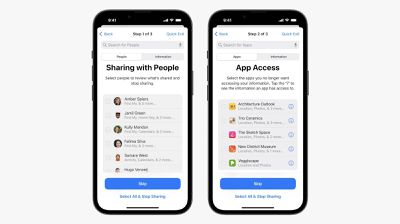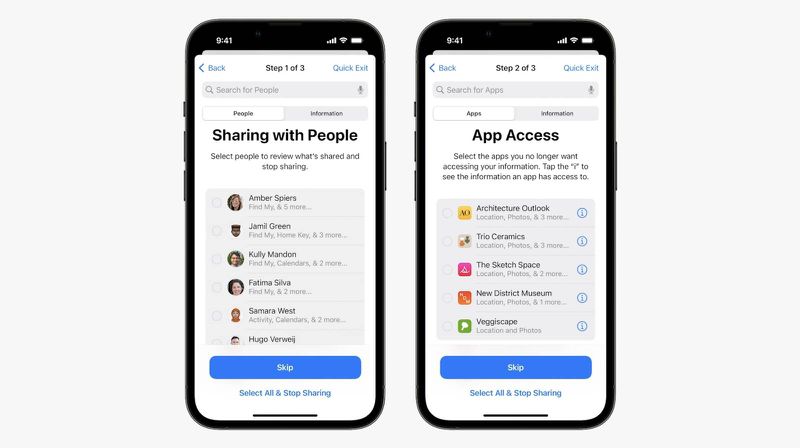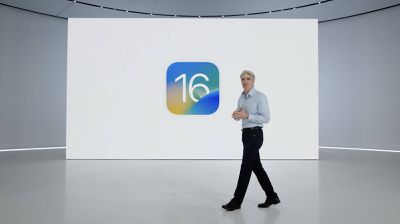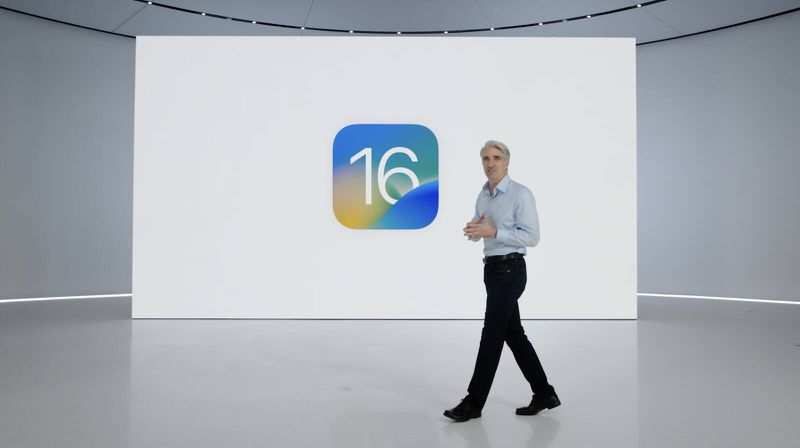 10:34 am: Updates to Home and Car.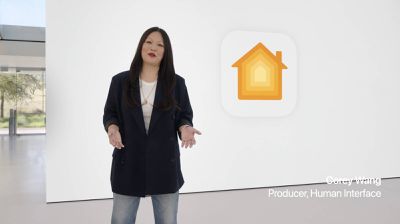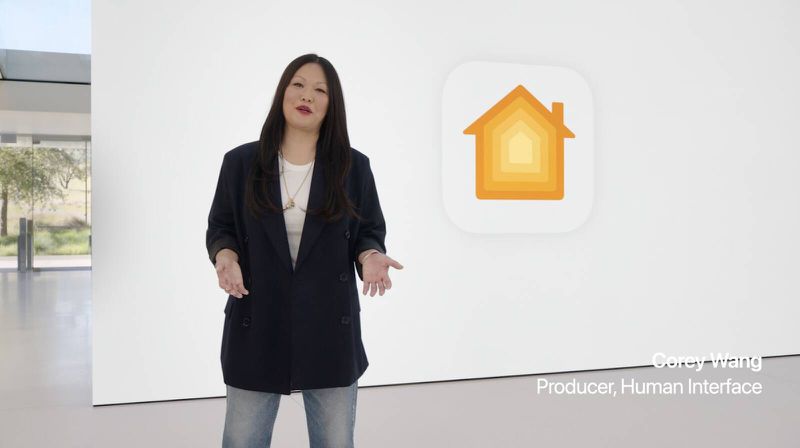 10:35 am: There's a lot to manage in the Home. Smart home accessories can make it easier to control things from your ‌iPhone‌. Turn off lights or see who's at the door from your phone.
10:36 am: Smart Home is still in its early days. Want to bring these experiences to as many homes as possible. We joined forces with other industry leaders to create a new connectivity standard called Matter. Enables smart home accessories to work together across platforms. We contributed HomeKit as the foundation to this new standard.
10:36 am: Dozens of leading brands have committed to joining Matter. Provides foundation to connect smart home accessories and allows Apple to innovate on top of it.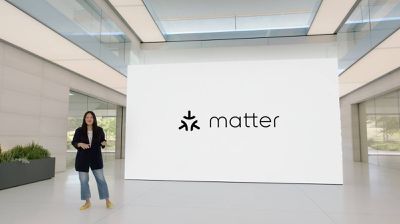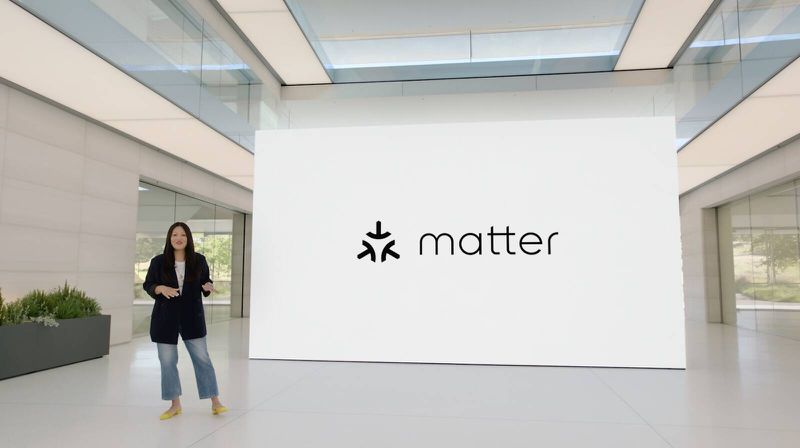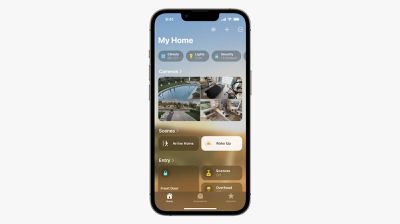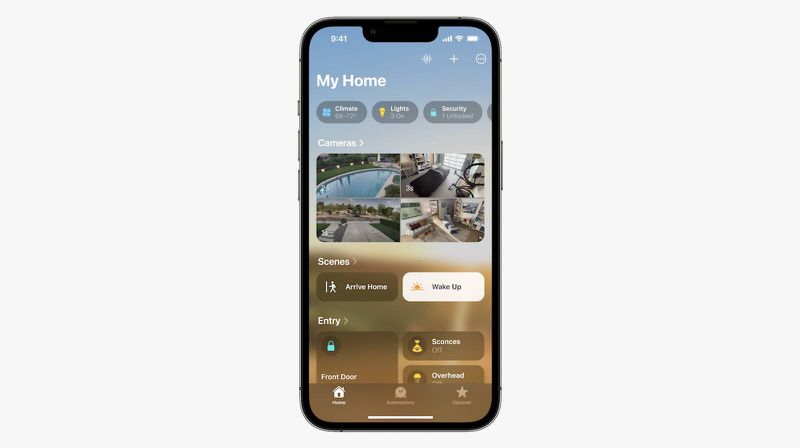 10:38 am: Redesigned new Home app with new categories, layout, and more. Easier to set up and navigate whether Home is complicated, with many devices, or with only a few.
10:38 am: Updates coming to ‌CarPlay‌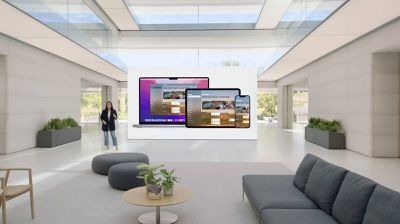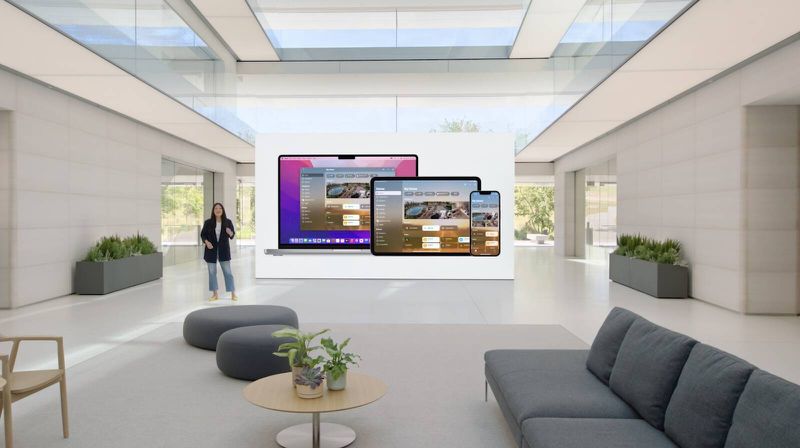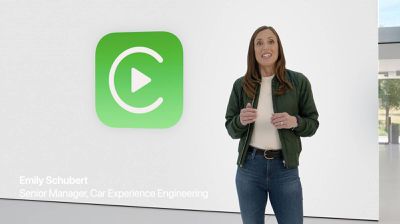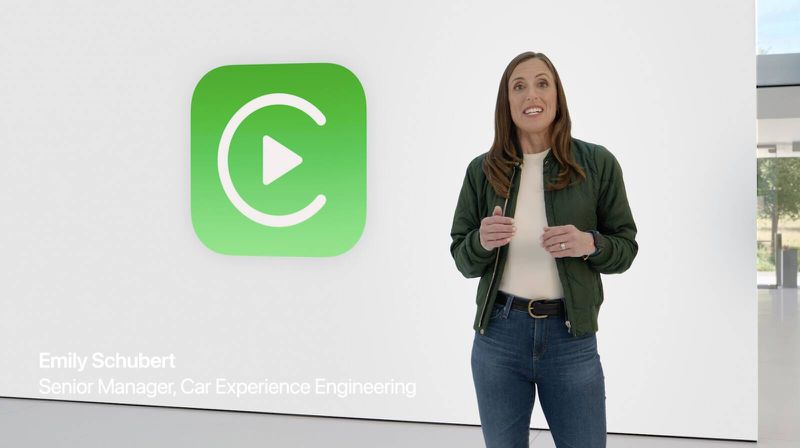 10:38 am: Available in 98% of cars. 79% of US buyers would only consider CarPlay-capable vehicles.
10:39 am: New version of ‌CarPlay‌ will include support for controlling all vehicle systems, plus dash clusters and more.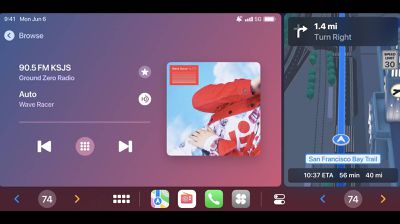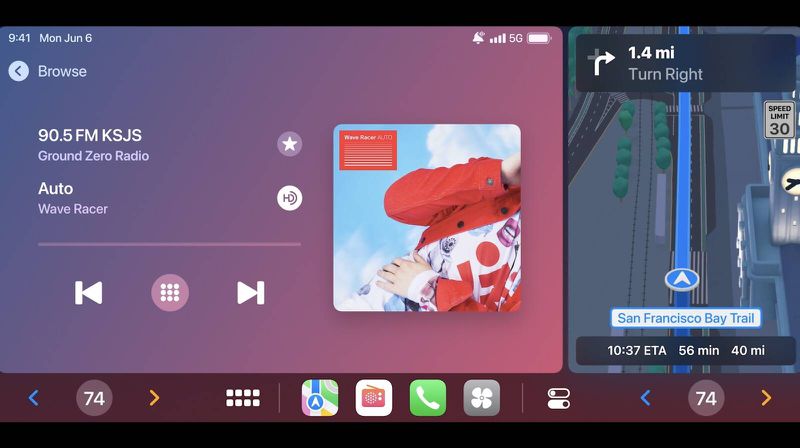 10:40 am: ‌CarPlay‌ can take over all in-car screens, "the very best of your car and your ‌iPhone‌"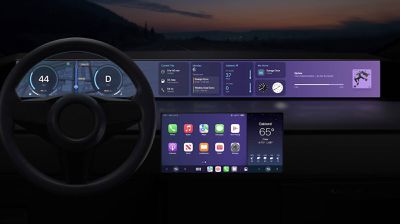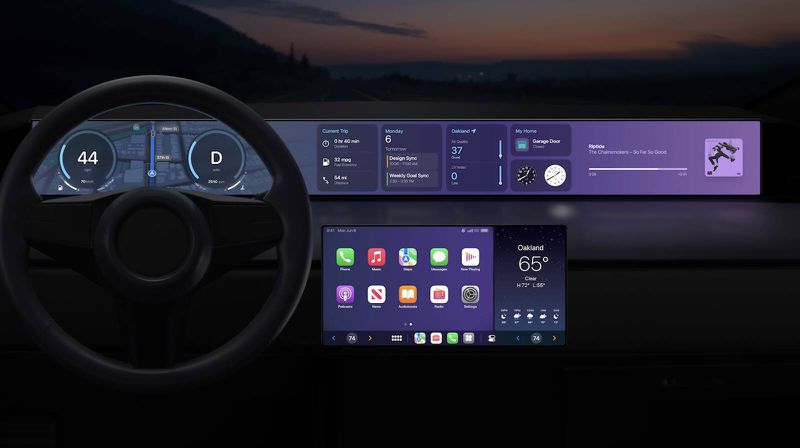 10:40 am: Can control car radio or climate controls without ever leaving ‌CarPlay‌. Includes widgets, including on the gauge cluster.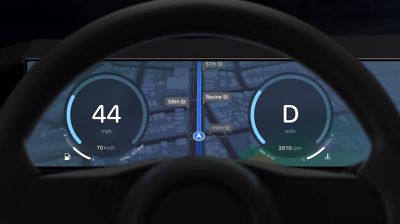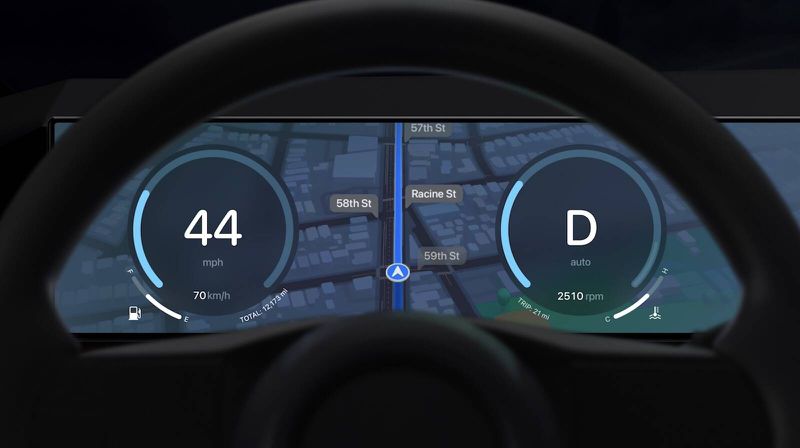 10:41 am: ‌iPhone‌ communicates with in-car systems to display all the data. Supports multiple sizes and shapes of screens.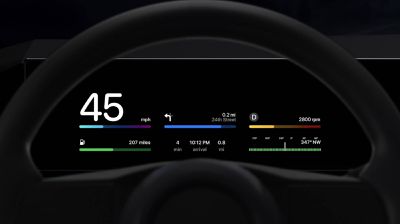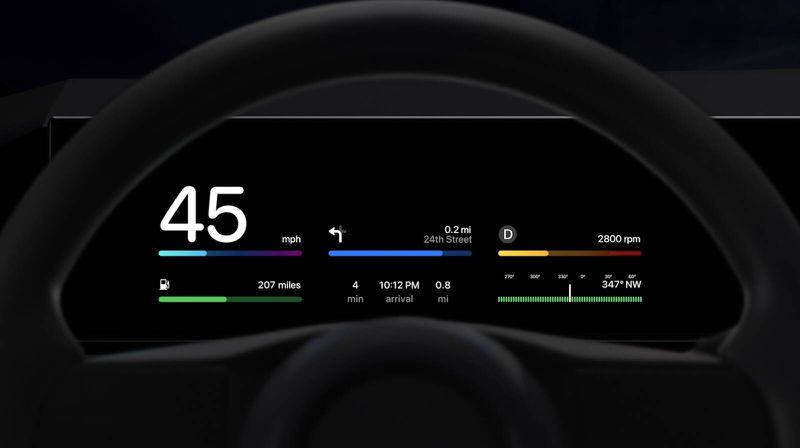 10:41 am: Make core of driving experience unique to you, custom instrument cluster options. Different themes and styles coming.
10:42 am: "Vehicles will start to be announced later this year and we can't wait to show you more further down the road."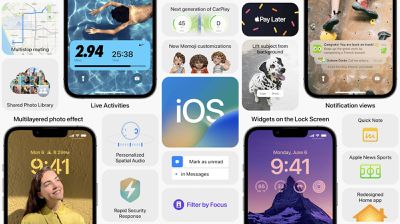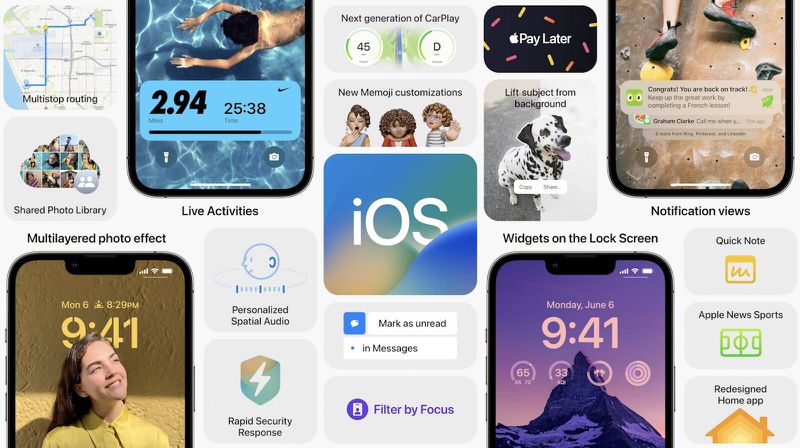 10:43 am: Personalized Spatial Audio, Quick Note, Rapid Security Response mechanism for updates, Memoji customizations.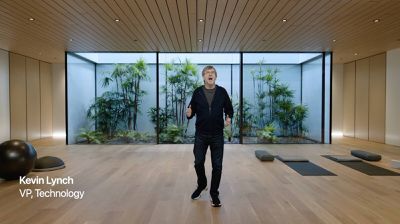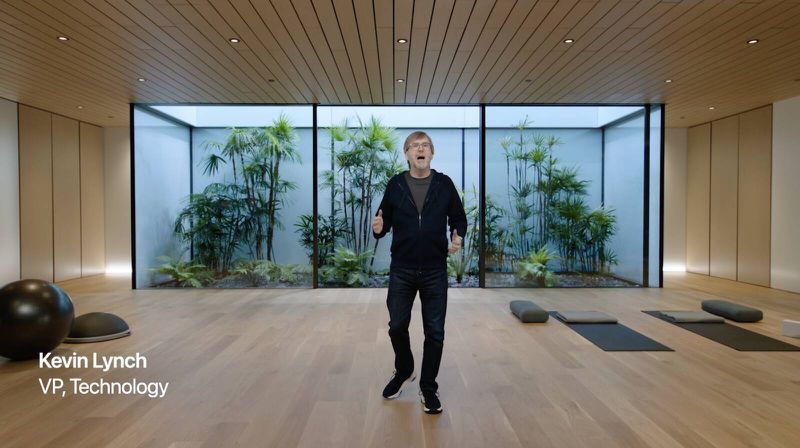 10:43 am: Updates coming to Apple Watch.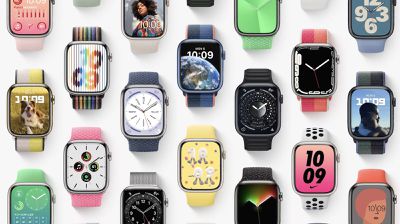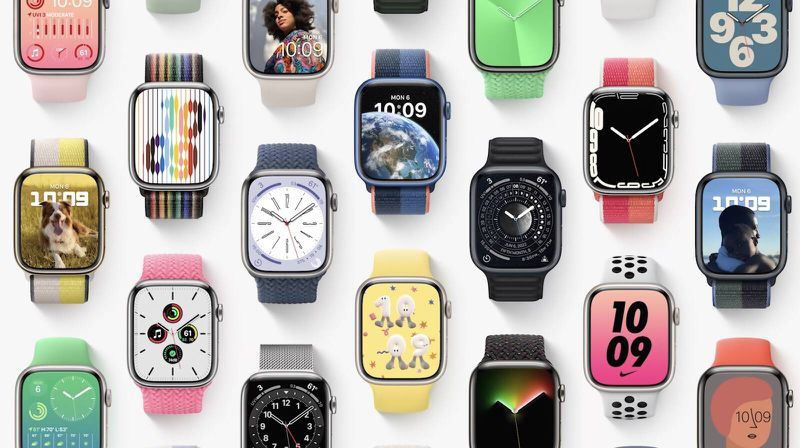 10:45 am: New notifications, new Podcasts app.
10:45 am: Workout App getting reworked in WatchOS 9.
10:46 am: Metrics, views, training experiences inspired by high-performing athletes. Updates to Running with metrics to help better understand performance, and switching up training can help prevent injury.
10:46 am: Vertical oscillation metric, a measure of how much you move up and down.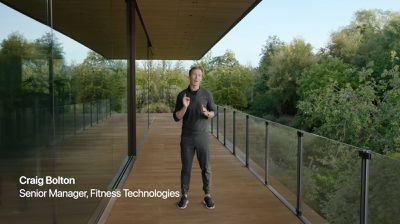 10:47 am: Stride Length and Ground Contact Time also measured. Can be added to new Workout views.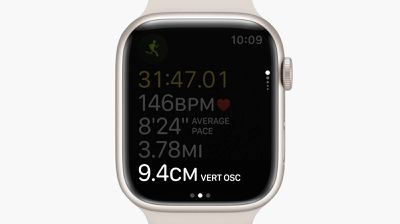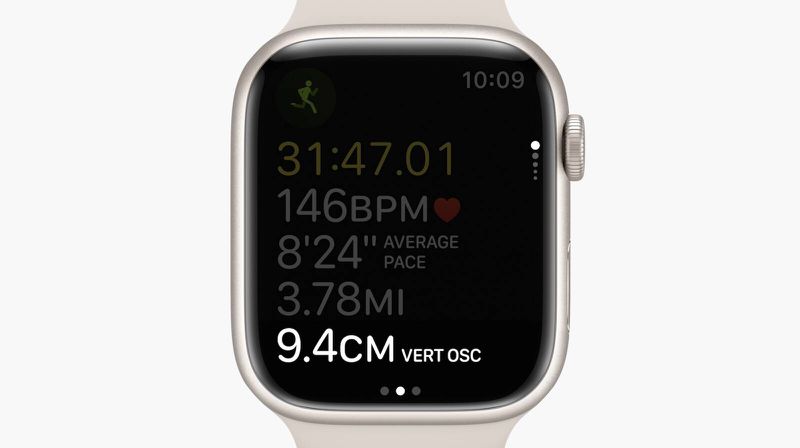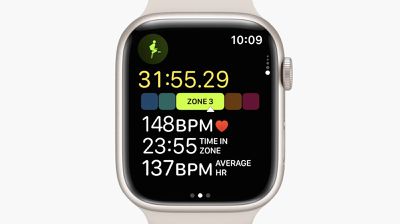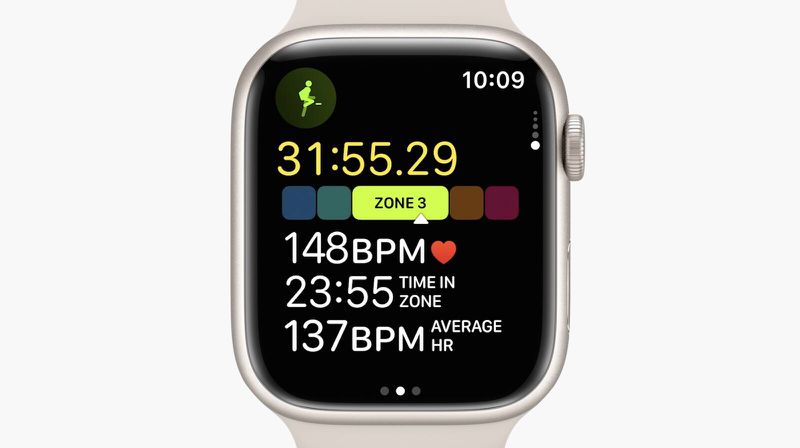 10:47 am: New custom workout option, to let users focus on speed or endurance with distance or time intervals. New alerts like Pace, Heart Rate Zones.
10:48 am: Haptic and voice feedback to remind you to switch between work and recovery periods.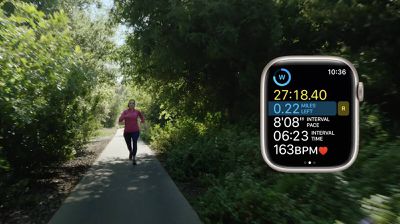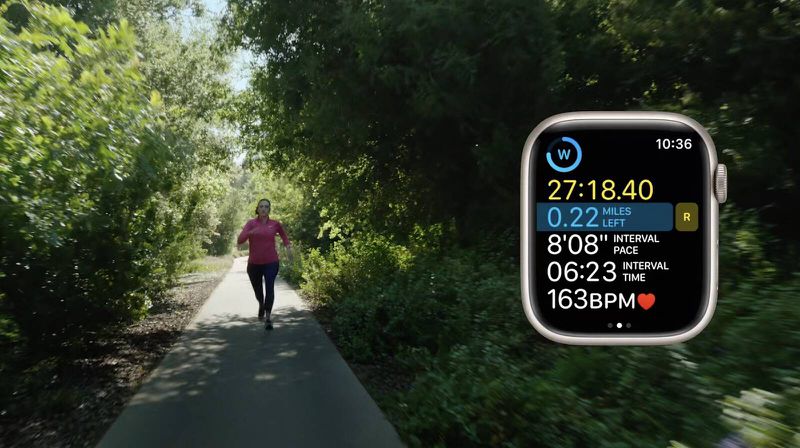 10:49 am: Check training vs last or best time to track progress overtime. Works with Hiking, HIIT, and functional strength training. Sensor fusion for triathlons to determine when you're transitioning from one leg to the next. Switch from swimming to cycling to running.
10:49 am: Fitness app coming to ‌iPhone‌ users regardless of if they have an Apple Watch. Track steps, distances, from ‌iPhone‌ only.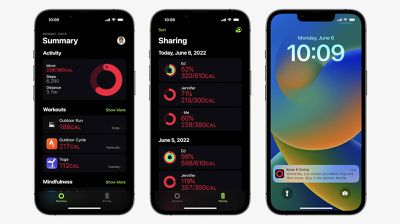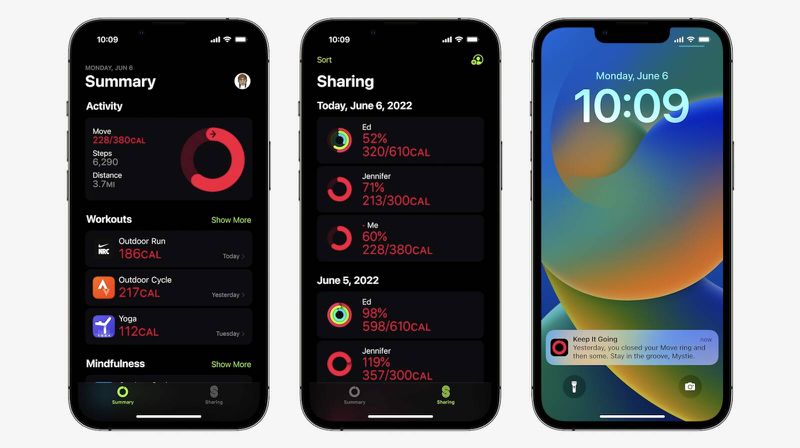 10:50 am: Updates to the Sleep app.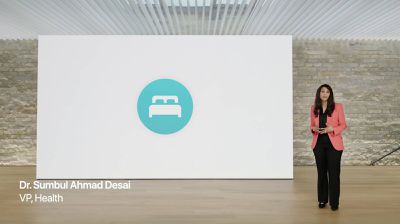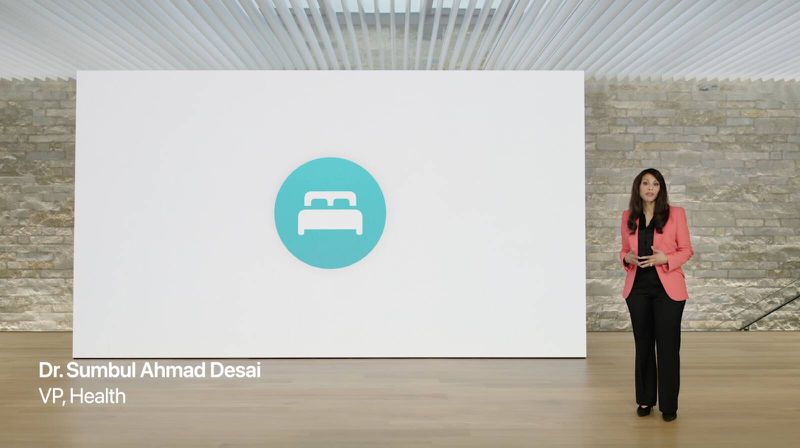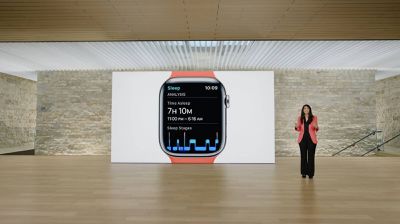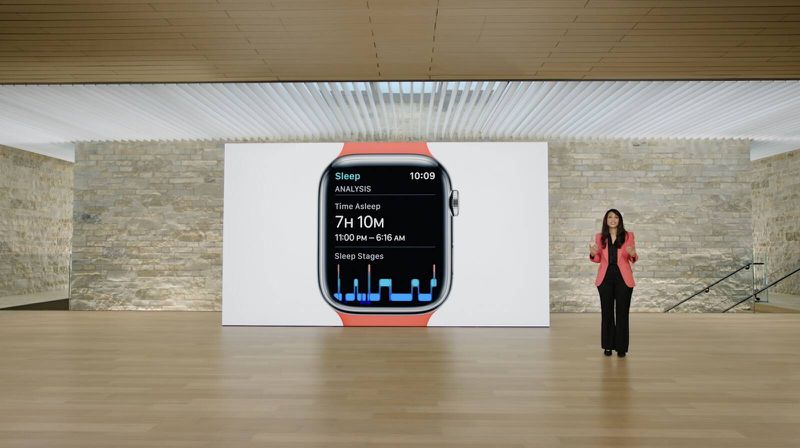 10:51 am: Learn more about sleep with Sleep Stages. Machine learning models matched with polysomnography to help determine whether you're in REM, Core, and Deep sleep stages. We want to help push forward the science of sleep. Apple Heart & Movement Study participants will be able to share sleep stage data through the app.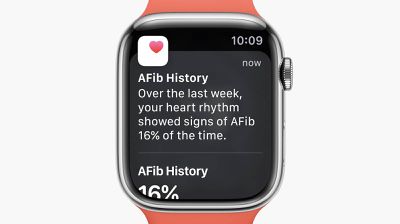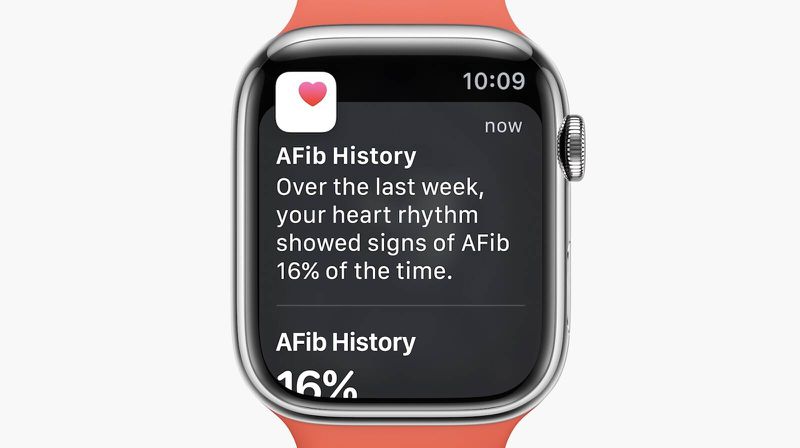 10:52 am: New Medications app to help you keep track of meds.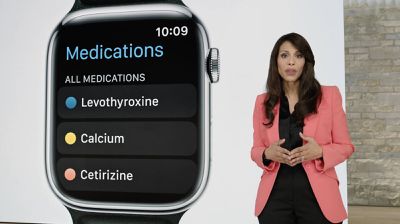 10:53 am: Can help users remember what to take and when. Reminders on phone or Watch. Can scan a medication label with your ‌iPhone‌ camera to add the list.
10:53 am: Can monitor for drug-drug interactions.
10:54 am: Can share health data and Medications with family members.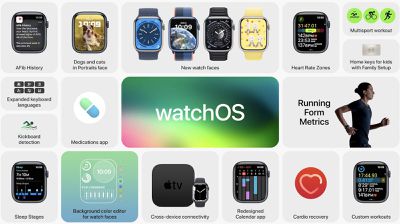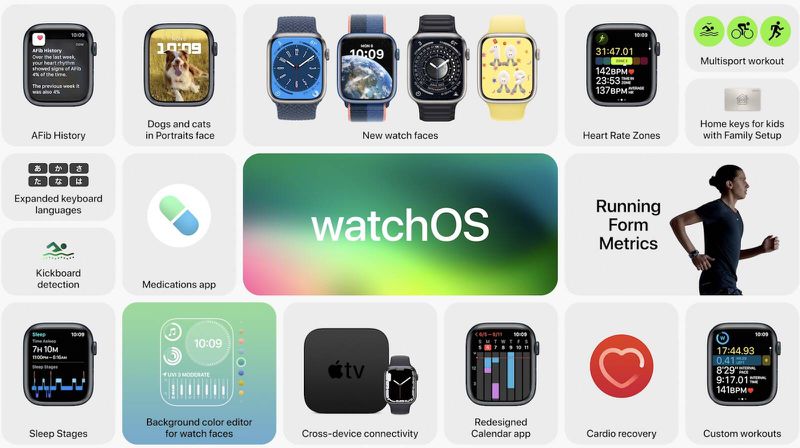 10:55 am: What's new with Mac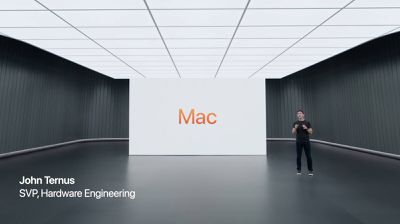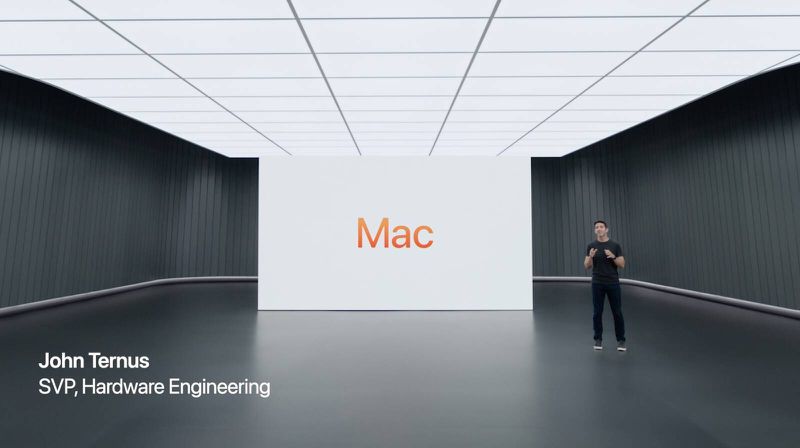 10:56 am: Talking about Apple Silicon and how "almost" the entire product line has updated
10:56 am: The Next generation of ‌Apple Silicon‌ is here. M2.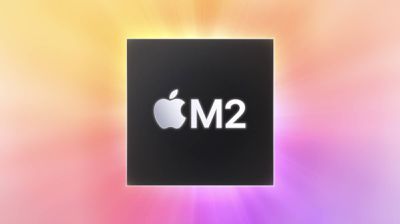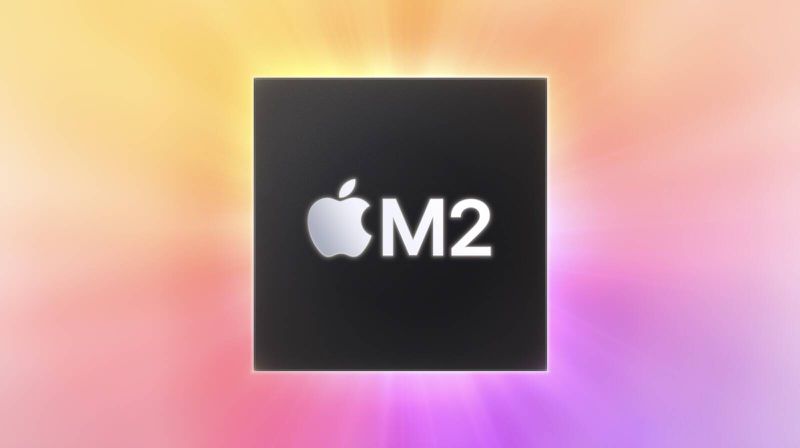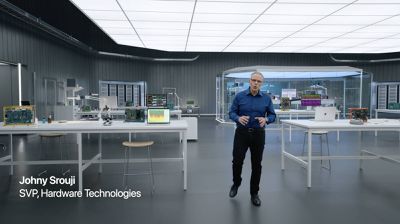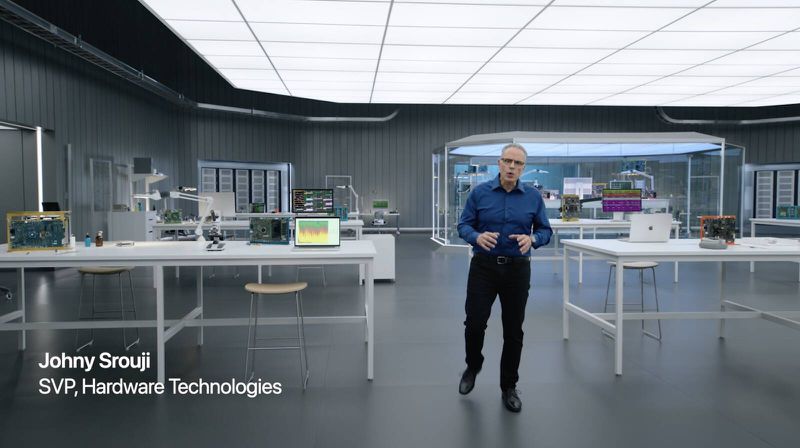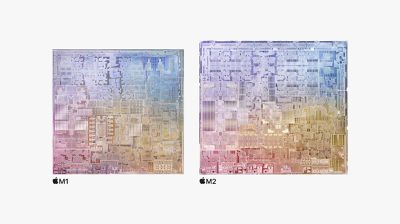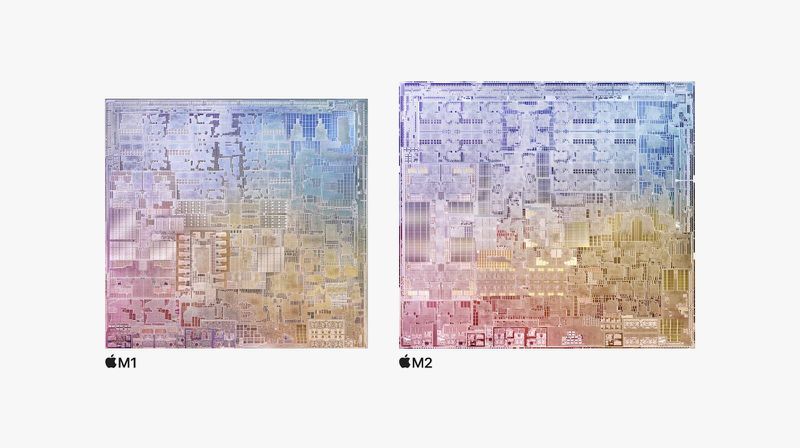 10:57 am: ‌M2‌ goes beyond M1, "unlike others in the industry who increase power to get performance"... we maximize performance while minimizing power consumption.
10:57 am: 2nd-generation 5nm technology. 20 billion transistors, 25% more than ‌M1‌.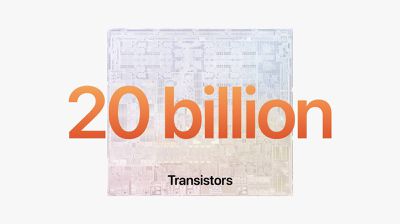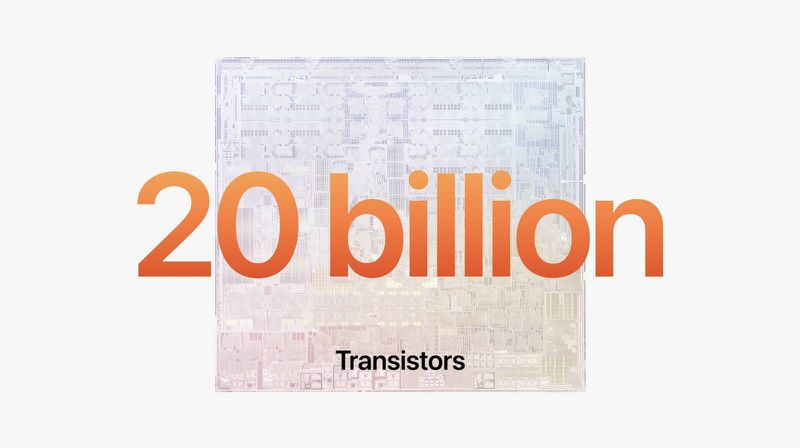 10:57 am: 100GB/s of unified memory bandwidth, up 50% from ‌M1‌.
10:58 am: ‌M2‌ supports up to 24GB of LPDDR5 memory. Advancements in performance and efficiency cores. 4 high-performance cores, 4 high-efficiency cores.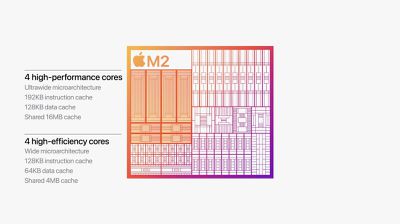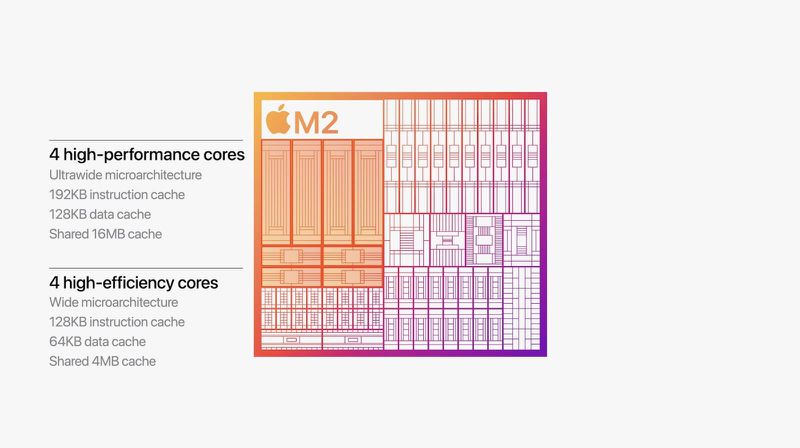 10:58 am: 18% greater performance at same wattage.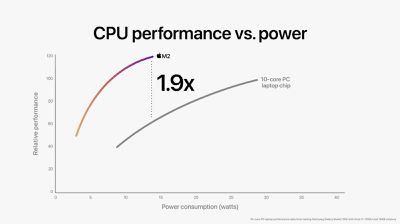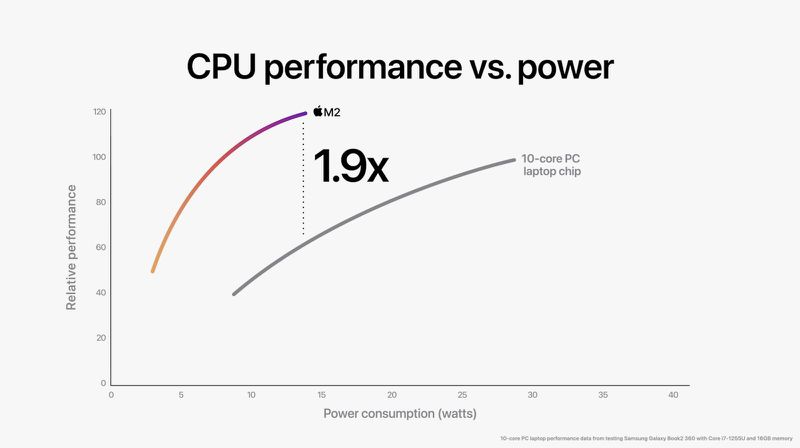 10:59 am: ‌M2‌ delivers 87% of peak performance of 12-core PC laptop chip with 1/4 the power usage.
10:59 am: Up to 10-core GPU, up 2 from ‌M1‌.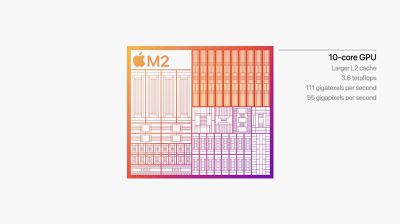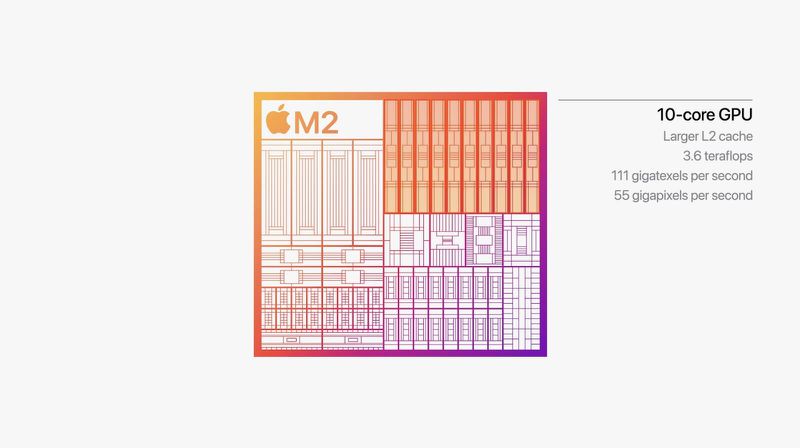 11:00 am: Lots of statistics coming without many details. Apple says the ‌M2‌ is a lot faster at lower power usage levels than the competition.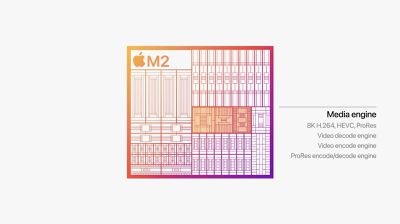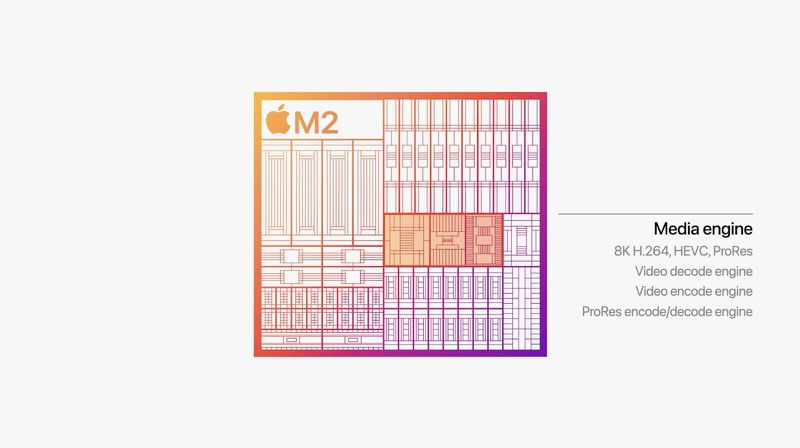 11:00 am: Includes ProRes encode and decode, along with 8K-support in the video media engine.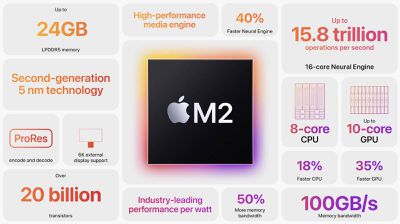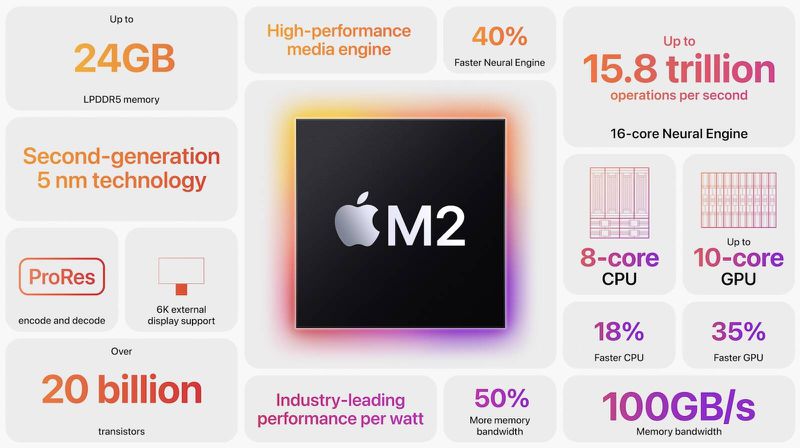 11:01 am: The fact that we're already starting our next-generation of ‌Apple Silicon‌ for the Mac is remarkable.
11:01 am: New ‌MacBook Air‌ will be first to have the new ‌M2‌ chip.
11:01 am: ‌MacBook Air‌ is the world's best-selling laptop.
11:01 am: Completely redesigned around ‌M2‌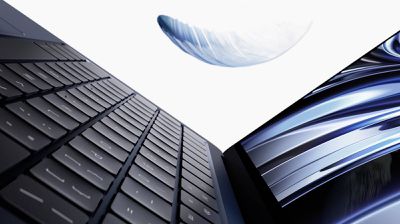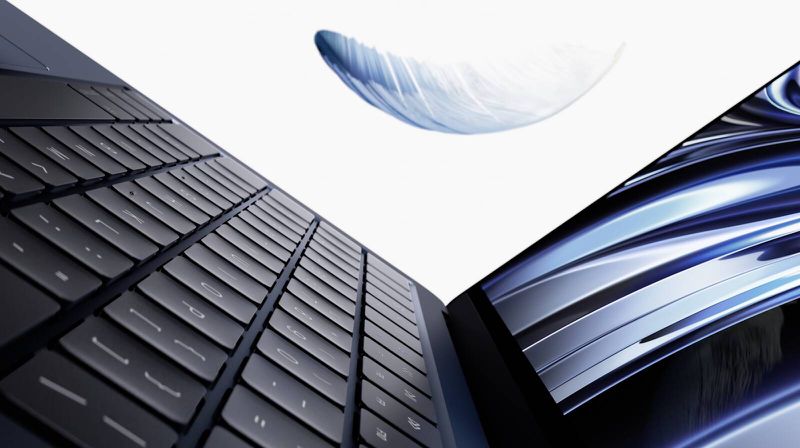 11:02 am: It's blue!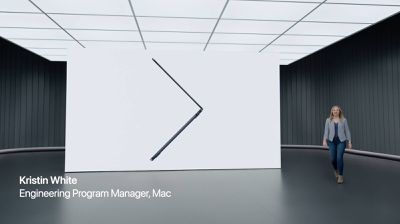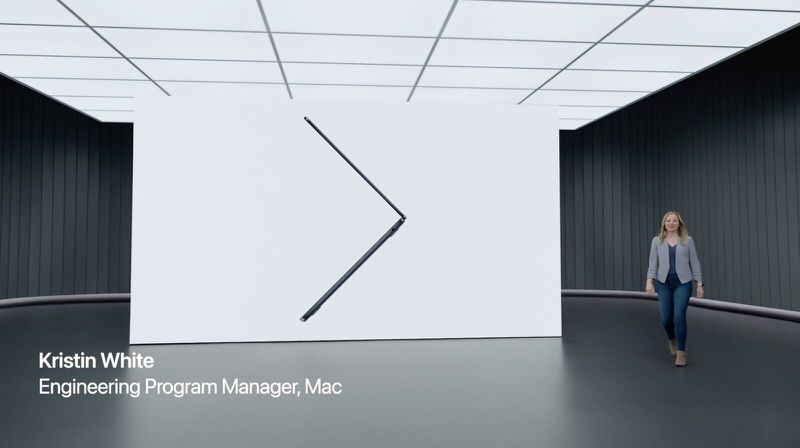 11:03 am: 20% reduction in volume over previous Air. 11.3mm thin. 2.7 pounds. Comes in 4 finishes, Silver, Space Gray, Starlight, Midnight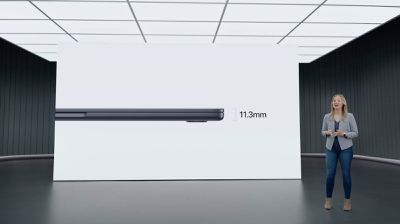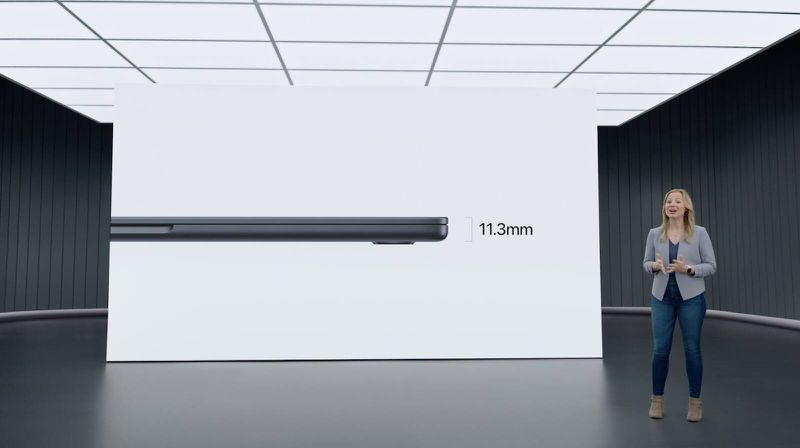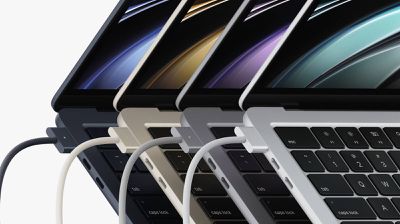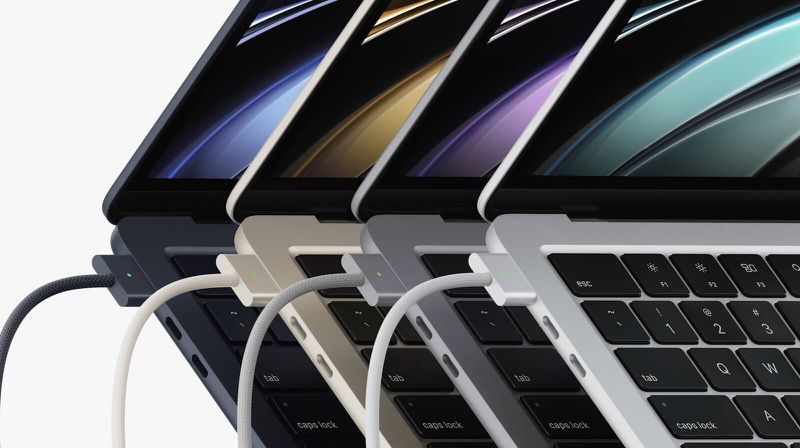 11:03 am: MagSafe and two Thunderbolt ports on the left. Audio jack with high-impedance headphone support on the right.
11:04 am: Includes Liquid Retina display, expanded around the sides and there's a notch. 13.6-inch display with thinner borders.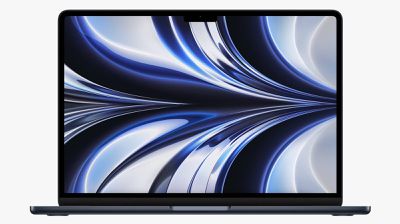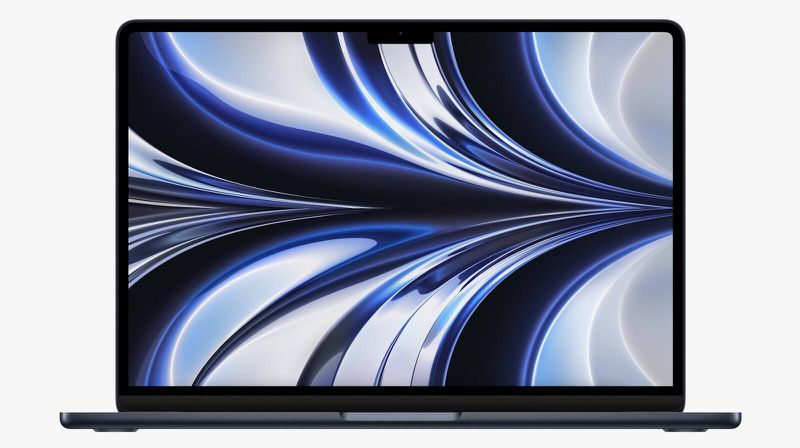 11:04 am: 500 nits and 25% brighter than before. 1 billion colors!
11:04 am: New 1080p camera with 2x resolution and low light performance as previous Air.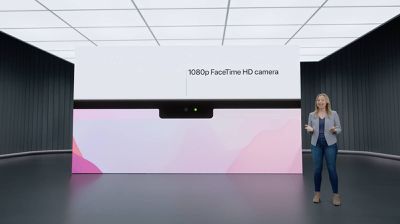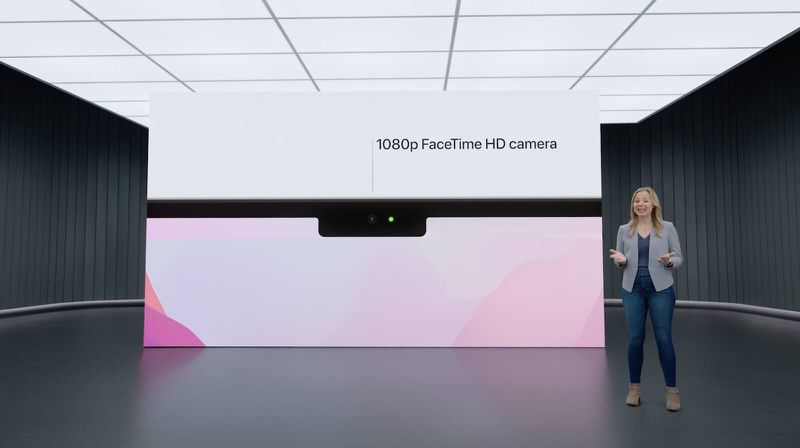 11:05 am: Speakers and mics are integrated between the keyboard and display.
11:05 am: Three-mic array captures audio with beamforming algorithms. Four-speaker sound system.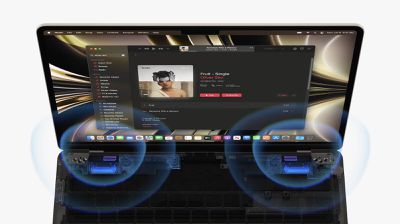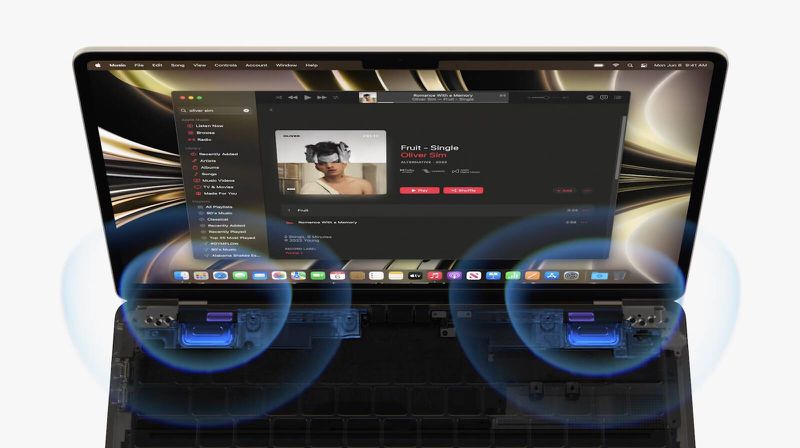 11:05 am: Magic keyboard includes full-height function row with Touch ID. No touch bar.
11:05 am: 20% faster with image filters and effects. 5x faster than Intel MBA.
11:06 am: Silent, fanless design.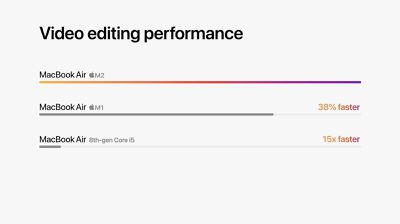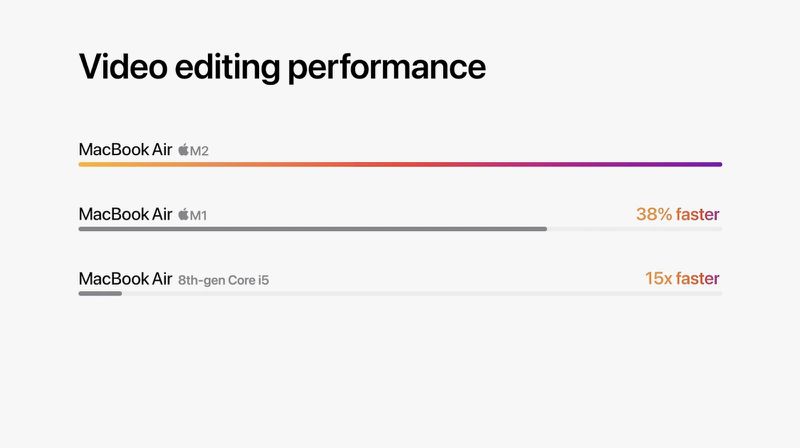 11:06 am: Same great all-day battery life, up to 18 hours of video playback.
11:06 am: Compact power adapter with two USB-C ports.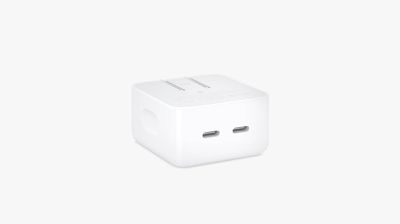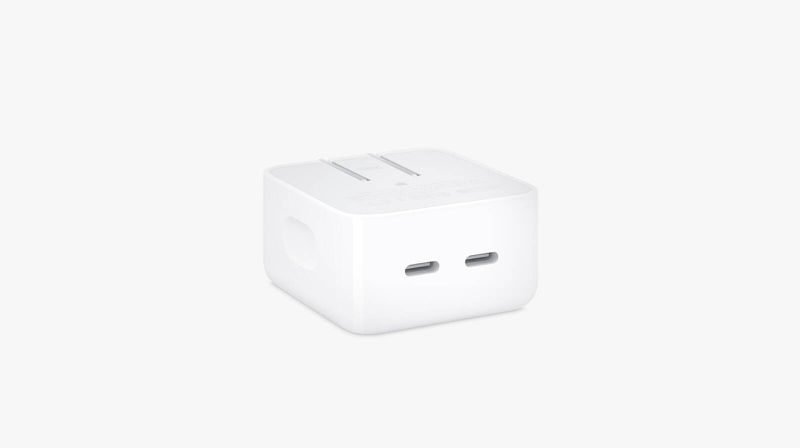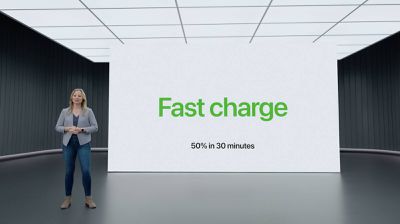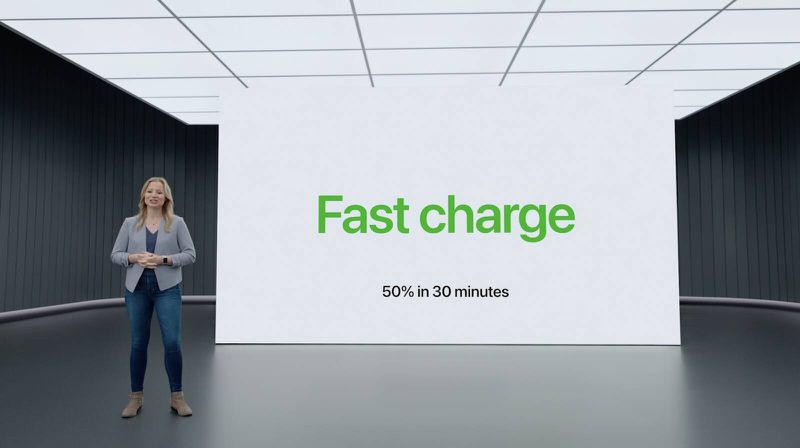 11:06 am: Fast charging supported with 67-watt adapter charging 50% in 30 minutes.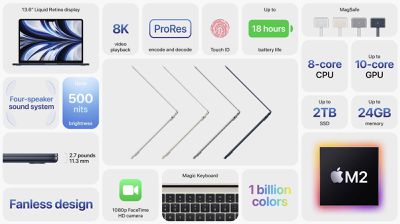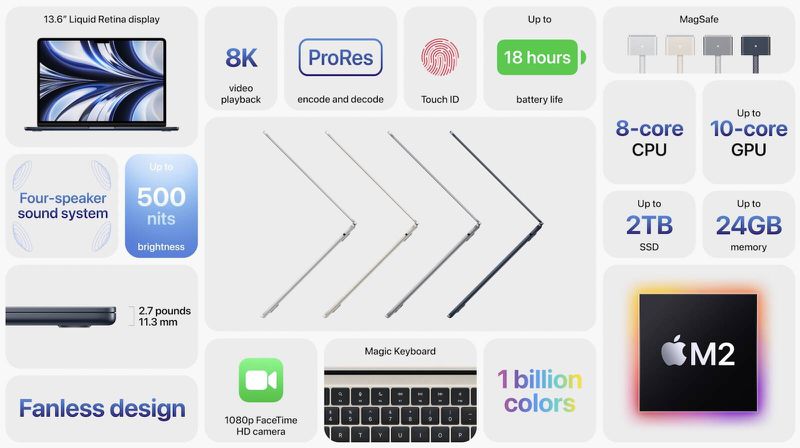 11:07 am: Now running a new ‌MacBook Air‌ ad.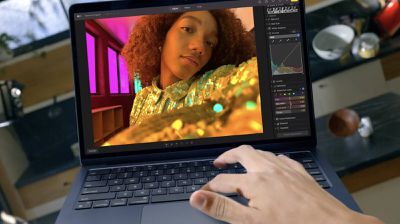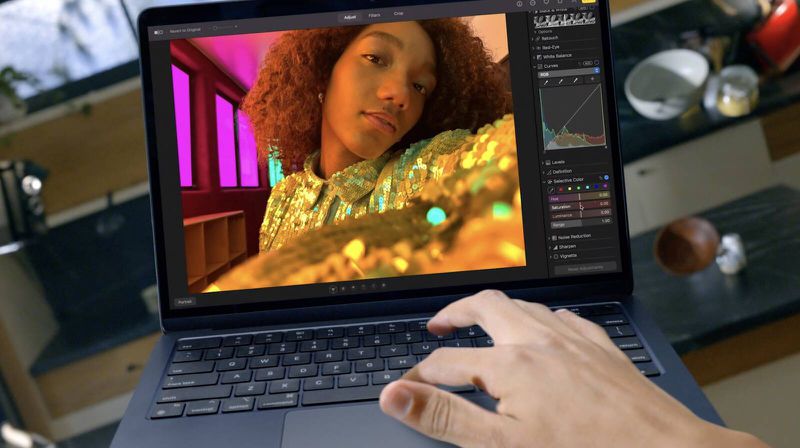 11:08 am: ‌M2‌ coming to another Mac, the 13-inch MacBook Pro.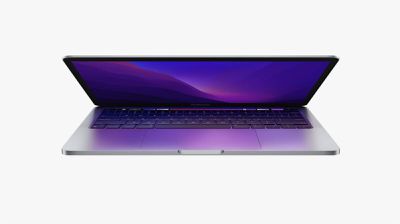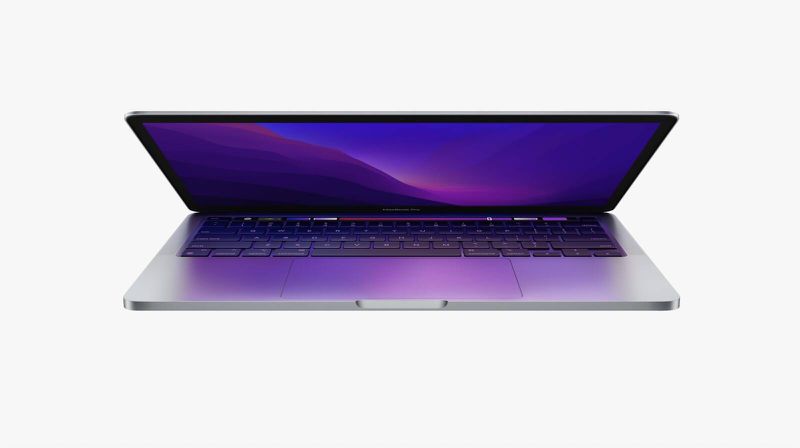 11:09 am: Includes active cooling system to sustain maximum performance.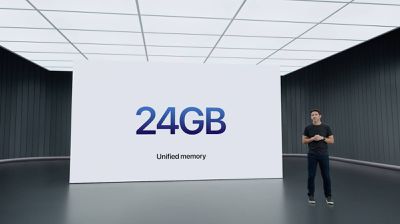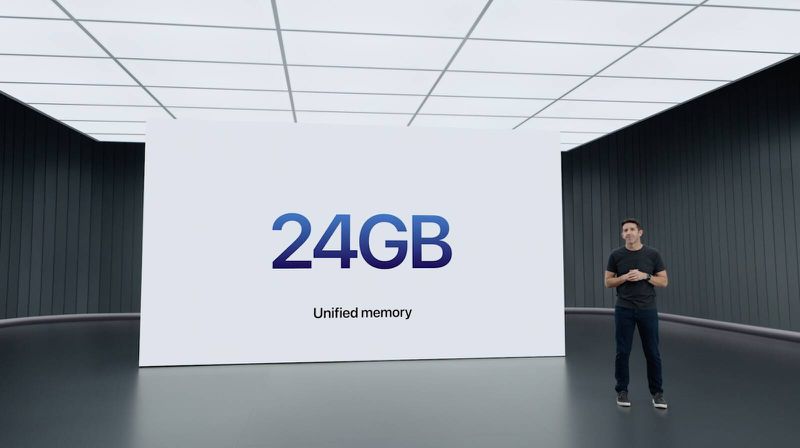 11:09 am: Up to 20 hours of video playback battery life.
11:09 am: Still includes the Touch Bar.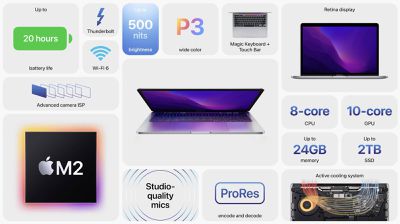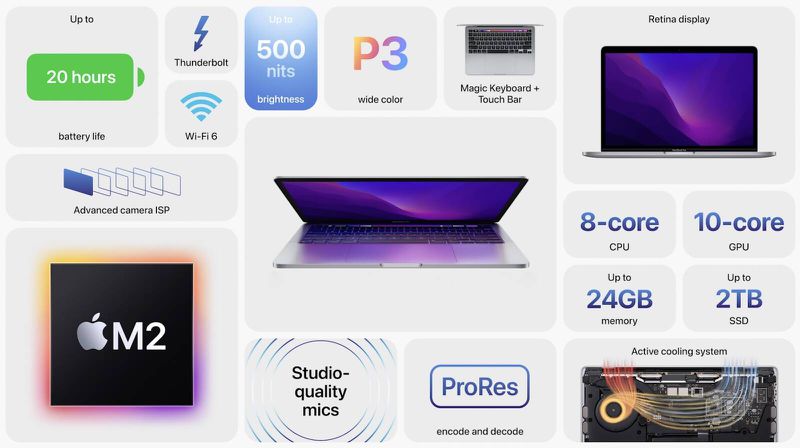 11:10 am: ‌MacBook Air‌ starts at $1199 or $1099 for education. MacBook Pro 13" starts at $1299 and $1199 for education. Available next month. ‌MacBook Air‌ ‌M1‌ stays in lineup at $999 or $899 for education.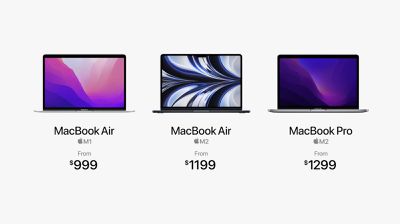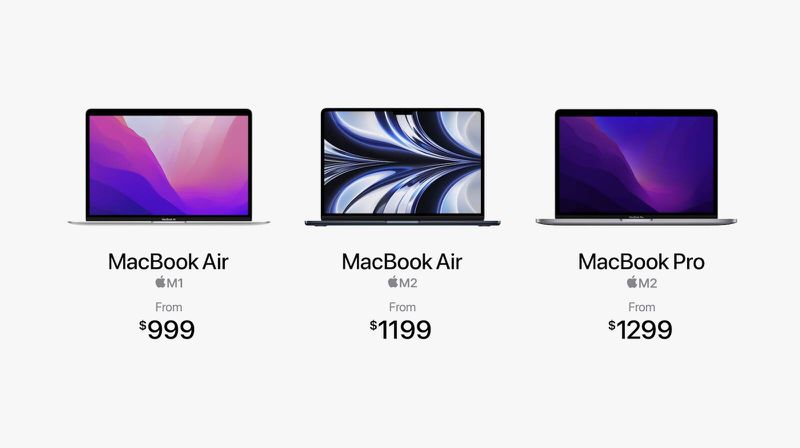 11:11 am: Announcing macOS Ventura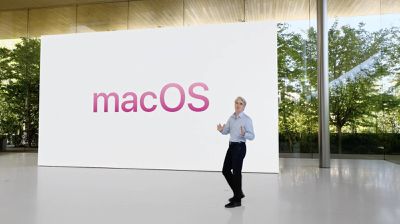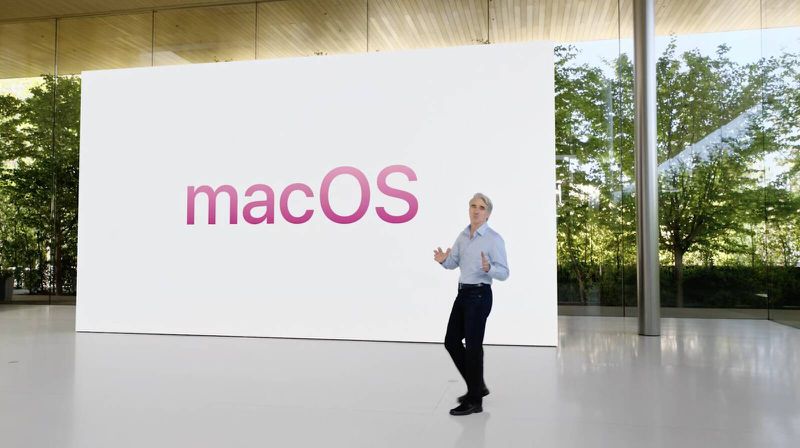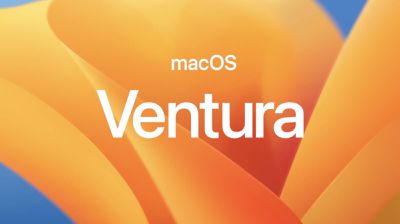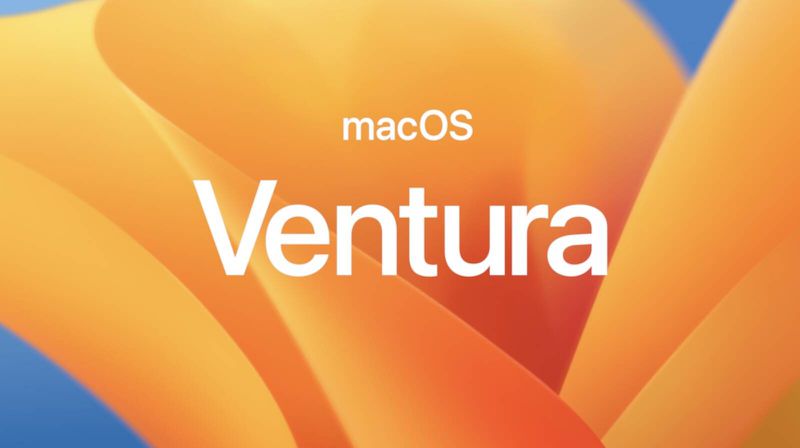 11:13 am: New Stage Manager feature helps keep track of windows.
11:14 am: ‌Stage Manager‌ shuffles windows off to the side, organized by app. App you're currently working with stays front and center. Switch apps and the apps move to and from the "Stage." Imagine a Dock but for currently open apps.
11:14 am: Can group windows together across apps into new groups.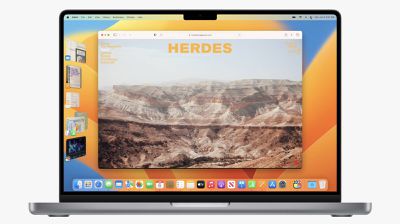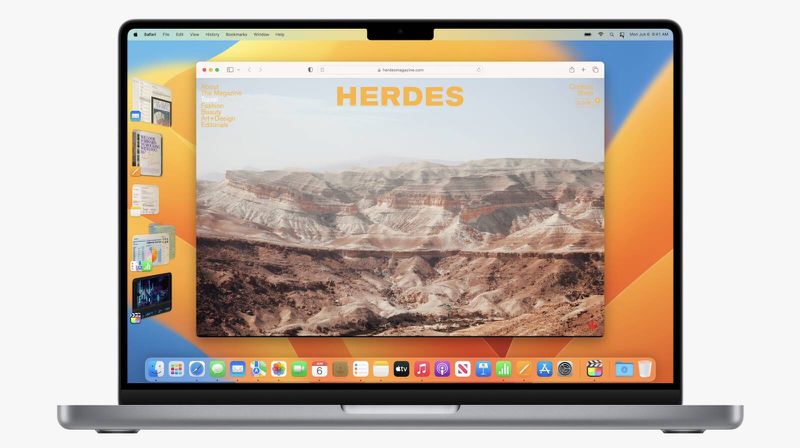 11:15 am: Can clear the Stage and view the Desktop.
11:15 am: Updates to Spotlight
11:16 am: Spotlight can find images from photo library, search text inside images using Live Text, start timer or run shortcut from Spotlight.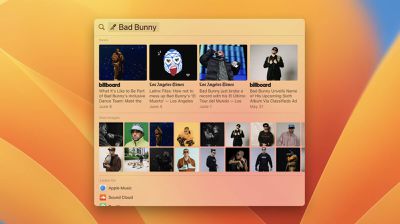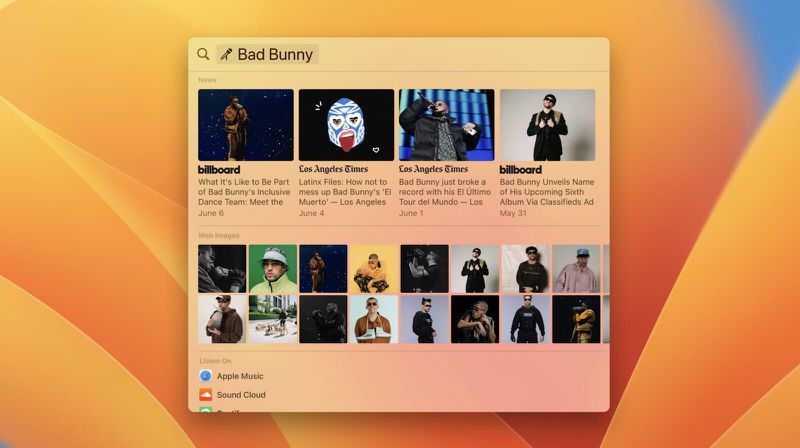 11:16 am: Rich results and taking actions from Spotlight are also coming to iOS and iPadOS. Spotlight added to the bottom of the iOS home screen.
11:17 am: Updates to the Mac email app.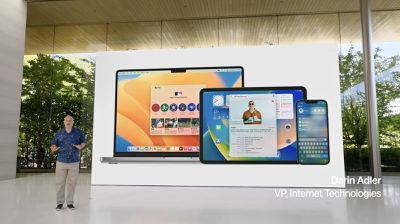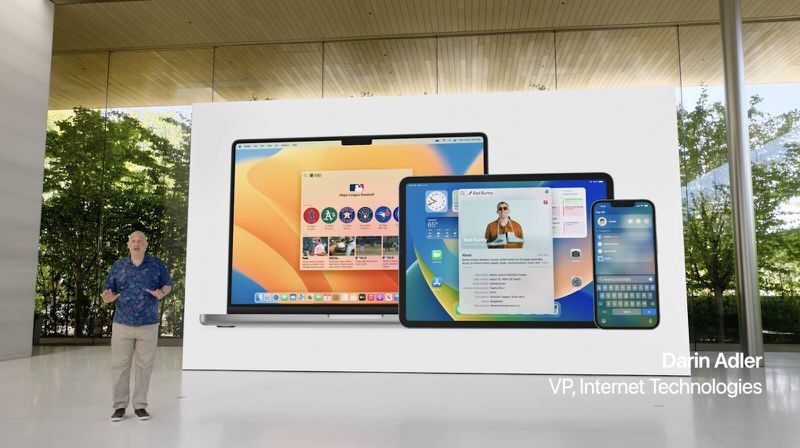 11:17 am: Undo Send gives you a few moments to undo a send. Scheduled sent, and reminders to follow up.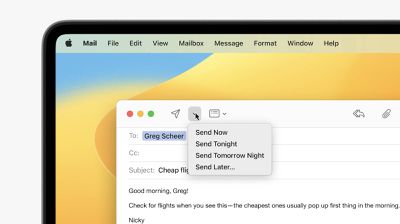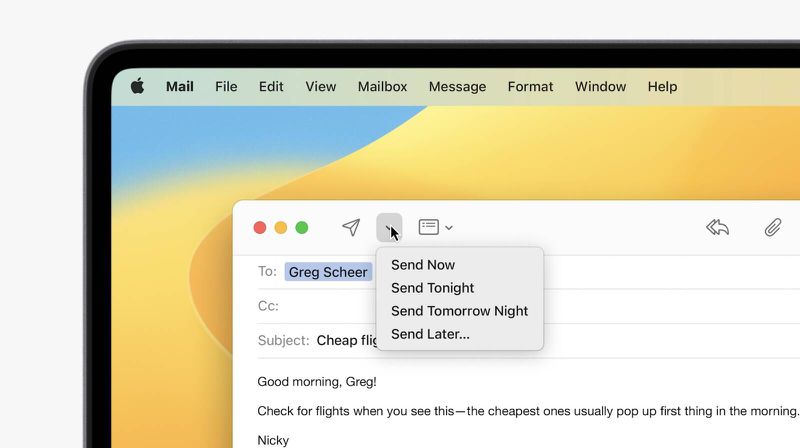 11:17 am: Biggest overhaul of Search in Mail we've done in years. Leveraging state of the art techniques to deliver more accurate results.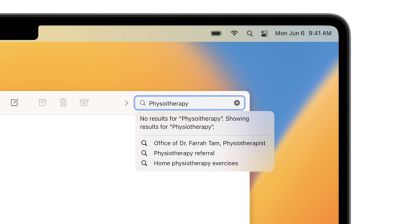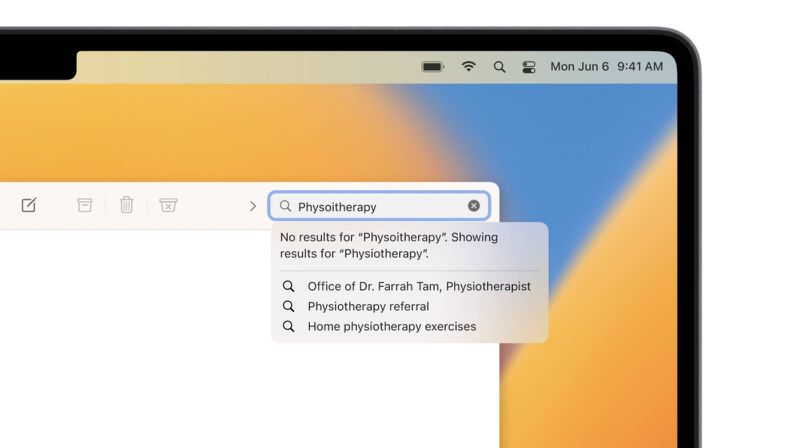 11:18 am: Updates to Safari
11:18 am: The world's fastest browser. Power efficient, "trailblazer in privacy"
11:19 am: New Shared Tab Groups in Safari.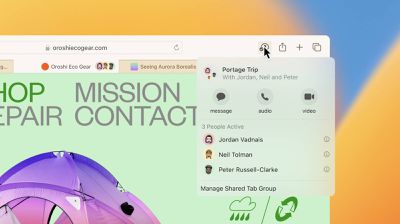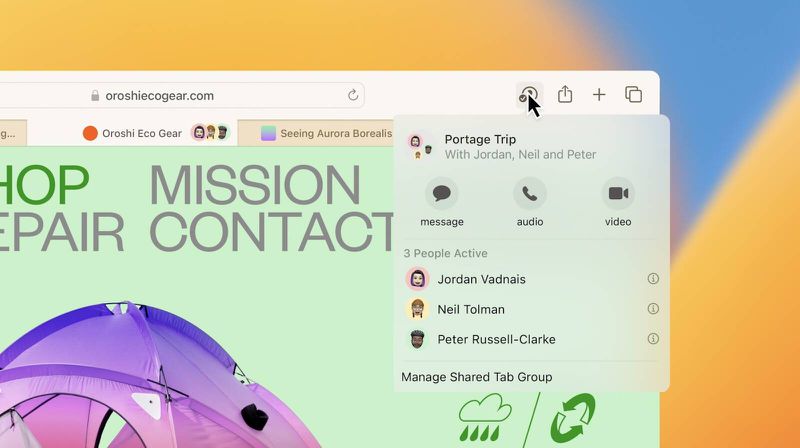 11:20 am: Apple aims to replace passwords for good. New "Passkeys" feature.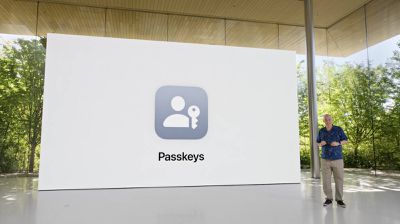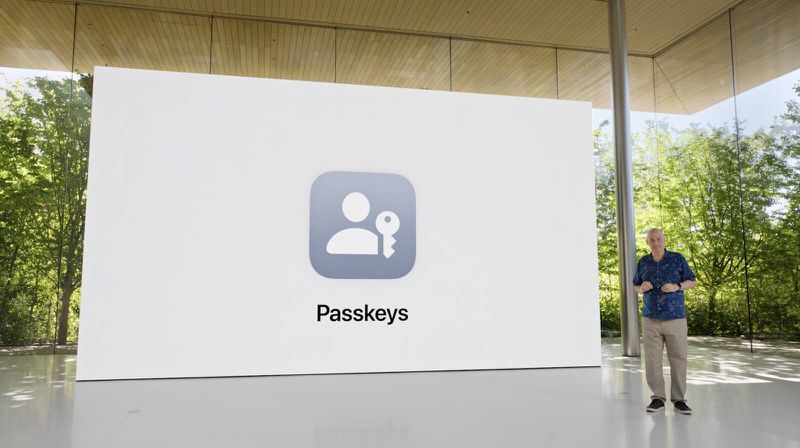 11:20 am: Use ‌Touch ID‌ or Face ID to authenticate. Digital key is created, and can't be phished.
11:21 am: Work in Apps and on the Web.
11:21 am: Like ‌Touch ID‌ or ‌Face ID‌ for websites.
11:21 am: Worked with fido alliance to work across platforms. Uses QR code to sign in.
11:21 am: Updates to Gaming
11:22 am: Metal updates.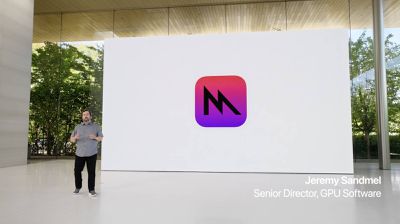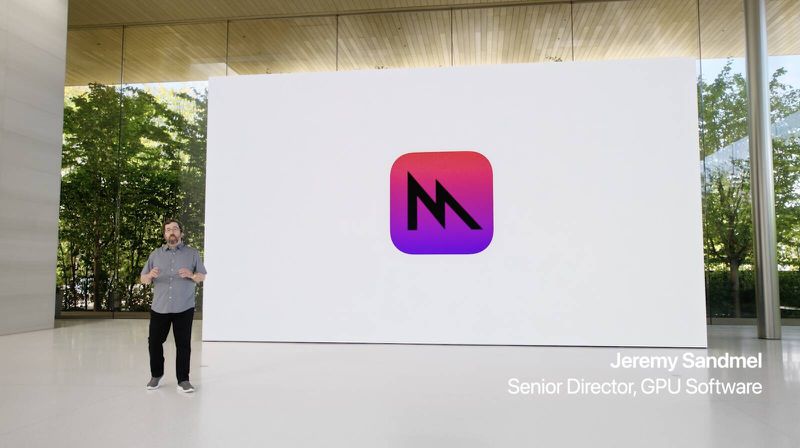 11:23 am: Metal 3: MetalFX Upscaling, helps render smaller frames into larger, higher-quality frames. No Man's Sky coming to Mac.
11:23 am: New Fast resource loading API, providing more direct path from storage to unified memory system.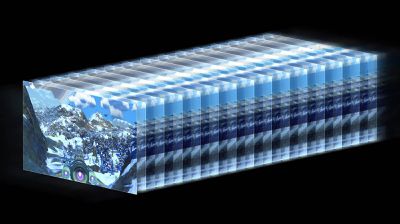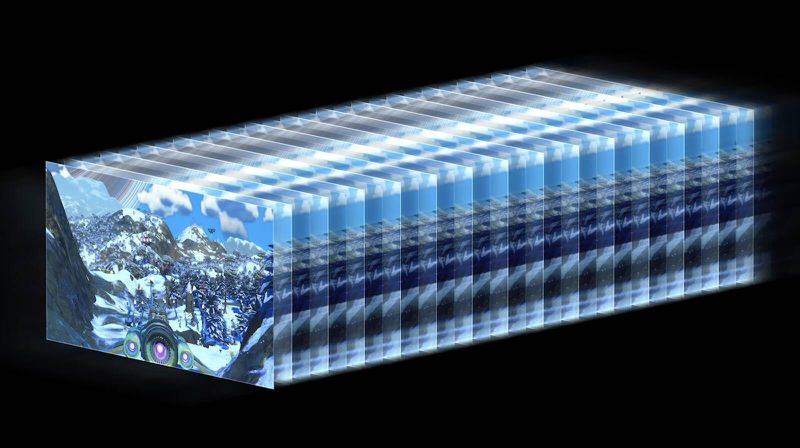 11:24 am: This is a new day for gaming on the Mac.
11:24 am: Representative from Capcom talking about new Resident Evil game coming to Mac.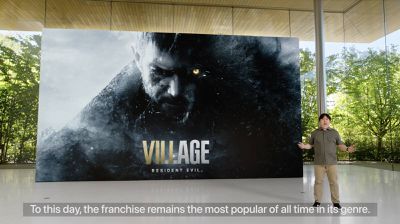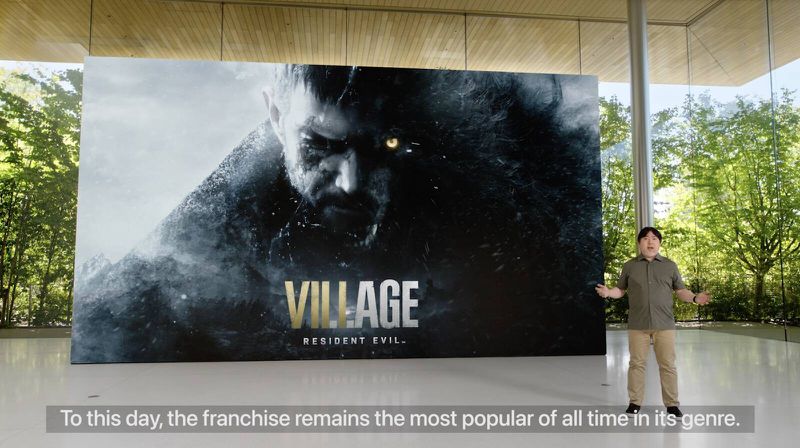 11:26 am: It's going to look good and be very fast and though VR has not been mentioned... all of this tech could theoretically come in handy for a VR headset. Just saying.
11:26 am: Continuity updates.
11:26 am: Handoff is coming to ‌FaceTime‌.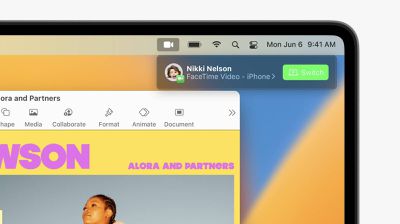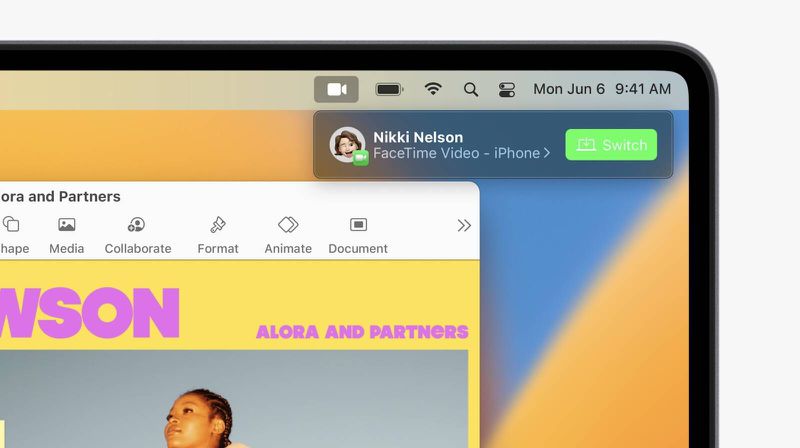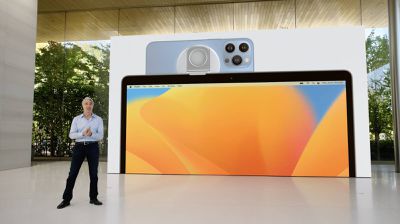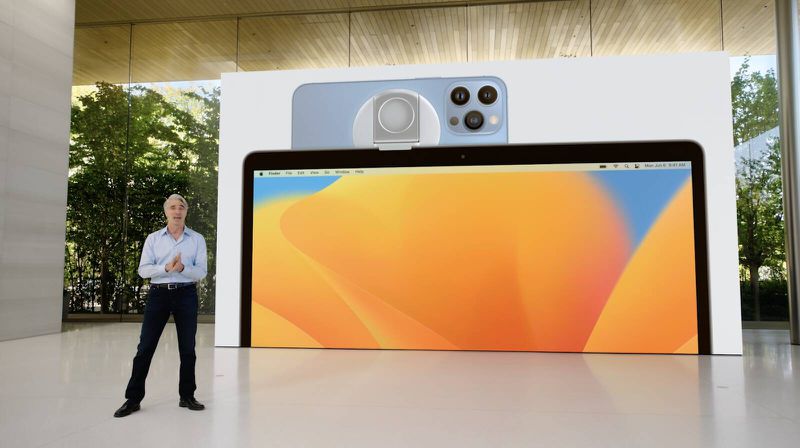 11:27 am: Continuity camera allows you to use your ‌iPhone‌ as a webcam on your Mac. Stand allows your ‌iPhone‌ to attach to your display.
11:28 am: Works wirelessly, no plugs.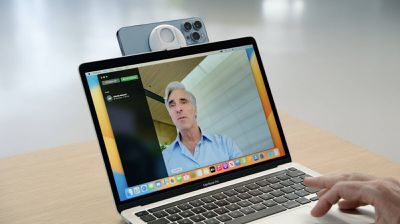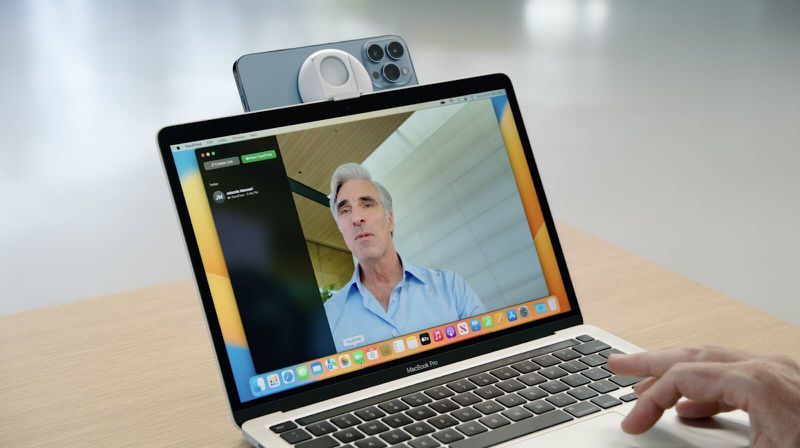 11:28 am: The ‌iPhone‌ can, apparently, mount to your Mac (somehow) using Portrait settings like Studio Light.
11:29 am: Desk view uses the ultrawide camera from the ‌iPhone‌ to show the desk in front of a computer. Looks like a top-down camera view.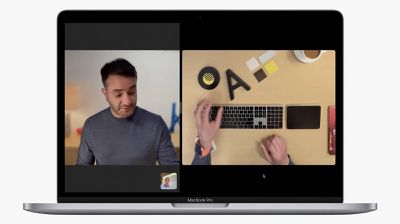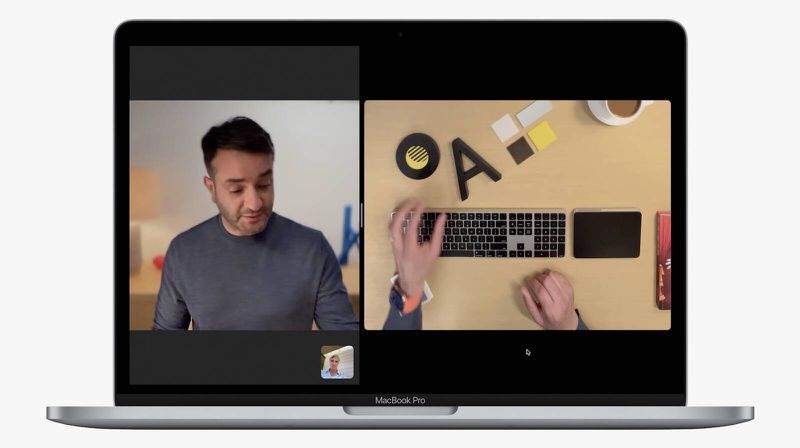 11:29 am: Working with Belkin to offer ‌MagSafe‌ stands to mount your ‌iPhone‌ to your computer.
11:30 am: macOS Ventura coming later this year.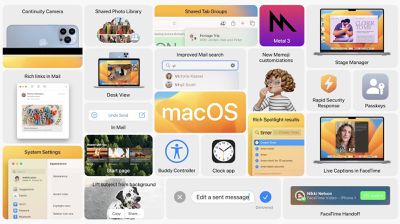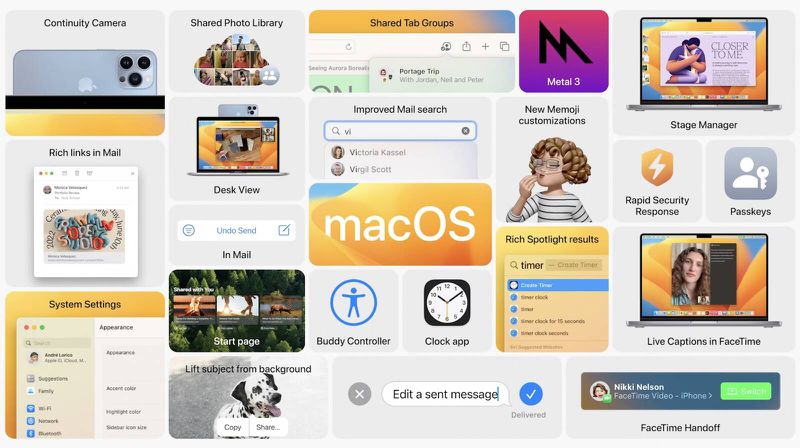 11:30 am: Now going to iPad OS. With slow-motion Craig hair shot.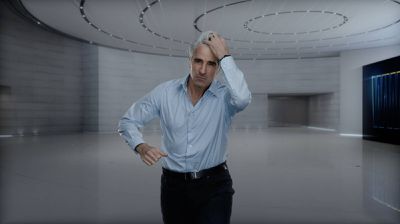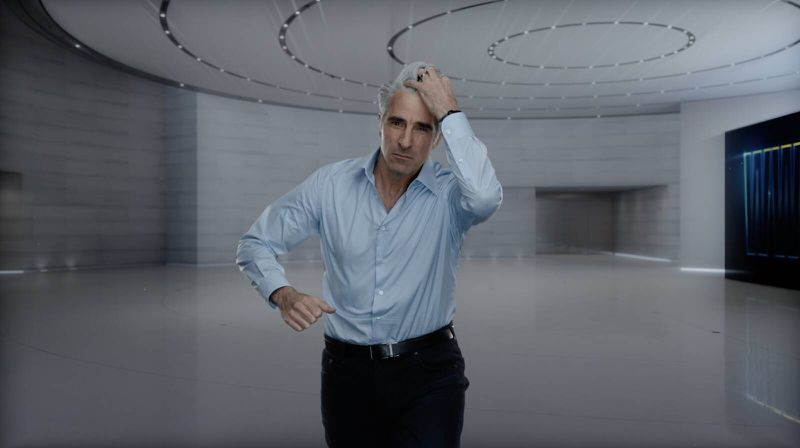 11:30 am: That far surpasses the James Bond elevator as the best transition Apple has ever had.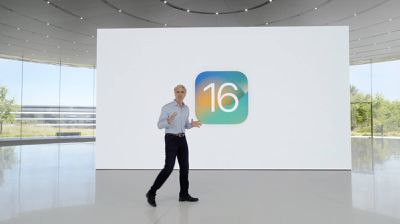 11:31 am: Lots of iPadOS updates, including a new Weather app.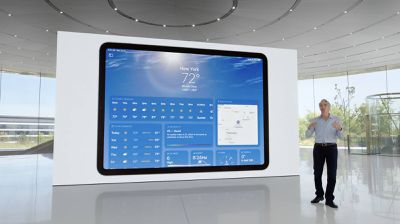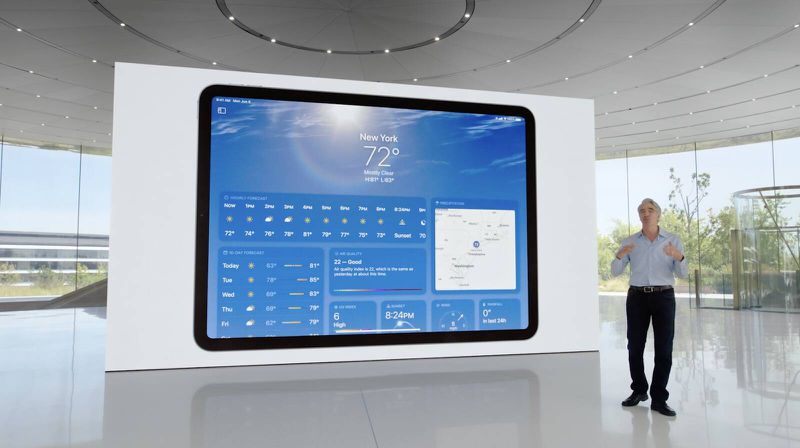 11:31 am: WeatherKit coming for developers. New ways to collaborate with others. New features for Pro users.
11:32 am: Collaboration.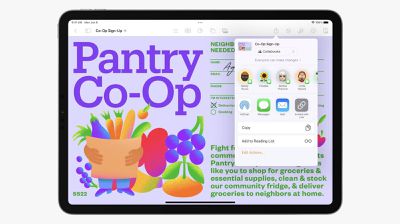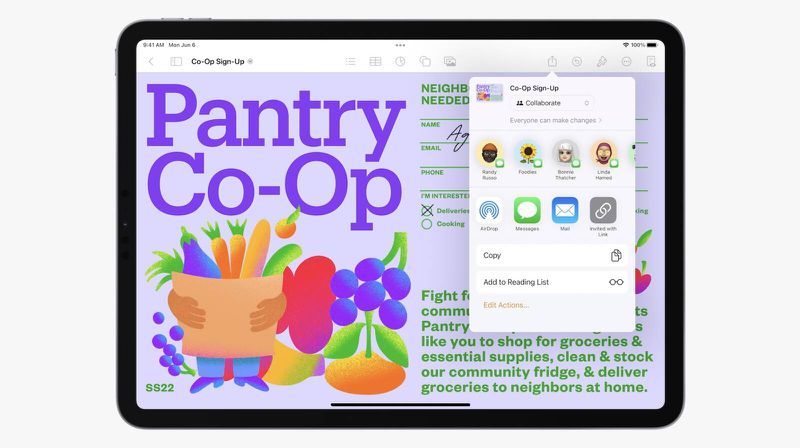 11:33 am: Sharing a collaboration document from Pages right to an entire Messages group.
11:33 am: Can message and start ‌FaceTime‌ right from Pages to discuss the collaboration.
11:34 am: Showing shared tab groups in Safari. Adding tabs and other users see them immediately, in real-time with a ‌FaceTime‌ call continuing in the background.
11:35 am: New collaboration API coming for developers, and also coming to iOS and macOS.
11:35 am: New Freeform app.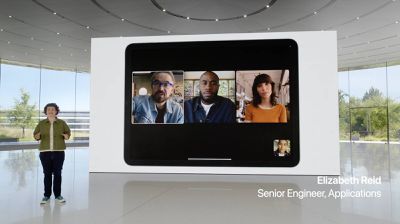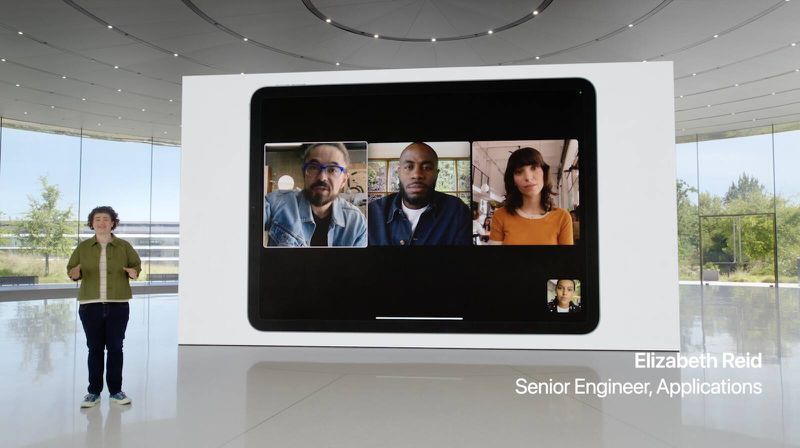 11:36 am: Be on a ‌FaceTime‌ call and then collaborate live on a freeform board... a giant shared digital whiteboard.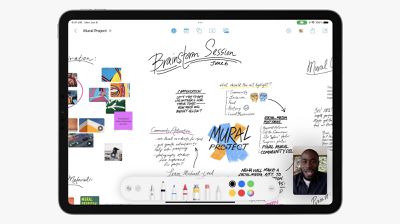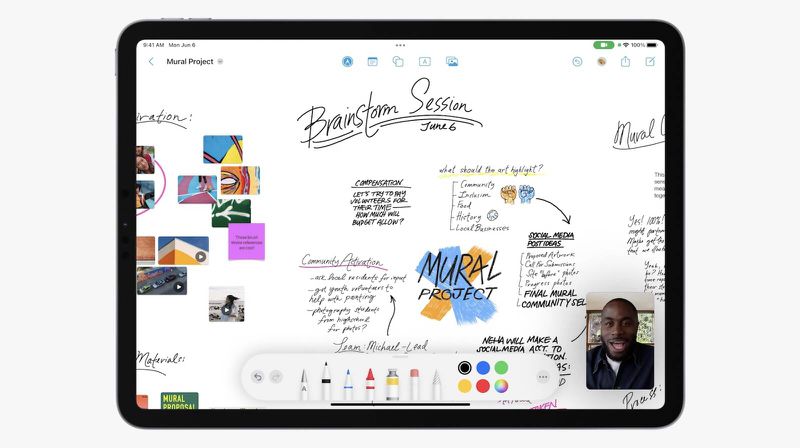 11:36 am: It's a whiteboard. But digital. And shared. In real-time.
11:36 am: Can add images, post-it notes, and scribbles, documents, web links, PDFs.
11:37 am: Freeform is coming to iPadOS, macOS, and iOS later this year.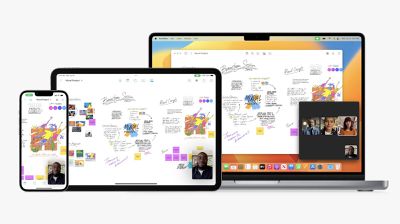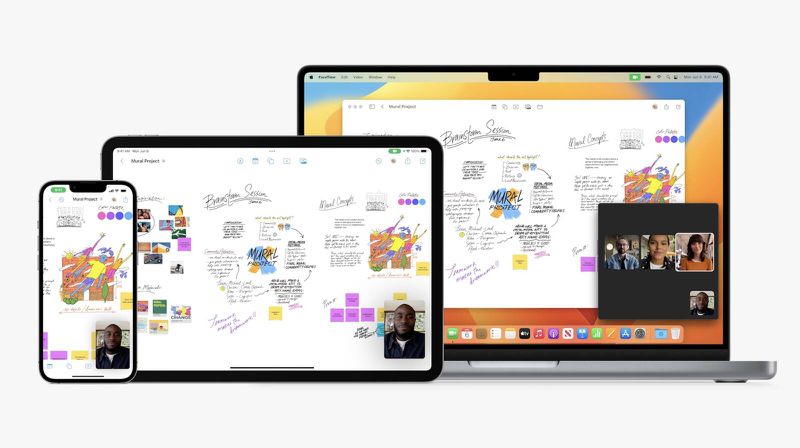 11:37 am: Metal 3 coming to ‌iPad‌.
11:38 am: Background download API to download assets in the background.
11:38 am: Updates to Game Center, with activity to see what friends are playing and see when friends beat your high score.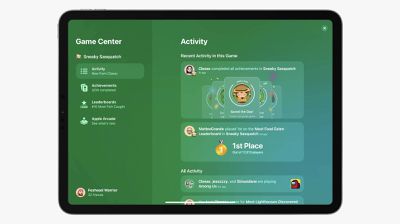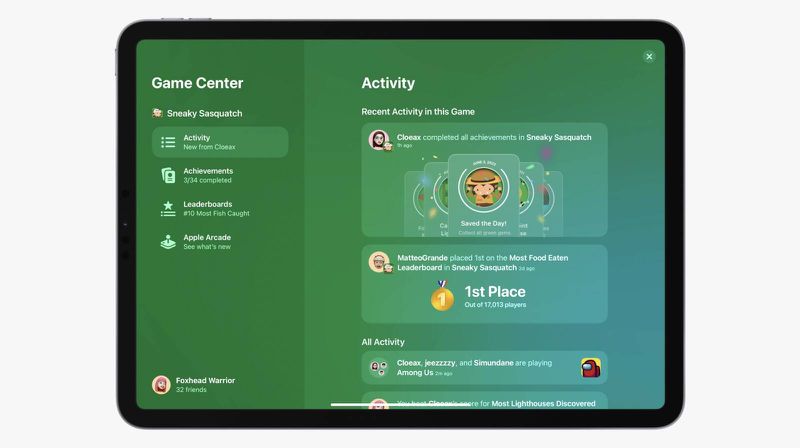 11:39 am: SharePlay games. Also coming to iOS and macOS.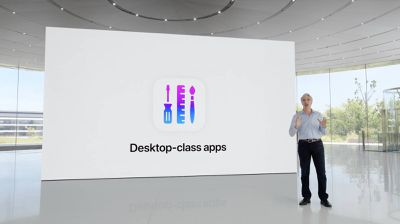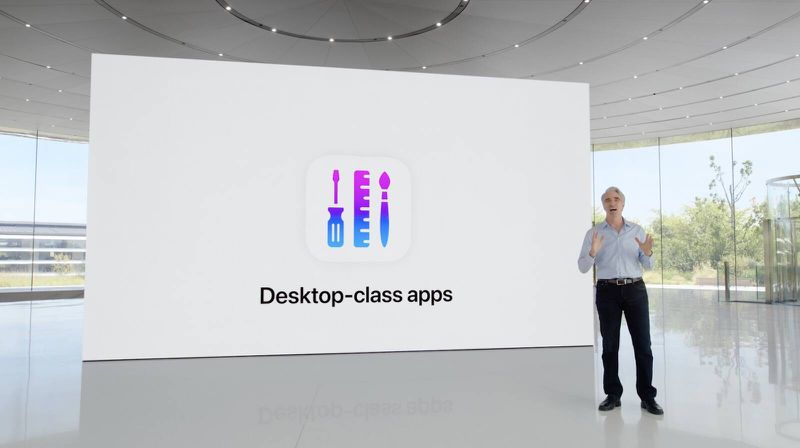 11:40 am: New desktop-class features coming, including a big update to Files, and much more.
11:40 am: Redesigned find-and-replace experience, a document menu, customizable toolbars. New APIs coming too.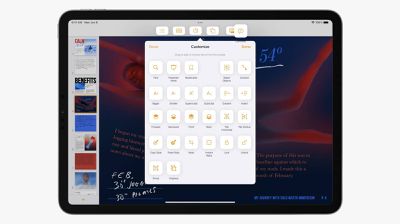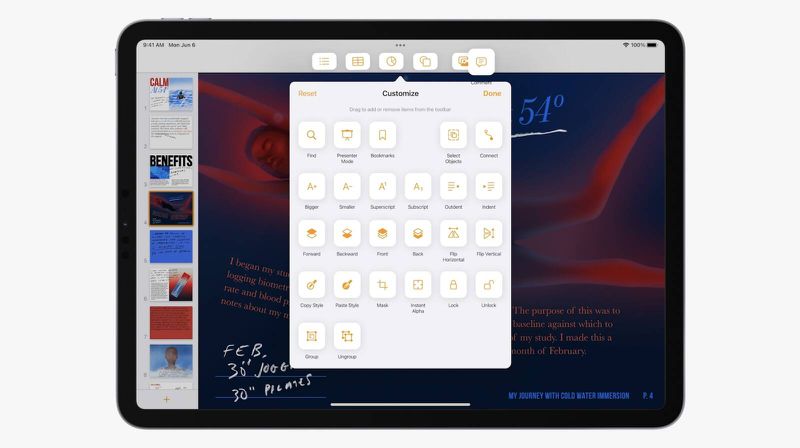 11:41 am: Reference Color feature
11:41 am: Reference color provides similar color across all your pro devices.
11:42 am: ‌M1‌ exclusive: New display scaling setting for ‌iPad‌. Increase pixel density of the display.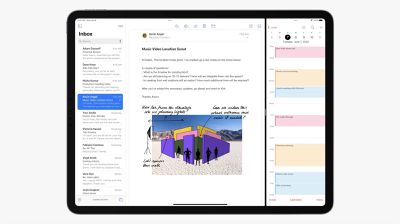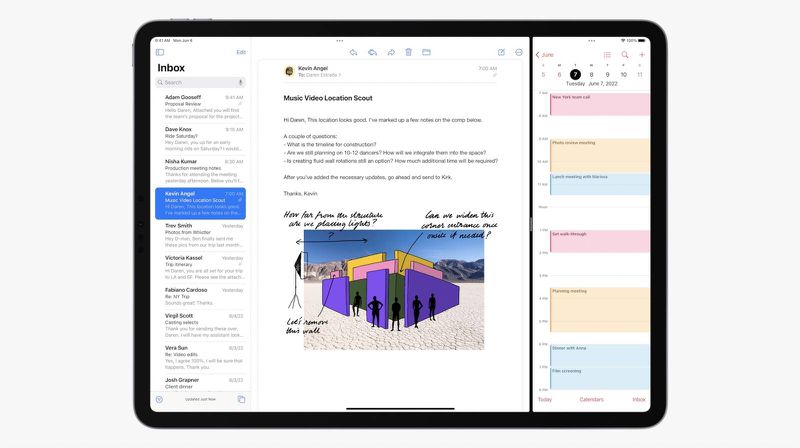 11:42 am: Virtual memory swap in ‌M1‌ ‌iPad‌, expands available memory for all apps. Up to 16GB of memory to most demanding apps.
11:43 am: ‌Stage Manager‌ coming to ‌iPad‌. Overlapping windowing and full external display support.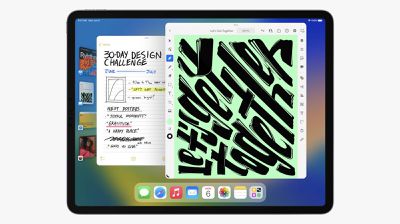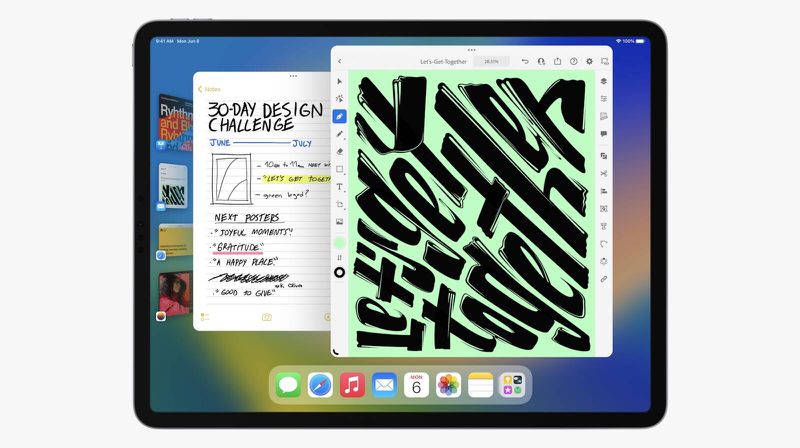 11:43 am: Resizing windows on ‌iPad‌. It's becoming a Mac. Kind of.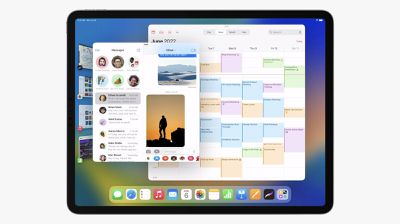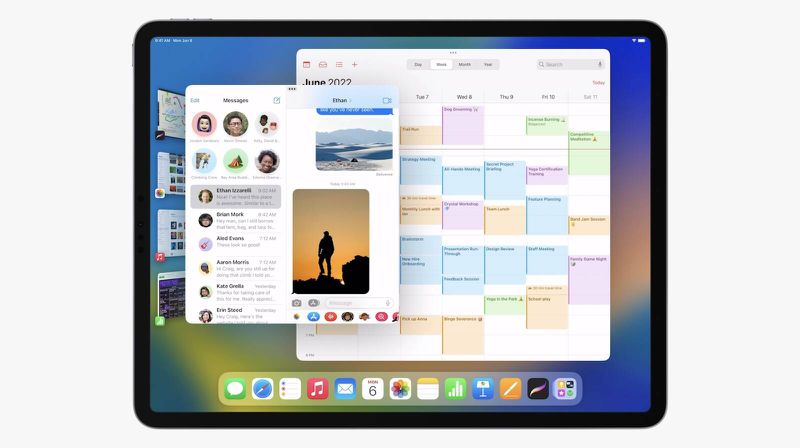 11:44 am: Full dock appears on external display. ‌Stage Manager‌ on big screen, powered by the ‌iPad‌.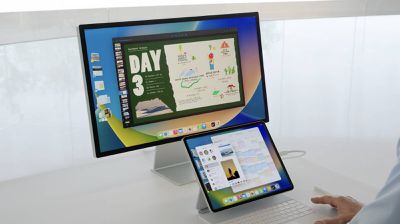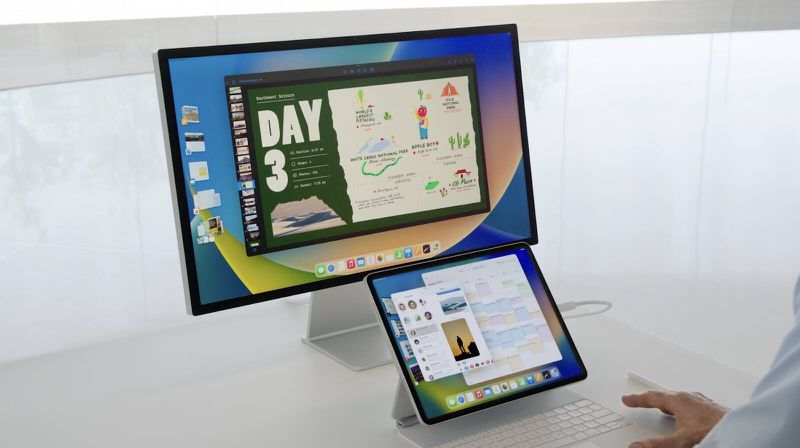 11:45 am: Groups of 3-4 windows. Between ‌iPad‌ and external display, up to 8 apps running simultaneously.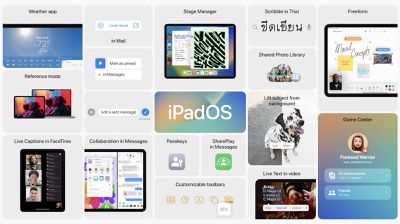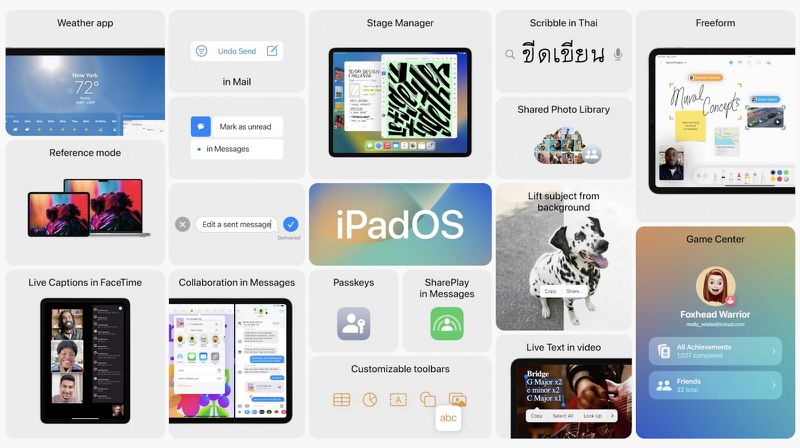 11:46 am: Now, back to Tim.
11:46 am: "What an exciting day of announcements!" - Apple CEO ‌Tim Cook‌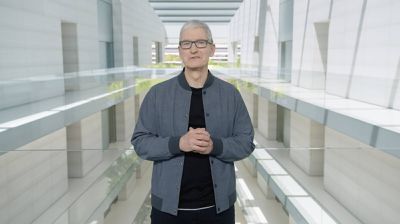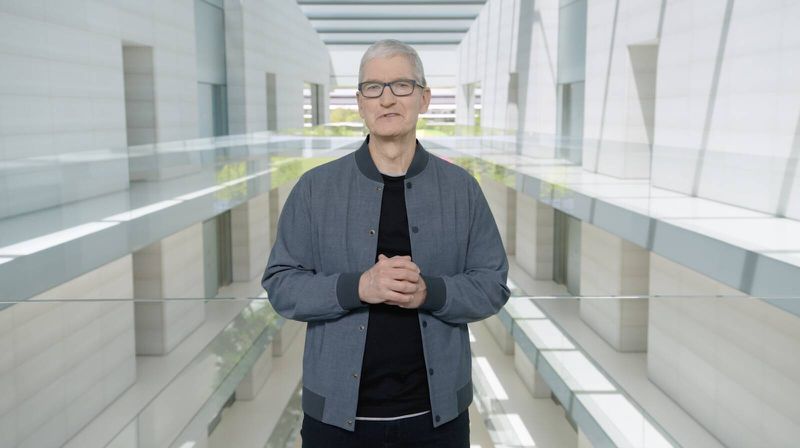 11:47 am: OS releases are coming out as developer betas today, with public betas coming in July. Coming out to all users this fall.
11:47 am: Comprehensive online experience for WWDC, and more than 175 sessions and 1:1 labs with Apple Engineers and digital lounges. Available free to all developers.
11:47 am: "Let's have a great WWDC!"
11:48 am: Fin.