A15 and M1 Chips Could Stick Around for Longer Than Expected as Apple Chip Upgrades Slow Down
Apple's custom silicon chip upgrades may be slowing down, with the company reportedly planning to stick with existing chips in multiple new devices, according to recent reports.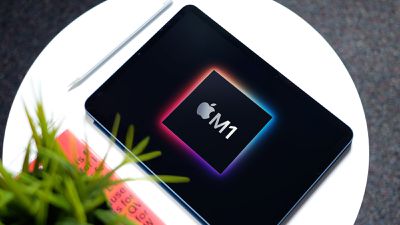 In a tweet posted after Apple's spring "Peek Performance" event, insightful Apple analyst Ming-Chi Kuo said that the 2022 MacBook Air will feature the M1 chip, rather than the next-generation M2 chip.
Everything we have heard about the new ‌MacBook Air‌ until now has said that it will feature the M2 chip with an 8-core CPU and 10-core GPU, and there have even been signs of this chip spotted in macOS Monterey. Despite this, Kuo has since confirmed to MacRumors that he believes the next ‌MacBook Air‌ will still contain an ‌M1‌ chip, although he said it could be a modified version of the existing ‌M1‌, presumably to help differentiate it from the current ‌MacBook Air‌.
Apple launched the current ‌MacBook Air‌ in November 2020, featuring the ‌M1‌ chip in the same design as the previous model. It seems plausible that Apple could be planning to entice customers to buy the new model with its complete redesign, MagSafe charging, new display, and more, rather than with a new chip.
The ‌M1‌ was introduced with the ‌MacBook Air‌, 13-inch MacBook Pro, and Mac mini in November 2020, but Apple put the chip in a new device as recently as March this year, with the fifth-generation iPad Air. With the ‌M1‌ chip now being present in four Macs and two iPads, it seems plausible that Apple could be committed to maintaining the same chip across its devices for longer, rather than fragment its product lineups with different chips in similar devices.
Another rumor suggests that the ‌M1‌ chip is not the only Apple silicon chip to be eked out in successive devices. It now looks like the iPhone 14 and "‌iPhone 14‌ Max" may contain the same A15 Bionic chip from the iPhone 13 lineup, with the next-generation A16 chip being exclusively reserved for the high-end ‌iPhone 14‌ Pro and ‌iPhone 14‌ Pro Max models. According to these recent rumors, it may be the case that Apple is moving to retain the same chips on its devices for multiple generations, at least for consumer-level devices.
Reserving the A16 chip for the ‌iPhone 14‌ Pro and ‌iPhone 14‌ Pro Max could provide further differentiation between the standard and "Pro" iPhone lineups, enabling the high-end devices to offer next-level performance compared to the lower-cost models. Different chips would add to the current differences in terms of materials, memory, ProMotion, battery life, and camera capabilities between the Pro and non-Pro ‌iPhone‌ models.
While the move to seemingly slow down chip upgrades could be intentional, the global chip shortage and delays with TSMC's next-generation fabrication processes may also be to blame. In addition, there may be other factors like development costs and economies of scale that make retaining the same chip for longer more lucrative, as well as a desire to offer a bigger performance and efficiency jump with the innovation that can be achieved over a longer period of time.